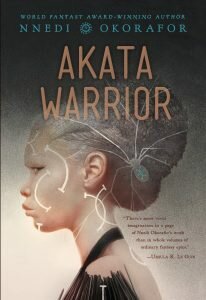 The World Science Fiction Society, known for Worldcon and the Hugo Awards, awarded Akata Warrior by Nnedi Okorafor as the winner of The World Science Fiction Society (WSFS) Award for Best Young Adult Book. This is the first year this prize was awarded.
Akata Warrior (Akata Witch #2) follows Sunny Nwazue an American-born girl Nigerian teen, who has been chosen to lead a mission to prevent an apocalypse by the secret Leopard Society. With her friends from the Leopard Society and of her spirit face, Anyanwu, she travels to many different worlds and use her magical powers to save humanity.
The Best Young Adult Book Award is given to a young adult novel, in the genres of science fiction or fantasy, that published during the previous calendar year. The award is administered by Worldcon 76.
For more information, visit The World Science Fiction Society website.