Welcome to A Variety of Brains. Are you looking for a neurodiverse book? I've got it listed for you. This week, I'm spotlighting suicidal, self-harming, or depressed main characters.
A lot of these may not be good representation. It could even be most of them, but that's not my call to make. On my last few major lists like this for YA Interrobang, I pulled any books I knew were problematic, but I hesitate to do that with this one, simply because neurodiversity in itself is incredibly diverse. Take, for example, the way that anxiety manifests itself varies from person to person.
Some experiences will feel true to some readers, but those same experiences could be triggering for others. I don't want to deny anyone the chance to find themselves in the pages. Before picking up any of these books, please look at reviews, ask friends, make sure that what's in these pages won't harm you. I can't tell you what won't work for you, what will hurt you, and I can't vet all of these books. Please, please be careful.
by Kate Ellison
Publisher: Paper Lantern Lit
Release date: March 24 2015
When a local girl from a bad neighborhood — known only as Sapphire — is found shot to death, no one seems to care. But sixteen-year-old Lo Marin changes all that when she stumbles upon a clue to Sapphire's murder — a gorgeous and unusual butterfly pin. Lo has always loved to collect beautiful things, and believes she can read the story behind the objects. This one isn't just speaking to her — it's screaming. As she becomes helplessly obsessed with the murder, Lo finds herself entangled in a violent underworld with a boy she can't trust. In this riveting page-turner, one lost girl will track down another in an explosive mystery that may be the end of them all.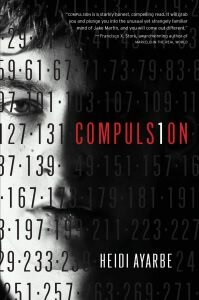 Compulsion by Heidi Ayarbe
Publisher: Balzer + Bray
Release date: May 3 2011
Saturday will be the third state soccer championship in a row for Jake Martin. Three. A good number. Prime. With Jake on the field, Carson City High can't lose because Jake has the magic: a self-created protection generated by his obsession with prime numbers. It's the magic that has every top soccer university recruiting Jake, the magic that keeps his family safe, and the magic that suppresses his anxiety attacks. But the magic is Jake's prison, because sustaining it means his compulsions take over nearly every aspect of his life. Jake's convinced the magic will be permanent after Saturday, the perfect day, when every prime has converged. Once the game is over, he won't have to rely on his sister to concoct excuses for his odd rituals. His dad will stop treating him like he is some freak. Maybe he'll even make a friend other than Luc. But what if the magic doesn't stay? What if the numbers never leave?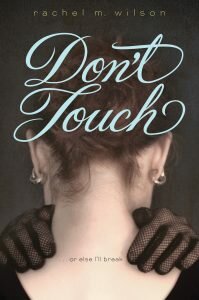 Don't Touch by Rachel M. Wilson
Publisher: HarperTeen
Release date: September 2 2014
Caddie has a history of magical thinking but it's never been this bad before. When her parents split up, don't touch becomes Caddie's mantra. Soon, despite Alabama's humidity, she's covering every inch of her skin and wearing evening gloves to school. And that's where things get tricky. Even though Caddie's the new girl, it's hard to pass off her compulsions as artistic quirks. Friends notice things. Her drama class is all about interacting with her scene partners, especially Peter, who's auditioning for the role of Hamlet. Caddie desperately wants to play Ophelia, but if she does, she'll have to touch Peter . . . and kiss him. Part of Caddie would love nothing more than to kiss Peter—but the other part isn't sure she's brave enough to let herself fall.

Every Last Word by Tamara Ireland Stone
Publisher: Disney-Hyperion
Release date: June 16 2015
Samantha McAllister looks just like the rest of the popular girls in her junior class. But hidden beneath the straightened hair and expertly applied makeup is a secret that her friends would never understand: Sam has Purely-Obsessional OCD and is consumed by a stream of dark thoughts and worries that she can't turn off. Second-guessing every move, thought, and word makes daily life a struggle, and it doesn't help that her lifelong friends will turn toxic at the first sign of a wrong outfit, wrong lunch, or wrong crush. Yet Sam knows she'd be truly crazy to leave the protection of the most popular girls in school. So when Sam meets Caroline, she has to keep her new friend with a refreshing sense of humor and no style a secret, right up there with Sam's weekly visits to her psychiatrist.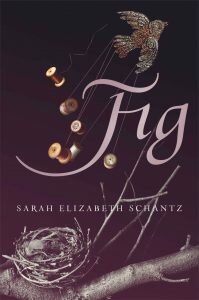 Fig by Sarah Elizabeth Schantz
Publisher: Margaret K. McElderry Books
Release date: April 7 2015
Fig's world lies somewhere between reality and fantasy. But as she watches Mama slowly come undone, it becomes hard to tell what is real and what is not, what is fun and what is frightening. To save Mama, Fig begins a fierce battle to bring her back. She knows that her daily sacrifices, like not touching metal one day or avoiding water the next, are the only way to cure Mama. The problem is that in the process of a daily sacrifice, Fig begins to lose herself as well, increasingly isolating herself from her classmates and engaging in self-destructive behavior that only further sets her apart.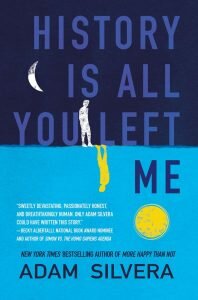 History is All You Left Me by Adam Silvera
Publisher: Soho Teen
Release date: January 17 2017
OCD-afflicted Griffin has just lost his first love, Theo, in a drowning accident. In an attempt to hold onto every piece of the past, he forges a friendship with Theo's last boyfriend, Jackson. When Jackson begins to exhibit signs of guilt, Griffin suspects he's hiding something, and will stop at nothing to get to the truth about Theo's death. But as the grieving pair grows closer, readers will question Griffin's own version of the truth both in terms of what he's willing to hide and what true love means.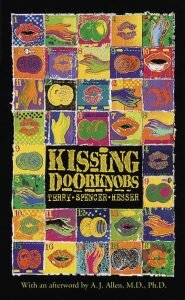 Kissing Doorknobs by Terry Spencer Hesser
Publisher: Delacorte Books for Young Readers
Release date: March 10 1998
During her preschool years, Tara Sullivan lived in terror that something bad would happen to her mother while they were apart. In grade school, she panicked during the practice fire drills. Practice for what?, Tara asked. For the upcoming disaster that was bound to happen? Then, at the age of 11, it happened. Tara heard the phrase that changed her life: Step on a crack, break your mother's back. Before Tara knew it, she was counting every crack in the sidewalk. Over time, Tara's "quirks" grew and developed: arranging her meals on plates, nonstop prayer rituals, until she developed a new ritual where in she kissed her fingers and touched doorknobs.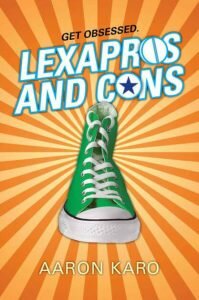 Lexapros and Cons by Aaron Karo
Publisher: FSG for Young Readers
Release date: April 10 2012
Chuck Taylor's OCD has rendered him a high school outcast. His endless routines and habitual hand washing threaten to scare away both his closest friend and the amazing new girl in town. Sure he happens to share the name of the icon behind the coolest sneakers in the world, but even Chuck knows his bizarre system of wearing different color "Cons" depending on his mood is completely crazy. Very bad things are going to happen to Chuck. But maybe that's a good thing. Because with graduation looming, Chuck finds himself with one last chance to face his inner demons, defend his best friend, and win over the girl of his dreams. No matter what happens, though, he'll have to get his hands dirty.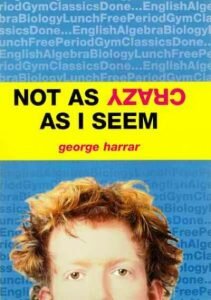 Not As Crazy As I Seem by George Harrar
Publisher: HMH Books for Young Readers
Release date: April 22 2003
Devon Brown won't eat in the school caf (a germ swamp). He covers his hands before opening doors, eats things in groups of four (his lucky number), and hangs up his shirts (with all their buttons buttoned) by color. Some kids say Devon's crazy, but he knows better — these are the tricks that keep bad things from happening, and he can't imagine giving them up. Devon calls it "controlling things." His doctor calls it obsessive-compulsive disorder. When Devon starts at a new school, his compulsions start to get him in trouble, and before long he realizes that his only choice is to confront his behaviors and the events that trigger them.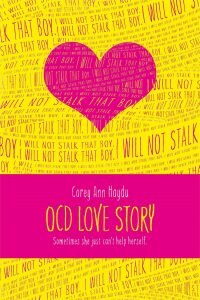 OCD Love Story by Corey Ann Haydu
Publisher: Simon Pulse
Release date: July 23 2013
When Bea meets Beck, she knows instantly that he's her kind of crazy. Sweet, strong, kinda-messed-up Beck understands her like no one else can. He makes her feel almost normal. He makes her feel like she could fall in love again. But despite her feelings for Beck, Bea can't stop thinking about someone else: a guy who is gorgeous and magnetic… and has no idea Bea even exists. But Bea knows a lot about him. She spends a lot of time watching him. She has a journal full of notes. Some might even say she's obsessed. Bea tells herself she's got it all under control. But this isn't a choice, it's a compulsion. The truth is, she's breaking down…and she might end up breaking her own heart.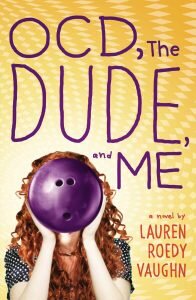 OCD, the Dude, and Me by Lauren Roedy Vaughn
Publisher: Dial Books
Release date: March 21 2013
With frizzy orange hair, a plus-sized body, sarcastic demeanor, and "unique learning profile," Danielle Levine doesn't fit in even at her alternative high school. While navigating her doomed social life, she writes scathing, self-aware, and sometimes downright raunchy essays for English class. As a result of her unfiltered writing style, she is forced to see the school psychologist and enroll in a "social skills" class. But when she meets Daniel, another social misfit who is obsessed with the cult classic film The Big Lebowski, Danielle's resolve to keep everyone at arm's length starts to crumble.

The Rest of Us Just Live Here by Patrick Ness
Publisher: HarperTeen
Release date: October 6 2015
What if you aren't the Chosen One? The one who's supposed to fight the zombies, or the soul-eating ghosts, or whatever the heck this new thing is, with the blue lights and the death? What if you're like Mikey? Who just wants to graduate and go to prom and maybe finally work up the courage to ask Henna out before someone goes and blows up the high school. Again. Because sometimes there are problems bigger than this week's end of the world, and sometimes you just have to find the extraordinary in your ordinary life. Even if your best friend is worshipped by mountain lions.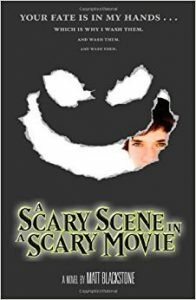 A Scary Scene in a Scary Movie by Matt Blackstone
Publisher: FSG Books for Young Readers
Release date: July 5 2011
Rene, an obsessive-compulsive fourteen year old, smells his hands and wears a Batman cape when he's nervous. If he picks up a face-down coin, moves a muscle when the time adds up to thirteen (7:42 is bad luck because 7 + 4 + 2 = 13), or washes his body parts in the wrong order, Rene or someone close to him will break a bone, contract a deadly virus, and/or die a slow and painful death like someone in a scary scene in scary movie. Rene's new and only friend tutors him in the art of playing it cool, but that's not as easy as Gio makes it sound.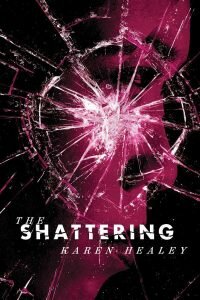 The Shattering by Karen Healey
Publisher: Little, Brown Books for Young Readers
Release date: September 5 2011
Keri, Janna, and Sione have one thing in common: Their older brothers are dead. Each death was ruled a suicide, but there were no notes, no warnings, and no explanations. So they've worked out a theory: Their brothers were murdered – and weren't the only victims. As the search for the serial killer goes on, mysterious forces are unearthed and suspicion is cast on the those the three trust most. When secrets shatter around them, can they save the next victim? Or will they become victims themselves?

Total Constant Order by Crissa-Jean Chappell
Publisher: Katherine Tegen Books
Release date: October 23 2007
Fin can't stop counting. She's always heard a voice inside her head, ordering her to listen, but ever since she's moved to the Sunshine State and her parents split up, numbers thump like a metronome, rhythmically keeping things in control. When a new doctor introduces terms such as "clinical depression" and "OCD" and offers a prescription for medication, the chemical effects make Fin feel even more messed up. Until she meets Thayer, a doodling, rule-bending skater who buzzes to his own beat—and who might just understand Fin's hunger to belong, and her struggle for total constant order.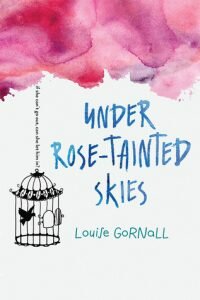 Under Rose-Tainted Skies by Louise Gornall
Publisher: Clarion Books
Release date: January 3 2017
Norah has agoraphobia and OCD. When groceries are left on the porch, she can't step out to get them. Struggling to snag the bags with a stick, she meets Luke. He's sweet and funny, and he just caught her fishing for groceries. Because of course he did. Norah can't leave the house, but can she let someone in? As their friendship grows deeper, Norah realizes Luke deserves a normal girl. One who can lie on the front lawn and look up at the stars. One who isn't so screwed up.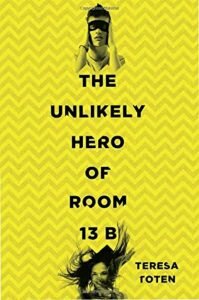 The Unlikely Hero of Room 13B by Teresa Toten
Publisher: Delacorte Books for Young Readers
Release date: March 10 2015
Adam Spencer Ross is almost fifteen, and he's got his hands full confronting the problems that come with having divorced parents and new step-siblings. Add to that his obsessive-compulsive disorder and it's just about impossible for him to imagine ever falling in love. Adam's life changes, however, the instant he meets Robyn Plummer: he is hopelessly, desperately drawn to her. But is it possible to have a normal relationship when your life is anything but?