I've been obsessed with fairy tales since I was a child, and for a long time, the magic words that would make me pick up a book—any book—were "fairy tale retelling." I've read hundreds of them over the years, but there are only a few from my childhood that stick in the back of my mind, recalled in an instant. Robin McKinley's Beauty. Gail Carson Levine's Ella Enchanted. Donna Jo Napoli's Zel. Shannon Hale's The Goose Girl. And Malinda Lo's Ash.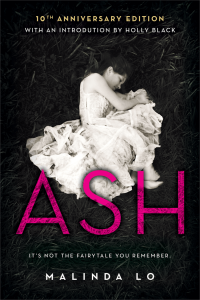 What distinguishes a great fairy tale retelling from its more mundane counterparts? Originality of concept, for one. Compelling characters, beautiful prose. And in the case of Ash, powerful depth of feeling.
Ash follows a mostly-familiar trajectory. Aisling's mother dies at a young age, and Aisling (Ash) is left with a loving but distant father. Her father quickly remarries, bringing a city lady home with her two daughters. When her father inevitably dies as well, Ash is left alone in the world but for her mother's grave and the mysterious fairy lord who watches over her. Add in a prince and a beautiful huntress and you have all the necessary ingredients—all that's left is to pick up a spoon and stir.
But Malinda Lo does so much more than that. Yes, the plot moves through its paces. Ash is bullied and snubbed by her stepfamily, finds solace in the woods, makes a bargain for a dress, goes to a ball. And all the while, her deep, aching grief and loneliness bleed across the page, permeating everything she does.
It's difficult to portray grief in its everyday moments. It's easy to write that someone cries, that they take to their beds and remain there. It's difficult to accurately (and without succumbing to purple prose) describe the way it lingers over your life like a film of dust, rearing its head when least expected. So I was stunned by the way Lo's prose depicts each of Ash's days shaded ever so slightly by her wounds. I latched onto this grief like a lifeline the first time I read it, for like Ash, I had lost a mother at a young age, and that loss was an ever-present shadow over me.
Ash is grieving, and she is bone-deep lonely, and the arc of the book is Ash's journey out of that grief and loneliness, toward a place where she can love another person and accept their love in return. It is one of the most profound inner journeys I have read in a young adult novel, and the fact that the central romantic relationship is between two young women makes Ash revolutionary. For all the fairy tale retellings I came across as a child and young adult, Ash is perhaps the first I read that featured a relationship that was not straight.
Ash is one of the first young adult novels published by a major US publisher (Little, Brown) that ends with an unambiguously happy queer relationship. It is truly groundbreaking, especially when you factor in that Malinda Lo is an Asian-American writer, and for these reasons, I owe this book not only a personal debt, but also a massive professional one.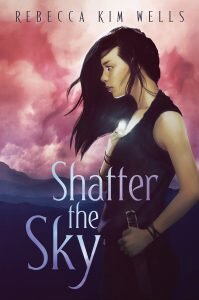 I too am an Asian-American writer. My first book, a young adult novel to be published next summer, features unambiguously queer characters who are not punished for who they love. It is not alone—2019 will feature dozens of young adult novels with queer narratives put out by major publishers, including many first-time authors. And it's quite clear that part of what makes this reality possible is Malinda Lo's presence in the book world, and the publication of Ash almost ten years ago.
I could keep going for a very long time, but I'll end with this: Ash will be re-released in May in a beautiful 10th anniversary edition, with an introduction by Holly Black. Do yourself a favor and pick it up.