If you've been keeping up with the young adult world recently, you may have heard the rumble caused by J.K. Rowling's newest addition to the Harry Potter universe, History of Magic in North America. Many have decried it as trivializing and appropriative. Debbie Reese, a founding member of the Native American House and publisher of American Indians in Children's Literature has put together a phenomenal list of Native writers and their reactions to Rowling.
For years, marginalized young adult readers have demanded their identities be represented in the fiction they consume. The call has gain a spectacular amount of momentum recently. Trending hashtags such as (started by author Aisha Saeed) and (founded by 11-year-old Marley Dias) took off with active campaigns. Articles circulated about the overwhelming whiteness of the publishing industry. Publishing houses and literary agents are asking specifically for books with diverse characters and authors who themselves identify under the spectrum of diversity.
However, the sort of representation found in Rowling's "History of Magic in North America" falls in line with another controversy: the question of who can represent marginalized people.
Dr. Adrienne Keene, a citizen of the Cherokee nation of Oklahoma and a Native American scholar, spoke about the controversy in her post "Magic in North America: The Harry Potter franchise veers too close to home."
"I want Native peoples to be able to represent ourselves. I love the idea of Indigenous science fiction, of indigenous futurisms, of indigenous fanfiction, and indigenous characters in things comics and superhero storylines. I know it can be done, and it can be done right and done well. But it has to be done carefully, with boundaries respected (ie not throwing around Skinwalkers casually in a trailer), and frankly, I want Native peoples to write it. We've been misrepresented by outsiders every which-way, and it's time for us to reclaim our stories and images, and push them into the future, ourselves."
Regardless of whether you believe authors should be able to write characters with identities not their own, I think we can all agree it's important to consume fiction written Native American authors themselves.
As such, this article will be the first in a running series focusing on authors who write "own voices" stories: novels with young adult characters from marginalized backgrounds written by authors from that same background. Author Corinne Duyvis explains the concept and hashtag thoroughly here.
Here are exceptional Native American authors who write Native American characters.
Joseph Bruchac, Killer of Enemies and Trail of the Dead
Joseph Bruchac is Abenaki, and started writing in second grade by penning poems to his teacher. When Joseph graduated college, he began seeking out stories about his heritage from other Native elders. He has incorporated these stories into his writing. Trail of the Dead (the second in the Killer of Enemies series) is his most recent novel, published in 2015 through Tu Books.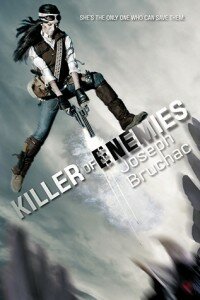 "Years ago, seventeen-year-old Apache hunter Lozen and her family lived in a world of haves and have-nots. There were the Ones — people so augmented with technology and genetic enhancements that they were barely human — and there was everyone else who served them. Then the Cloud came, and everything changed. Tech stopped working. The world plunged back into a new steam age. The Ones' pets — genetically engineered monsters — turned on them and are now loose on the world.
Lozen was not one of the lucky ones pre-C, but fate has given her a unique set of survival skills and magical abilities. She hunts monsters for the Ones who survived the apocalyptic events of the Cloud, which ensures the safety of her kidnapped family. But with every monster she takes down, Lozen's powers grow, and she connects those powers to an ancient legend of her people. It soon becomes clear to Lozen that she is not just a hired gun. As the legendary Killer of Enemies was in the ancient days of the Apache people, Lozen is meant to be a more than a hunter. Lozen is meant to be a hero."
Cynthia Leitich Smith, Rain is Not My Indian Name and Feral Nights
Cynthia Leitich Smith has an impressive array of publications, including five stories for children, two series (Feral and Tantalize) for young adults, two graphic novels, and short stories for both children and young adults. Her standalone novel Rain is Not My Indian Name also discusses with Native American culture. Cynthia is a tribal member of the Muscogee (Creek) Nation, and is known for her lyricism, humor, and mid-to-southwest settings.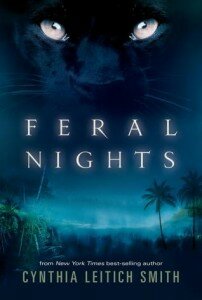 "When Yoshi, a sexy, free-spirited werecat, tracks his big sister, Ruby, to Austin, he discovers that she's not only MIA; she's also the key suspect in a murder investigation. Meanwhile, sarcastic werepossum Clyde and his human pal Aimee have set out to do a little detective work of their own, sworn to avenge the brutal killing of a friend.
When all three are snared in an underground kidnapping ring, they end up on a remote tropical island ruled by an unusual (even by shape-shifter standards) species. The island harbors a grim secret, and were-predator and were-prey must join forces in a fight to escape alive.
Fans of best-selling author Cynthia Leitich Smith's Tantalize quartet will thrill to see favorite sidekick characters—together with all-new ones—take the fore in this wry, high-action entry in an exciting new series."
Aaron Paquette, Lightfinder
Aaron Paquette, a Cree and Cherokee Métis, is a writer, an artist, and a prolific keynote speaker. Through his stories and speaking events, he has one primary message: we all suffer, but none of us are alone. Lightfinder, published through Kegedonce Press, is his first foray into Young Adult fiction. Paquette describes it as a fast paced, contemporary adventure story.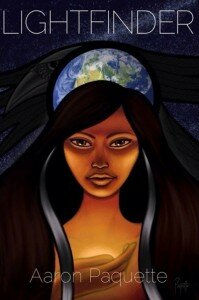 "Aisling is a young Cree woman who sets out into the wilderness with her Kokum (grandmother), Aunty and two young men she barely knows. They have to find and rescue her runaway younger brother, Eric. Along the way she learns that the legends of her people might be real and that she has a growing power of her own.
The story follows the paths of Aisling and Eric, siblings unwittingly thrust into a millennia old struggle for the future of life on earth. It deals with growing up, love and loss, and the choices life puts in our path. Love and confusion are in store, as are loss and pain. Things are not always what they seem and danger surrounds them at every turn.
Will Raven"s mysterious purposes prevail? With darkness closing in how will they find the light to guide them? Will Aisling find Eric in time?"
Tim Tingle, House of Purple Cedar
Tim Tingle is an author and celebrated storyteller with a list of publications ranging from picture books such as When Turtle Grew Feathers: A Tale from the Choctaw Nation, and collections of stories like Walking the Choctaw Road: Stories from the Heart and Memory of the People. Tingle, an Oklahoma Choctaw, also writes for middle-grade and young adult readers. One such Young Adult novel is House of Purple Cedar.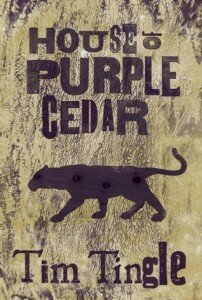 "The hour has come to speak of troubled times. It is time we spoke of Skullyville." Thus begins Rose Goode's story of her growing up in Indian Territory in pre-statehood Oklahoma. Skullyville, a once-thriving Choctaw community, was destroyed by land-grabbers, culminating in the arson on New Year's Eve, 1896, of New Hope Academy for Girls. Twenty Choctaw girls died, but Rose escaped. She is blessed by the presence of her grandmother Pokoni and her grandfather Amafo, both respected elders who understand the old ways.
"Soon after the fire, the white sheriff beats Amafo in front of the town's people, humiliating him. Instead of asking the Choctaw community to avenge the beating, her grandfather decides to follow the path of forgiveness. And so unwinds this tale of mystery, Indian-style magical realism, and deep wisdom. It's a world where backwoods spiritualism and Bible-thumping Christianity mix with bad guys; a one-legged woman shop-keeper, her oaf of a husband, herbal potions, and shape-shifting panthers rendering justice. Tim Tingle—a scholar of his nation's language, culture, and spirituality—tells Rose's story of good and evil with understanding and even laugh-out-loud Choctaw humor."
Eric Gansworth, If I Ever Get Out of Here
Eric Gansworth is a member of the Onondaga Nation. Not only is he a successful visual artist with solo exhibitions at Castellani Museum, Colgate University, and Bright Hill Center, but he has published ten books, five of them novels. His most recent novel being If I Ever Get Out of Here, delves into a relationship between a boy who is a resident of the Tuscarora Nation and another who lives on a nearby Air Force base in 1975.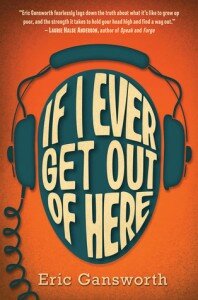 "Lewis "Shoe" Blake is used to the joys and difficulties of life on the Tuscarora Indian reservation in 1975: the joking, the Fireball games, the snow blowing through his roof. What he's not used to is white people being nice to him — people like George Haddonfield, whose family recently moved to town with the Air Force. As the boys connect through their mutual passion for music, especially the Beatles, Lewis has to lie more and more to hide the reality of his family's poverty from George. He also has to deal with the vicious Evan Reininger, who makes Lewis the special target of his wrath. But when everyone else is on Evan's side, how can he be defeated? And if George finds out the truth about Lewis's home — will he still be his friend?
Acclaimed adult author Eric Gansworth makes his YA debut with this wry and powerful novel about friendship, memory, and the joy of rock 'n' roll."
Erika Wurth, Crazy Horse's Girlfriend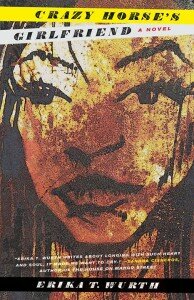 Erika T. Wurth teaches writing at Western Illinois University. She is Apache, Chickasaw, and Cherokee. She writes poetry such as "Fists Clenched, Holding" and short stories like Kes Woodi. Her collection of poetry, Indian Trains, published in 2007 by West End Press. Story Circle Book Review regarded her YA novel Crazy Horse's Girlfriend as a "gripping and heart-wrenching narrative."
"Margaritte is a sharp-tongued, drug-dealing, sixteen-year-old Native American floundering in a Colorado town crippled by poverty, unemployment, and drug abuse. She hates the burnout, futureless kids surrounding her and dreams that she and her unreliable new boyfriend can move far beyond the bright lights of Denver that float on the horizon before the daily suffocation of teen pregnancy eats her alive."
Drew Hayden Taylor, The Night Wanderer: A Native Gothic Novel
Drew Hayden Taylor describes himself as a contemporary storyteller in whatever form. He is an Ojibway from the Curve Lake First Nations in Ontario. Not only has he written an adult novel Motorcycles and Sweetgrass and a young adult novel The Night Wanderer: A Native Gothic Novel, but he has published fourteen plays, and been featured in numerous anthologies.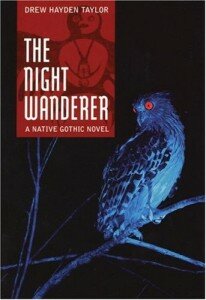 "Nothing ever happens on the Otter Lake reservation. But when 16-year-old Tiffany discovers her father is renting out her room, she's deeply upset. Sure, their guest is polite and keeps to himself, but he's also a little creepy. Little do Tiffany, her father, or even her astute Granny Ruth suspect the truth. The mysterious Pierre L'Errant is actually a vampire, returning to his tribal home after centuries spent in Europe. But Tiffany has other things on her mind: her new boyfriend is acting weird, disputes with her father are escalating, and her estranged mother is starting a new life with somebody else. Fed up and heartsick, Tiffany threatens drastic measures and flees into the bush. There, in the midnight woods, a chilling encounter with L'Errant changes everything … for both of them. A mesmerizing blend of Gothic thriller and modern coming-of-age novel, The Night Wanderer is unlike any other vampire story."
Richard Van Camp, Whistle and The Lesser Blessed
Richard Van Camp is a member of the Dogrib (Tlicho) Nation from Fort Smith, NWT, Canada. His most recent books are Night Moves, a collection of short stories, and Whistle, a mini young adult novel exploring issues of mental health. His Young Adult novel The Lesser Blessed, the precursor to Whistle, was made into a film through First Generation Films.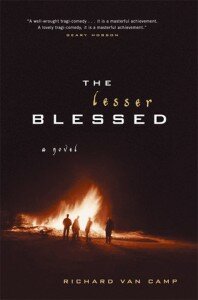 "A fresh, funny look at growing up Native in the North, by award-winning author Richard Van Camp.
Larry is a Dogrib Indian growing up in the small northern town of Fort Simmer. His tongue, his hallucinations and his fantasies are hotter than the sun. At sixteen, he loves Iron Maiden, the North and Juliet Hope, the high school "tramp." When Johnny Beck, a Metis from Hay River, moves to town, Larry is ready for almost anything.
In this powerful and often very funny first novel, Richard Van Camp gives us one of the most original teenage characters in fiction. Skinny as spaghetti, nervy and self-deprecating, Larry is an appealing mixture of bravado and vulnerability. His past holds many terrors: an abusive father, blackouts from sniffing gasoline, an accident that killed several of his cousins. But through his friendship with Johnny, he's ready now to face his memories—and his future."