What February YA books release this week? We have a list of this week's new YA books!
U.S.

Road to Eugenica by A.M. Rose
Publisher: Entangled Teen
Release date: February 5th
Yesterday, Drea Smith couldn't do anything spectacular. But today, she suddenly has more answers than Google, can speak and understand numerous languages, and she can fight. Like a boss.

American Panda by Gloria Chao
Publisher: Simon Pulse
Release date: February 6th
Mei can't bring herself to tell them her parents the truth–that she (1) hates germs, (2) falls asleep in biology lectures, and (3) has a crush on her classmate Darren Takahashi, who isn't Taiwanese.

The Apocalypse of Elena Mendoza by Shaun David Hutchinson
Publisher: Simon Pulse
Release date: February 6th
Elena Mendoza is the product of a virgin birth. This can be scientifically explained but what can't be explained is how Elena is able to heal the girl she's had a crush on for years, from a gunshot wound.

Assassins of Truth (Library Jumpers #3) by Brenda Drake
Publisher: Entangled Teen
Release date: February 6th
The threats Gia Kearns faces are the kind that include an evil wizard hell-bent on taking her down. Gia can end his devious plan, but only if she recovers seven keys hidden throughout the world's libraries.

Banished (The Storymakers #3) by Betsy Schow
Publisher: Sourcebooks Fire
Release date: February 6th
While lying in the hospital in a place called Kansas, Princess Dorthea of Emerald struggles to regain her memory of the events that propelled her out of the land of Story—and to remember how to get home.

The Belles (The Belles #1) by Dhonielle Clayton
Publisher: Disney Hyperion
Release date: February 6th
In Orléans, the people are born gray, they are born damned, and only with the help of a Belle and her talents can they transform and be made beautiful. But it's not enough for Camellia to be just a Belle.

Broken Beautiful Hearts by Kami Garcia
Publisher: Imprint
Release date: February 6th
Before, Peyton was a star soccer player with the perfect boyfriend, Reed. Now, she has a torn knee ligament, a scholarship on the line, and a shattered sense of self.

By a Charm and a Curse by Jaime Questell
Publisher: Entangled Teen
Release date: February 6th
Le Grand's Carnival Fantastic isn't like other traveling circuses. It's bound by a charm, held together by a centuries-old curse, that protects its members from ever growing older or getting hurt.

Down and Across by Arvin Ahmadi
Publisher: Viking Books for Young Readers
Release date: February 6th
Scott Ferdowsi has a track record of quitting. With college looming, Scott sneaks off to Washington, DC, to seek guidance from a famous professor. He never expects the adventure that unfolds.

Fade to Us by Julia Day
Publisher: Wednesday Books
Release date: February 6th
Brooke's stepfather announces his daughter is moving in. Brooke has always longed for a sibling. But she worries, too. Natalie has Asperger's–and Brooke's not sure how to be the big sister that Natalie needs.
Fourth Dimension by Eric Walters
Publisher: Penguin Teen
Release date: February 6th
In the midst of what appears to be a massive power outage, Emma and her family canoe over to the islands, just offshore, to wait it out. But as the power remains out, the threat of violence becomes all too real.

Immortal Reign (Falling Kingdoms #6) by Morgan Rhodes
Publisher: Razorbill
Release date: February 6th
Jonas continues to willfully defy his destiny, but the consequences of plotting his own course are drastic. As the fight for Mytica rages on, he must decide just how much more he's willing to sacrifice.

The Last to Let Go by Amber Smith
Publisher: McElderry Books
Release date: February 6th
Brooke's chance at a fresh start is shattered when her mother is arrested for killing Brooke's abusive father. No one really knows what happened that day. And now Brooke and her siblings are on their own.

Layover by Emily Meyer and Amy Andelson
Publisher: Crown Books
Release date: February 6th
Ever since I moved to New York, Amos was the one person I could count on. And together we were there for Poppy. I just didn't expect to fall for him—and I never expected him to leave us.

The Queen's Rising (The Queen's Rising #1) by Rebecca Ross
Publisher: HarperTeen
Release date: February 6th
When her 17th summer solstice arrives, Brienna desires only two things: to master her passion and to be chosen by a patron. Her life takes an unexpected turn when a disgraced lord offers her patronage.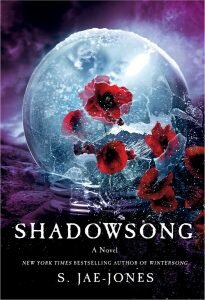 Shadowsong (Wintersong #2) by S. Jae-Jones
Publisher: Wednesday Books
Release date: February 6th
Life in the world above is not as easy as Liesl had hoped. Her younger brother Josef is cold, distant, and withdrawn, while Liesl can't forget the austere young man she left beneath the earth.

Shoot the Moon (Seeking Mansfield #2) by Kate Watson
Publisher: North Star Editions
Release date: February 6th
Despite what his brother—and sponsor—thinks, Tate isn't an addict. He has the 30-day chip to prove it. With his family no longer talking to him, his aunt offers him a chance to intern for her political campaign.

Your One and Only by Adrianne Finlay
Publisher: HMH Books for Young Readers
Release date: February 6th
Jack is a walking fossil. It's been hundreds of years since humanity died off in the slow plague, leaving the clones behind to carry on human existence. But if they really are perfect, why did they create Jack?