It's the most wonderful time of the year… when all of those gleefully most anticipated lists come out. Here are the 2018 YA books that we can't to see out in the universe. In no particular order, open up that new tab to start adding these to your to-be-read pile. What a great time it is to be among these shiny new reads!

Let's Talk About Love by Claire Kann
Publisher: Swoon Reads
Release date: January 23
Genre: Contemporary
When her blissful summer takes an unexpected turn, and Takumi becomes her knight with a shiny library employee badge (close enough), Alice has to decide if she's willing to risk their friendship for a love that might not be reciprocated—or understood.

My Plain Jane by Cynthia Hand, Jodi Meadows, and Brodi Ashton
Publisher: HarperTeen
Release date: June 26
Genre: Historical Fiction
Prepare for an adventure of Gothic proportions, in which all is not as it seems, a certain gentleman is hiding more than skeletons in his closets, and one orphan Jane Eyre, aspiring author Charlotte Brontë, and supernatural investigator Alexander Blackwood are about to be drawn together on the most epic ghost hunt this side of Wuthering Heights.

Children of Blood and Bone by Toni Adeyemi
Publisher: Henry Holt Books for Young Readers
Release date: March 6
Genre: Fantasy
Now, Zélie has one chance to bring back magic and strike against the monarchy. With the help of a rogue princess, Zélie must outwit and outrun the crown prince, who is hell-bent on eradicating magic for good.

The Poet X by Elizabeth Acevedo
Publisher: HarperTeen
Release date: March 6
Genre: Contemporary
A young girl in Harlem discovers slam poetry as a way to understand her mother's religion and her own relationship to the world.

A Girl Like That by Tanaz Bhathena
Publisher: Farrar, Straus, Giroux Books for Young Readers
Release Date: February 27
Genre: Contemporary
Sixteen-year-old Zarin Wadia is many things: a bright and vivacious student, an orphan, a risk taker. She's also the kind of girl that parents warn their kids to stay away from: a troublemaker whose many romances are the subject of endless gossip at school.

You'll Miss Me When I'm Gone by Rachel Lynn Solomon
Publisher: Simon Pulse
Release Date: January 2
Genre: Contemporary
Eighteen-year-old twins Adina and Tovah have little in common besides their ambitious nature. But one thing could wreck their carefully planned futures: a genetic test for Huntington's, a rare degenerative disease that slowly steals control of the body and mind.

The Defiant (The Valiant #2) by Lesley Livingston
Publisher: Razorbill
Release Date: January 23
Genre: Historical Fiction
Fallon and her warrior sisters find themselves thrust into a vicious conflict with a rival gladiator academy, one that will threaten not only Fallon's heart – and her love for Roman soldier Cai – but the very heart of the ancient Roman Empire.

American Panda by Gloria Chao
Publisher: Simon Pulse
Release Date: February 6
Genre: Contemporary
This incisive, laugh-out-loud contemporary debut follows a Taiwanese-American teen whose parents want her to be a doctor and marry a Taiwanese Ivy Leaguer despite her squeamishness with germs and crush on a Japanese classmate.

Blood of a Thousand Stars (Empress of a Thousand Skies #2) by Rhoda Belleza
Publisher: Razorbill
Release Date: February 20
Genre: Sci-fi
With a revolution brewing, Rhee is faced with a choice: make a deal with her enemy, Nero, or denounce him and risk losing her crown. Vicious politics and high-stakes action culminate in an epic showdown that will determine the fate of the universe.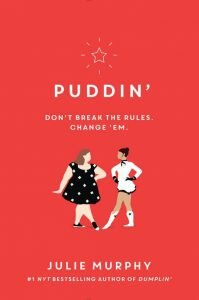 Puddin' by Julie Murphy
Publisher: Balzer + Bray
Release Date: May 8
Genre: Contemporary
Millie Michalchuk has gone to fat camp every year since she was a girl. Not this year. This year she has new plans to chase her secret dream—and to kiss her crush. When circumstances bring the girls together over the course of a semester, they will surprise everyone by realizing they might have more in common than they ever imagined.
Love, Hate & Other Filters by Samira Ahmed
Publisher: Soho Teen
Release date: January 16
Genre: Contemporary
Maya's stuck between two worlds – the one her parents want for her and the one she's been dreaming of. But when a terrorist who shares Maya's last name suicide bombs the U.S., Maya and her family are confronted with hatred and fear.

Winner Take All by Laurie Devore
Publisher: Imprint
Release date: January 30
Genre: Contemporary
Nell wants to succeed at everything—school, sports, life. And victory is sweeter when it means beating Jackson Hart, the rich, privileged, undisputed king of Cedar Woods Prep Academy.

The Belles by Dhonielle Clayton
Publisher: Disney-Hyperion
Release date: February 6
Genre: Fantasy
In the opulent world of Orléans, Belles are revered, for they control Beauty, and Beauty is a commodity coveted above all else. In Orléans, the people are born gray, they are born damned, and only with the help of a Belle and her talents can they transform and be made beautiful.

People Like Us by Dana Mele
Publisher: G.P. Putnam's Sons Books for Young Readers
Release date: February 27
Genre: Mystery
The dead girl has left Kay a computer-coded scavenger hunt, which, as it unravels, begins to implicate suspect after suspect, until Kay herself is in the crosshairs of a murder investigation. But if Kay's finally backed into a corner, she'll do what it takes to survive.

Tyler Johnson Was Here by Jay Coles
Publisher: Little, Brown Books for Young Readers
Release date: March 20
Genre: Contemporary
Tyler, Marvin's twin, goes to a party but never comes home. When video is leaked of Tyler being shot and killed by a police officer, Marvin watches as his mother unravels and as his brother's death become hashtag, Marvin must learn what justice and freedom really mean.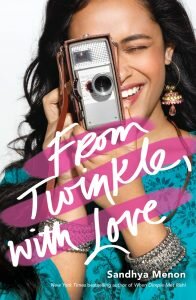 From Twinkle, With Love by Sandhya Menon
Publisher: Simon Teen
Release date: May 22
Genre: Contemporary
Twinkle finds herself with an opportunity to direct a film for an upcoming festival. But then she finds herself having feelings for two guys – twin brothers no less.
Not the Girls You're Looking For by Aminah Mae Safi
Publisher: Feiwel & Friends
Release date: June 19
Genre: Contemporary
Lulu Saad doesn't need your advice, thank you very much. She's got her three best friends and nothing can stop her from conquering the known world. Except maybe this time she's done a little more damage than she realizes.

The Way You Make Me Feel by Maurene Goo
Publisher: Farrar, Straus and Giroux
Release date: May 8
Genre: Contemporary
Clara Shin lives for pranks and disruption. When she takes one joke too far, her dad sentences her to a summer working on his food truck, the KoBra, alongside her uptight classmate Rose Carver. Not the carefree summer Clara had imagined.
Valley Girls by Sarah Nicole Lemon
Publisher: Amulet Books
Release date: May 8
Genre: Contemporary
When 17-year-old Rilla is busted for partying 24 hours into arriving in Yosemite National Park to live with her park ranger sister, it's a come-to-Jesus moment.

Girl Made of Stars by Ashley Herring Blake
Publisher: HMH Books for Young Readers
Release date: May 15
Genre: Contemporary
Mara and Owen are as close as twins can get, so when Mara's friend Hannah accuses Owen of rape, Mara doesn't know what to think. Can her brother really be guilty of such a violent act?

The Boneless Mercies by April Genevieve Tucholke
Publisher: Farrar, Straus and Giroux
Release date: October 2
Genre: Fantasy
A genderbent Beowulf re-imagining in which four mercenary girls chase glory and honor by battling a monster that's been terrorizing a nearby earldom.

The Final Six by Alexandra Monir
Publisher: HarperTeen
Release date: March 6
Genre: Science Fiction
Naomi and Leo are competing to be among the final six; a prestigious group that will get to explore Europa – one of Jupiter's moons – in hopes of resettling humankind there. But the race to the final six is deadly and everything is at stake.

Toil and Trouble edited by Tess Sharpe and Jessica Spotswood
Publisher: Harlequin Teen
Release date: August 28
Genre: Anthology
A young adult fiction anthology of 16 stories featuring contemporary, historical, and futuristic stories featuring witchy heroines who are diverse in race, class, sexuality, religion, geography, and era.
The Astonishing Color of After by Emily X.R. Pan
Publisher: Little, Brown Books for Young Readers
Release date: March 20
Genre: Magical Realism
Leigh Chen Sanders is absolutely certain about one thing: When her mother died by suicide, she turned into a bird. On the Come Up by Angie Thomas
Publisher: Balzer + Bray
Release date: My 1
Genre: Contemporary
From the author of The Hate U Give comes a story about an aspiring teen rapper and what happens when you get everything you thought you wanted.

Dread Nation by Justina Ireland
Publisher: Balzer + Bray
Release date: April 3
Genre: Historical Fantasy
When families around Baltimore County begin to go missing, Jane is caught in the middle of a conspiracy, one that finds her in a desperate fight for her life against some powerful enemies. And the restless dead, it would seem, are the least of her problems.

The Beauty That Remains by Ashley Woodfolk
Publisher: Delacorte Press
Release date: March 6
Genre: Contemporary
Autumn always knew exactly who she was—a talented artist and a loyal friend. Shay was defined by two things: her bond with her twin sister, Sasha, and her love of music. And Logan always turned to writing love songs when his love life was a little less than perfect. But when tragedy strikes each of them, somehow music is no longer enough.

A Land of Permanent Goodbyes by Atia Abawi
Publisher: Philomel Books
Release date: January 23
Genre: Contemporary
In a country ripped apart by war, Tareq lives with his big and loving family . . . until the bombs strike. His city is in ruins. His life is destroyed. And those who have survived are left to figure out their uncertain future.

A Thousand Beginnings and Endings edited by Ellen Oh and Elsie Chapman
Publisher: Philomel Books
Release date: June 26
Genre: Fantasy
Fifteen bestselling and acclaimed authors reimagine the folklore and mythology of East and South Asia in short [image]stories that are by turns enchanting, heartbreaking, romantic, and passionate.

Anger Is a Gift by Mark Oshiro
Publisher: Tor Teen
Release date: May 22
Genre: Contemporary
Moss and his fellow classmates find themselves increasingly treated like criminals their own school. New rules. Random locker searches. Constant intimidation and Oakland Police Department stationed in their halls. Despite their youth, the students decide to organize and push back against the administration. Dealing in Dreams by Lilliam Rivera
Publisher: Simon Schuster Books for Young Readers
Release date: August 31
Sixteen-year-old Nalah leads the fiercest all-girl crew in Mega City. That role brings with it violent throwdowns and access to the hottest bodega clubs, but Nalah quickly grows weary of her questionable lifestyle. Nalah must choose whether or not she's willing to do the unspeakable to get
what she wants.

Finding Yvonne by Brandy Colbert
Publisher: Little, Brown Books for Young Readers
Release date: August 7
Genre: Contemporary
Since she was seven years old, Yvonne has had her trusted violin to keep her company, especially in those lonely days after her mother walked out on their family. But with graduation just around the corner, she is forced to face the hard truth that she just might not be good enough to attend a conservatory after high school.