2018 marks nine years of me being involved in the YA book community. As a blogger, an assistant, an intern, a freelancer, and a writer, I've talked about books and strived to learn more. Nine years has allowed me to observe different patterns involving the books we talk about and how we talk about them. And the YA community is a massive echo chamber.
There are trade reviews that cover a wide range of books, but when it comes to general publicity and marketing, many books fall through the cracks. The reasons are fairly understandable—there's only so much budgeting per season, only so many people in publicity and marketing departments to take care of every book, only so much time. On the side of people who cover books, there's only so much time to read and do all your work, so doing research to find books you might've missed is low on the priority list. Even if you do try to prioritize researching and reading books you'd miss, you do that at the risk of getting people to actually be interested in what you have to say.
Few opportunities exist that offer a great deal of exposure. Book Expo (formerly Book Expo America) is one of those opportunities—promoting a book can be as simple as having galleys on display and readily available for people who are invested in this business so they can learn about the book and cover it and spread the word. I've counted on conferences like Book Expo to help me learn about new books and new authors. I've discovered some absolute favorites after wandering around a conference floor and seeing an unexpected galley that I become intrigued by.
Galleys are one of the promotional tools that are budgeted out for a book long before the book exists in a physical form. Promotional budgets are often decided while the publishers are still deciding if a book it worth buying. The company looks at how many copies they think they can sell and plugs it into P&Ls—profits & losses—to decide how much to offer an author and how much to spend on promoting a book. Galleys—or ARCs—are a promotional tool to help build sales.
Generally speaking, the more an author is paid, the more promotion the publisher is going to put behind a book and the more galleys will be printed and distributed. Most books do not get a large budget, but galleys are printed for almost every book a publisher picks up. Booksellers can read a book before publication to decide how many copies they want to have in store and which books they want to push the hardest. Galleys go to professional reviewers, since those reviews often catch the attention of librarians and teachers. Traditional journalists who may be interested in writing about the book or interviewing the author can also be sent galleys. They do not exist so those who may want to read a book but doesn't want to pay for it can have it early. They exist as a publicity tool to generate potential future sales.
I focus on boosting books that don't get as much attention as books written by New York Times bestsellers. I love plenty of popular books, but they don't need my love and support. That's why I started the #quietYA tag, why I keep using it and talking about it and pushing it. That's what I walked into Book Expo hoping to find. I asked about some books I knew about, knew ARCs existed for, and knew they weren't getting a ton of buzz.
At last year's Book Expo, however, that wasn't happening. The only books I saw at most publishing houses were books that were already highly hyped—Leigh Bardugo's Wonder Woman: Warbringer, Marie Lu's Warcross, Stephanie Perkin's There's Someone Inside Your House. Plenty of debuts were featured—including Dear Martin and Forest of a Thousand Lanterns—but these were books with major backing with hundreds of advanced reader's copies sent out to bloggers and booksellers and plans for tours and trips to future conferences.
Of the "quiet" titles I asked about, publishers didn't bring a single copy.
Finding already hyped books made me notice a trend I've seen in the Book Expos I've been to—I'm picking up fewer and fewer books spontaneously as years go on. I can't wander the floor and find books I've never seen or talk to the people in the booth and hear about favorites that aren't getting as much love. There are exceptions to this rule—Scholastic continues to be well stocked with a wide variety of their titles and Abrams takes a large number of galleys for all of their titles—but in general, fewer books are making the cut for Book Expo, even if they are making it in larger quantities.
Book Expo is supposed to be a show for professionals in the book industry, people who can really get the word out about a book. But how successful is it if it can't help people find new books? Why is it worth going when you're not getting something out of it?
Why aren't publishers even trying to talk about their "quiet" titles at one of the biggest conferences in publishing?
Part of the problem is the makeup of Book Expo's attendees. Book Expo has always allowed bloggers, but in the past, press passes were given to serious bloggers with big followings, though they were far from the bulk of attendees. Book Expo began as a trade show to help booksellers, so publishers could generate interest and create sales. Now, it's all about the press generating publicity—including book bloggers.
With the growing social media formats, rules have expanded; bloggers can buy passes into the conference. The rules allow people who rarely blog but still technically fit the Book Expo guidelines into the conference. I've spoken to people who said they came to Book Expo to build their to-read pile to start blogging or get back into it after significant time off. They take books for promotion for an audience that does not exist.
I can't fault publishers for changing tactics to meet this audience. If you're not a serious blogger or writer or industry professional, you're probably not looking for less popular books, so why would publishers bring them, especially when those books don't have the same promotional budget? Yet this shift in approaching Book Expo takes away a lot of the reasons for professionals to attend. Major bloggers and writers, booksellers, librarians—they get the big books sent to them. The value in coming to Book Expo for them is being sold on the smaller books so they can then sell it to others.
But the growing contingent of bloggers is not the only reason for this shift. There's also the creation of Book Con, a consumer conference that runs immediately after Book Expo. The idea is good—all of these publishers are already bringing their authors into New York City for Book Expo promotion; why not allow them to meet with readers who wouldn't usually have the opportunity? But the execution has thrown everybody off.
Book Expo and Book Con now seem largely interchangeable. The crowd at the two conferences is largely the same, with more professionals at Book Expo and a few more readers—well, a few thousand more readers—at The Book Con. However, despite these two conferences running back to back in the exact same location, publishers bring their authors to New York City and bring their galleys to the floor for just one of the conferences. Readers who go to The Book Con get a special, sometimes unexpected chance to pick up galleys and meet their favorite authors, but the professionals who can truly make a difference for the sales of the book and help get it to readers who can't afford The Book Con miss out. Publishers will bring authors into New York but only send them to Book Expo or to The Book Con. Similarly, some galleys are only available at The Book Con and not at Book Expo, meaning the professionals who don't go to The Book Con miss out on them.
If Book Expo wants to become a trade show where authors big and small can get a chance for their books again, then it has to help publishers make these major shifts. The Book Con is causing publishers to focus on their big titles that average readers will be excited about, while their quieter titles wouldn't be as exciting, so they don't get any promotion. So much effort is put into making booths ready for The Book Con—trying to make booths as flashy as possible to attract as many people as possible—that the professional trade show suffers.
There needs to be a stricter look at who really makes a difference when writing about YA books online and a limit on how many people can buy passes as non-editorial media. Booksellers, professional writers, and librarians should make up the bulk of Book Expo's audience so they can do their paid jobs. Bloggers and other social media influencers who want to attend Book Expo should be considered carefully every year by their reach and their dedication. It will take more work on the part of Book Expo, but it's the best way to actually help the books and the authors, which is the entire point.
I'm hoping that more publishers will have a greater variety of books at Book Expo in 2018 and that there will be a greater difference between what they showcase at Book Con and Book Expo. People who take this industry and doing their research seriously should have the chance to really learn about what's coming in the next season, not just what the biggest books are. All authors deserve some kind of chance to get noticed at one of the largest publishing conferences.
As I've mentioned, I like to focus on picking up books that are not getting a big promotional books to try to give them a chance, and I did find a few of those books at Book Expo in 2017. I didn't pick up any of these spontaneously – I was hoping to find all of them – but at least they made it to the floor. In 2018, I hope I can show you a longer list.

Echo After Echo by Amy Rose Capetta
Publisher: Candlewick
Release date: October 10 2017
Zara Evans has come to the Aurelia Theater, home to the visionary director Leopold Henneman, to play her dream role in Echo and Ariston, the Greek tragedy that taught her everything she knows about love. When the director asks Zara to promise that she will have no outside commitments, no distractions, it's easy to say yes. But it's hard not to be distracted when there's a death at the theater—and then another—especially when Zara doesn't know if they're accidents, or murder, or a curse that always comes in threes. It's hard not to be distracted when assistant lighting director Eli Vasquez, a girl made of tattoos and abrupt laughs and every form of light, looks at Zara.

The Girl with the Red Balloon by Katherine Locke
Publisher: Albert Whitman Company
Release date: September 1 2017
When sixteen-year-old Ellie Baum accidentally time-travels via red balloon to 1988 East Berlin, she's caught up in a conspiracy of history and magic. She meets members of an underground guild in East Berlin who use balloons and magic to help people escape over the Wall—but even to the balloon makers, Ellie's time travel is a mystery. When it becomes clear that someone is using dark magic to change history, Ellie must risk everything—including her only way home—to stop the process.

Beasts Made of Night by Tochi Onyebuchi
Publisher: Razorbill Books
Release date: October 31 2017
In the walled city of Kos, corrupt mages can magically call forth sin from a sinner in the form of sin-beasts – lethal creatures spawned from feelings of guilt. Taj is the most talented of the aki, young sin-eaters indentured by the mages to slay the sin-beasts. But Taj's livelihood comes at a terrible cost. When he kills a sin-beast, a tattoo of the beast appears on his skin while the guilt of committing the sin appears on his mind. Most aki are driven mad by the process, but 17-year-old Taj is cocky and desperate to provide for his family. When Taj is called to eat a sin of a royal, he's suddenly thrust into the center of a dark conspiracy to destroy Kos. Now Taj must fight to save the princess that he loves – and his own life.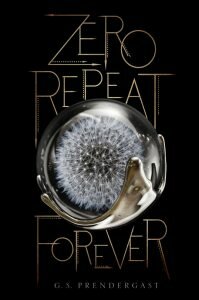 Zero Repeat Forever by Gabrielle Prendergast
Publisher: Simon & Schuser Books for Young Readers
Release date: August 29 2017
He has no voice, or name, only a rank, Eighth. He doesn't know the details of the mission, only the directives that hum in his mind: Dart the humans. Leave them where they fall. His job is to protect his Offside. Let her do the shooting. Until a human kills her. Sixteen year-old Raven is at summer camp when the terrifying armored Nahx invade, annihilating entire cities, taking control of the Earth. Isolated in the wilderness, Raven and her friends have only a fragment of instruction from the human resistance: Shelter in place. Which seems like good advice at first. Stay put. Await rescue. Raven doesn't like feeling helpless but what choice does she have?

The Nowhere Girls by Amy Reed
Publisher: Simon Pulse
Release date: October 10 217
Grace Salter is the new girl in town, whose family was run out of their former community after her southern Baptist preacher mom turned into a radical liberal after falling off a horse and bumping her head. Rosina Suarez is the queer punk girl in a conservative Mexican immigrant family, who dreams of a life playing music instead of babysitting her gaggle of cousins and waitressing at her uncle's restaurant. Erin Delillo is obsessed with two things: marine biology and Star Trek: The Next Generation, but they aren't enough to distract her from her suspicion that she may in fact be an android. When Grace learns that Lucy Moynihan, the former occupant of her new home, was run out of town for having accused the popular guys at school of gang rape, she's incensed that Lucy never had justice. They form an anonymous group of girls at Prescott High to resist the sexist culture at their school, which includes boycotting sex of any kind with the male students.
27 Hours by Tristina Wright
Publisher: Entangled Teen
Release date: October 3 2017
Rumor Mora fears two things: hellhounds too strong for him to kill, and failure. Jude Welton has two dreams: for humans to stop killing monsters, and for his strange abilities to vanish. But in no reality should a boy raised to love monsters fall for a boy raised to kill them. Nyx Llorca keeps two secrets: the moon speaks to her, and she's in love with Dahlia, her best friend. Braeden Tennant wants two things: to get out from his mother's shadow, and to unlearn Epsilon's darkest secret. They'll both have to commit treason to find the truth. During one twenty-seven-hour night, if they can't stop the war between the colonies and the monsters from becoming a war of extinction, the things they wish for will never come true, and the things they fear will be all that's left.