Gong Hey Fat Choy! Gong Xi Fa Cai!
Happy Lunar New Year! February 16th marks the first day of the Lunar New Year.
As this is my 3rd year pulling together a list of YA novels with East & Southeast Asian characters, I'm sure many of you are familiar with this post. For those of you who are new or who do not know already, the holiday honors the first day on a luni-solar calendar (aka the agricultural calendar).
I'm Chinese-American, both of my parents coming over to America from Hong Kong. They speak Cantonese. In Cantonese, people wish others a happy new year by saying Gong Hey Fat Choy as written above. Gong Xi Fa Cai is how Mandarin speakers wish a happy new year.
While many know the Lunar New Year as Chinese New Year, it is important to understand that many east and southeast Asians celebrate the lunar new year. And each culture has its own traditions and festivities. As a Chinese-American, my family comes together and celebrates by eating a lot of food and gifting hongbao—red envelopes which carry money and represents and brings good luck and fortune.
Below, please find a list of 18 YA books that either feature East & Southeast Asian characters or are written by East & Southeast Asian authors.
Gong Hey Fat Choy—and happy reading!
---

Smoke in the Sun (Flame in the Mist #2) by Renee Ahdieh
Publisher: G.P. Putnam's Sons Books for Young Reader
Release date: June 5th
In this sequel to to Flame in the Mist, Mariko must figure out a way to rescue Okami from the Jukai forest while pretending to be a dutiful bride-to-be in order to infiltrate the emperor's ranks and figure out who tried to take her life.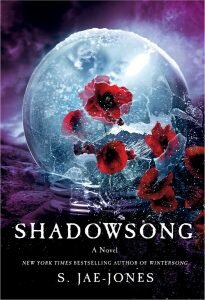 Shadowsong (Wintersong #2) by S. Jae-Jones
Publisher: Wednesday Books
Release date: February 6th
In the sequel to Wintersong, Liesl is trying to further her musical career but must return Underground to the Goblin King and unravel the mystery of life and death when she realizes the barrier between the worlds is falling apart.

The Bird and the Blade by Megan Bannen
Publisher: Balzer + Bray
Release date: June 5th
Jinghua, a slave. helps Prince Khalaf and his father flee from their enemies across the Mongol Empire. But as Jinghua begins to have feelings for the Prince, Prince Khalaf tries to restore his kingdom by entering into a marriage alliance with the daughter of the Great Khan.

The Place Between Breaths by An Na
Publisher: Atheneum/Caitlyn Dlouhy Books
Release date: March 6th
Grace's mother has struggled with schizophrenia for years and one day disappeared. Grace's father works at a lab and tries to recruit the world's best scientists to find a cure. When Grace finds a string of code in the lab that could be key to a breakthrough, she must figure out if it's just a side effect of the schizophrenia and decide what's real and what isn't.

All That I Can Fix by Crystal Chan
Publisher: Simon Pulse
Release date: June 12th
A teenager of mixed race finds his world turned upside-down after his father's failed suicide attempt—and then again when a zoo of exotic animals is set loose near his home.
by Natasha Ngan
Publisher: Little Brown
Release date: October 23rd
Lei is taken to serve in the Demon King's court. While there, she falls in love with another servant and puts both of their lives in grave danger.

Lovely, Dark, and Deep by Justina Chen
Publisher: Arthur A. Levine Books
Release date: July 31st
Viola vows to maintain a normal life after she develops an extreme case of photosensitivity: an allergy to sunlight.

The Way You Make Me Feel by Maurene Goo
Publisher: Farrar, Straus and Giroux (BYR)
Release date: May 8th
After a prank goes too far, Clara is sentenced to work in her father's food truck for the summer and realizes she might feel devoted to the business. Seven Deadly Shadows by Valynne Maetani and Courtney Alameda
Publisher: HarperTeen
Release date: September 25th
Kira finds comfort from bullying by working in her grandfather's Shinto shrine. When she realizes she can communicate with demons, Kira and her sister team up with Shinigami to save Kyoto.

American Panda by Gloria Chao
Publisher: Simon Pulse
Release date: February 6th
A seventeen-year-old at MIT, Mei is on track to be the perfect image of what her parents always wanted. But in reality, Mei is not who her parents want her to be and cannot bring herself to tell them or find a way to be herself until she reconnects with her estranged brother, Xing.
The Astonishing Color of After by Emily X.R. Pan
Publisher: Little, Brown Books for Young Readers
Release date: March 20th
Leigh travels to Taiwan to meet her maternal grandparents for the first time and to search for her mother, who Leigh believes turned into a bird after dying by suicide.
by Julie C. Dao
Publisher: Philomel Books (Penguin Random House)
Release date: October 23rd
In the sequel to Forest of a Thousand Lanterns, Princess Jade embarks on a dangerous journey to dethrone the empress, who is also her stepmother, even though she does not want to reign.

A Thousand Beginnings and Endings edited by Ellen Oh and Elsie Chapman
Publisher: Greenwillow Books
Release date: June 26th
Fifteen authors come together to reimagine the folklore and mythology of East and South Asia through enchanting short stories. Dear Miss Sweetie by Stacey Lee
Publisher: Putnam
Release date: TBD
It's Atlanta in the 1890s and a Chinese teenager is the pseudonymous author of a popular newspaper advice column. As "Miss Sweetie," she uses her words to try and change the outcome of a trial.

Along the Indigo by Elsie Chapman
Publisher: Amulet Books
Release date: March 20th
Marsden is desperate to escape her current life and turns to stealing from the bodies that show up along the Indigo River in order to make some money to leave. But at the river, she meets Jude, who has secrets of his own that may be linked to Marsden. Girls on the Line by Jennie Liu
Publisher: Carolrhoda
Release date: TBD
In contemporary China, two orphan girls have to come face-to-face with factory bosses, family planning regulators and bride trafficking as a result of a teen pregnancy.

Emergency Contact by Mary H.K. Choi
Publisher: Simon Schuster Books for Young Readers
Release date: March 27th
When Penny and Sam meet, it's super awkward. But they swap numbers and end up sharing their deepest secrets and insecurities and become digitally inseparable—all because they don't have to go through the embarrassment of seeing each other in person. The Boys in the Back Row by Mike Jung
Publisher: Arthur A. Levine Books
Release date: TBD
A story about band geeks, friendship and a great misadventure. (Full summary TBD).