I let fear keep me from everything I loved for a very long time.
In high school, band was my thing. I was first chair clarinet, drum major of the marching band, college-bound with a music scholarship. The irony? I was too terrified to practice my instruments where anyone could hear me—not even my parents.
Even back then, I loved to read and write, too. But I hated sharing my writing with others, and never submitted to the school lit mag.
Video games were my biggest hobby, but playing competitive video games terrified me. Intense perfectionism meant I could never lose, or I was an ultimate failure at all things in life and should give up.
I thought maybe it'd get better in college, when I could really dive deep into my music studies. Instead, I was too afraid to use the practice rooms in the music school building because other musicians who knew what to listen for could hear just how much I sucked. I poured all the effort I couldn't put into practicing into getting perfect grades in music theory instead. And when I wasn't able to perform my music up to specifications—of course I couldn't, I could barely stand to hear myself practice!—the anxiety I'd experienced throughout my teen years finally blossomed into full-blown panic attacks, obsessive thoughts, and depression.
I didn't dance. I didn't sing. I didn't play competitive video or board games. And I never, ever wrote, because I couldn't stand to read my own writing. I let my fear beat me. I hit rock bottom in my early-20s, part way through my first stint in grad school, and finally had to pull out of school and totally change the course of my life.
But slowly, throughout my mid- and late-20s, I started to realize everything I was missing out on.
Two things helped me start to heal: gaming and writing. Some friends got me into playing more cooperative board and video games, and I started to learn the art of—gasp!—focusing on having fun instead of being perfect at everything. I learned to laugh at myself when I messed something up or lost badly. Eventually, I relaxed enough to finally try writing again, for real this time. I embraced the writing community, where rejection is universally acknowledged as part of the process. Rejection means you're trying, at least. Rejection means progress.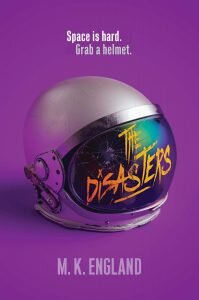 Finally, I wrote The Disasters, a book that for me embodied a giant middle finger to fear. It was everything I wanted both as a teen and an adult, and exactly how I longed to live: fast pace, full of laughing and ridiculousness, and always 100% unashamedly queer nerdy fun.
Now?
Meet me at the club and let's dance. Let's crank up the radio in the car and sing at the top of our lungs. Let's lose horribly at a game together. Tell me everything that's wrong with my manuscript so I can make it better. I'm still afraid, but I don't let it control me. And I definitely don't let it stop me from having fun and pursuing the things I love.
I wish the same for you.