The paperback cover for Tommy Wallach's Thanks for The Trouble is, without an argument, a lovely cover. The text is overlaid cleanly, minimalistic, matching Wallach's earlier book We All Looked Up. The scene painted upon it: two kids on a rocky beach, looking out at a bridge shrouded in beautiful blue-green mist. The bridge is the Golden Gate Bridge, one of the prides of San Francisco and the bridge with one of the highest rates of suicide jumpers in the country.
[Trigger warning ahead for discussion of the following: suicide, anti-Semitism, racism.]
It's not surprising that the bridge subsequently plays a large role in Thanks for the Trouble; after all, if it wasn't important to the story, it wouldn't be featured on the cover. What is surprising is how Wallach treated the arrival of the Thanks for the Trouble paperback: with a joke about suicide.
Wallach is a troublesome character to document; he tends to flounce from social media when people call him out, which prompts his fans to turn on those trying to hold him accountable for his action as bullies for "forcing" him to leave social media. Accounts are deleted, posts disappear, and Wallach appears again a week or so later, either ignoring the situation or with a pseudo-apology and having blocked those who spoke out against him.
"It is loverly and I love it," wrote Wallach on Facebook as he shared the Thanks for the Trouble paperback cover in a since-deleted post. "That's a damn sexy bridge right there. I could really get into jumping off it. [smiley face emoji]"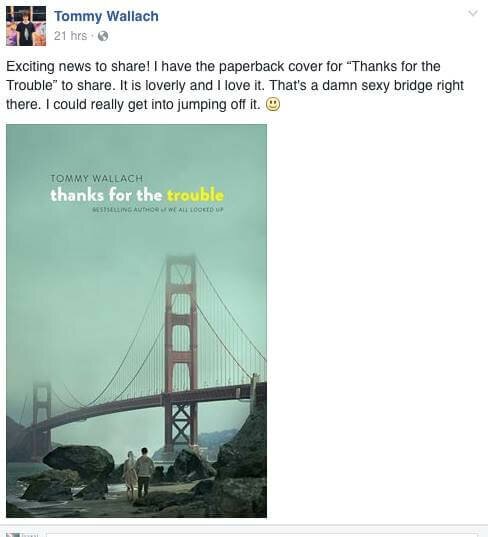 The YA community took the comment for what it was: a joke about jumping off a bridge with a high rate of suicide or, in shorter terms, a suicide joke. Outraged, authors and bloggers and readers and agents Tweeted their distaste for the comment and left notes on his Facebook post. Suicide, they said, was serious; many shared their own experiences, though some stepped back, too triggered from the conversations to engage.
Wallach "apologized" for his remarks in two Tweets, saying "Oy. Friends, I was not making a suicide joke. The whole conclusion of the book is about whether or not Zelda jumped from that bridge." and "Everyone, I apologize if I offended. I struggled with depression myself as a teen. I was just referencing the conclusion of the book."

The apology is worth dissecting: Wallach claims he was not making a joke, but the comment was a joking reference to the end of Thanks For The Trouble on whether or not his central lady character Zelda commits suicide by jumping off the bridge – making it a joke about suicide. Wallach also does not apologize for his behavior; he apologizes for offending, and waves away responsibility by referencing his own depression as a teen.
When those upset by Wallach's dismissal of his actions were unsatisfied by his apology, he left Twitter, first locking and then deleting his account and deleting his Facebook post. When This Savage Song author Victoria Schwab stepped up, stating publicly that she would not be blurbing books from Simon & Schuster and penning a post on YA Books Central called "We Need To Talk About Tommy," fans of Wallach's turned on her, telling her she was a bully and accusing her of being a jilted ex-lover (among other more vile terms). Other authors who publicly spoke out against Wallach's behavior also found themselves harassed.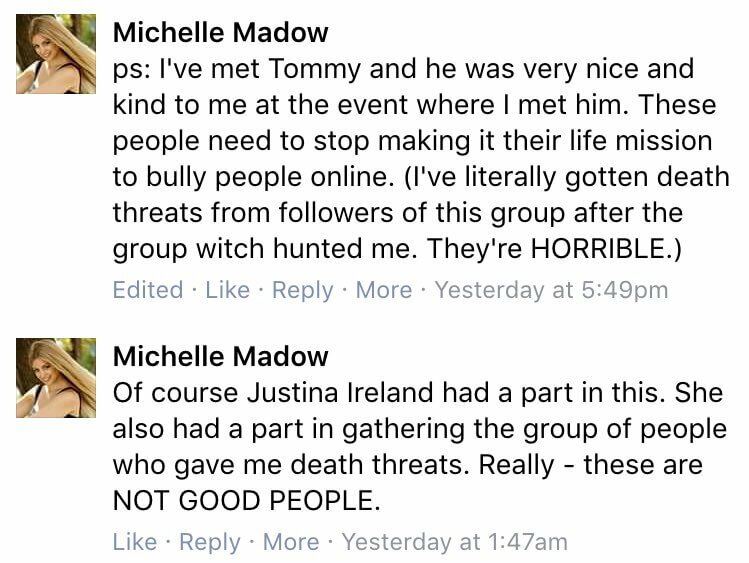 Author Katherine Locke endures harassment from "Susan Clark," a burner account made specifically to target her and fellow author Hannah Moskowitz; both are Jewish. Meanwhile, author Michelle Madow (whose racist comments have been covered on YA Interrobang before) defends Wallach against the comments of Justina Ireland; Tessa Gratton, not Ireland, was the first person to bring up Wallach's comments. Madow later confused Ireland with We Need Diverse Books' member Dhonielle Clayton, both of whom are black. I was unable to find any public record of Ireland or anybody sending Madow death threats.

Wallach's (often lady-identifying) fans coming to his aid despite his pattern of problematic behavior is not the first time we've seen such a thing – Andrew Smith earned the same treatment after people began critiquing his comments about women in Vice magazine, prompting the #KeepYAKind movement that advocated for silence rather than kindness.
If this had been the first instance of Wallach treating his fans callously and dismissing the opinions of the YA community, it would not be worth remarking on; people make mistakes and move on all the time. But Wallach's behavior is part of a problematic pattern, and publishing continues to reward him despite his routinely dismissal of women, people of color, people who experience mental illness, and anybody different than him.
In many cases, I choose to simply blacklist a problematic book or an author who has harassed readers from YA Interrobang rather than talk about them in an extended sort of way – exceptions are issues that affect the wider community as a whole and have included Andrew Smith ("The Curious Case of Andrew Smith, Twitter & sexism") and Irreversible ("We will not cover Irreversible on YA Interrobang"). Wallach's continual pattern of behavior is worth discussing, especially in the context of sexism in YA and the continual marginalization of "diverse" voices in the community despite the efforts of the We Need Diverse Books movement.
Wallach's problematic behavior runs back over a year, starting with a defense of Andrew Smith where he ignores the opinions of author and advocate Tessa Gratton in favor of a dictionary definition of sexism. (Andrew Smith's behavior and the fallout around his statements have, of course, already been documented on YA Interrobang in "The Curious Case of Andrew Smith, Twitter & sexism.") Wallach postures that women are inherently "other" from men, accuses Gratton of "gin[ning]up the controversy" and explains that he is a feminist because he was "raised by a single working mother and she's still my best friend in the world."
[View Wallach's defense of Smith and attack on Gratton as a .pdf.]
Fast forward to later that year. Author Justina Ireland takes to Twitter to discuss a book where she feels the black character is self-hating. Ireland, being black herself, is asked about the book in question; she says that it's Wallach's debut novel We All Looked Up. Though Wallach is not tagged, he swoops into the conversation and demands Ireland provide proof that his character Anita is self-hating before claiming that author Dhonielle Clayton, who is also black, is friends with him and "engaged" with him on the issues in the book.
Clayton later stated publicly that she had not done any sensitivity reading on We All Looked Up.
What brought Wallach's behavior to the attention of the YA world as a whole came this past November in the wake of the horrifying terrorist attacks in Paris. When the hashtag #prayforparis went viral, Wallach responded with multiple social media posts and a blog post about how atheism was the only belief that could make the world a better place. (Though Wallach argues that it is not, in fact, a belief: "The fact that we have a word for it makes it seem like it's equivalent to other belief systems, but it's not. The absence of something is not equivalent to the thing itself.")
[View Wallach's comments on atheism as a .pdf.]
After Wallach Tweeted that he was a "a rabid atheist, and the world would be a better place if more folk were" – a Tweet he subsequently deleted before deleting his account in its entirety – he doubled down in a block post that outlined all the way religions failed and all the reasons atheism was awesome.
Those who tried to explain to him why this behavior was – to say the least – problematic found themselves quickly blocked or shut down; at once point, Wallach tried to explain anti-Semitism to Jewish author Hannah Moskowitz before claiming that "if [her]parents are atheists and [his]dad is Jewish, [he's] as much Jewish as [her]."
(For those wondering, Wallach blocked me during this incident despite being friendly with me and having taken my advice previously; while he did believe me in regards to his behavior towards Justina Ireland, which you can see in Tweets above, my snarky comment to him about "the only good people are the people who are exactly like me" was, apparently, too much for him to take. As Wallach's account has since been deleted and I purged my social media account in January, that interaction is no longer publicly available.)
Take this behavior in comparison to author LJ Silverman, who recently received a sea of anti-Semitic hate mail – including crude manipulated images of her in an oven – for Tweeting that she was worried about the upcoming election in the context of history. Wallach painted himself to be the victim, somebody "attacked" for insulting all of the religious folks in the YA community, while Silverman, who simply shared a worry plaguing her, became a victim of virulent trolls.
While Wallach deleted his social media accounts after this, there were no public consequences to his actions despite ill-will from the YA community at large. If another member of the YA community had spoken out – one of our Catholic or Islamic or Jewish or Mormon authors, for instance – the backlash would have been substantially worse, possibly career-ruining.
Wallach's career, however, was not ruined; he recently landed a six-figure deal for a book trilogy centered around a "holy war."
And thus, we return to Wallach's dismissive comments on suicide – which, it turned out, were neither new or original. In a blog post deleted after it came to light during this discussion, Wallach rated "the top ten literary suicides (organized by emo-ness)" which included all of the characters of HBO's Girls – "It's really just a fantasy of mine." – and, ranking at number one, Sylvia Plath – who is not a character but a real person who suffered from depression before taking her own life at a young age.
[View Wallach's post on suicide as a .pdf.]
"I'm only going to talk about the fact that a successful YA author found it appropriate to glorify, romanticize, and mock what for many of his readers is among the highest causes of death," wrote Schwab in her "We Need To Talk About Tommy" post. "That this author could be so very careless and flippant and insensitive about such a very serious issue is abhorrent. That two years after penning this post he still sees suicide as something to be made light of, to be used as a marketing tool."
Simon & Schuster made no public comment about any of Wallach's comments. His career, save for making enemies of some fellow authors, seems relatively unscathed by his callous actions; his presence online remains untainted by trolls, while his critics – none of whom have harassed or threatened him – remain inundated with accusations of bullying, particularly the women of color who spoke up.
Wallach's repeated dismissive comments of those in the community are part of a larger systemic pattern of sexism (and, especially in regards to the response towards the marginalized voices that critique him, racism and anti-Semitism) in the YA community. We've seen it with the success of Scott Bergstrom, who landed a six-figure deal with Macmillan's Feiwel and Friends imprint for his book The Cruelty despite repeatedly dismissing women readers and YA as a whole; we've seen it with coverage of Wallach previously, as a Mic article originally proclaimed Wallach's We All Looked Up as "the first of its kind" for combining a novel's narrative with a musical album and ignored Kelsey Macke's use of the same technique for her October 2014 release Damsel Distressed; we've seen it with the repeated attacks and harassment of the women who critiqued Andrew Smith's comments on writing women. Wallach's case is not an isolated incident, but one in of many examples of the favoritism given to cis white men in the community at the expense of women, particularly those from marginalized backgrounds.
And the YA community deserves better.
If you or anyone you know is suffering from self harm or suicidal thoughts, please take advantage of these resources:
Crisis Text Line: Text START to 741-741
National Suicide Prevention Hotline:
To Write Love on Her Arms: https://twloha.com/find-help/local-resources/
National Runaway Hotline: