Daily reminder that white men get to be sexist assholes w/out paying for it in prestige or success.

— Tessa Gratton (@tessagratton)
On March 8, Vice published an article by their writer Hugh Ryan entitled "The Failure of Male Societies: Author Andrew Smith Tackles Monsters and Sex." In and of itself, this article wasn't anything spectacular; it was a short interview with an award-winning YA novelist, not designed to cause a splash or launch an online campaign.
However, in Ryan's opening to the article, he commented that "female characters are Smith's real Achilles heel: he doesn't have many of them and they tend toward the stereotypical." He then asked Smith about the lack of female characters in his books, which include Grasshopper Jungle and The Alex Crow. "I was raised in a family with four boys, and I absolutely did not know anything about girls at all," replied Smith. "I have a daughter now; she's 17. When she was born, that was the first girl I ever had in my life. I consider myself completely ignorant to all things woman and female. I'm trying to be better though."
Smith then went on to talk about how his newest novel The Alex Crow was about the failure of male societies.
And so the YA community took advantage of these comments to do what it does best, when its not reading – it began to talk about what it had read. Twitter exploded with commentary on Smith's quote. Responses ranged from Sarah McCarry's hilarious snark and thoughtful blog post, to actual earnest conversation about the internalized sexism in Smith's remarks. that would be cited, quoted and complained about – depending on the person talking – throughout the rest of the campaign.
Hello! Still getting hate mail for that post on Andrew Smith and Sexism I wrote two whole months ago!

— Tessa Gratton (@tessagratton)
"I was shocked, primarily, by the negative response," said Gratton when I asked her about her experience via email, though she expanded on it in "I had been naïve enough to believe the vast majority of the people in my community agreed with me about what sexism is and that Smith's comments reflected that sexism. I gave the online world too much credit. To be honest, I thought my post would go out, get some agreeing feedback, if I was lucky spark a brief conversation, and then like everything women say about sexism, fade into ephemeral space of internet-yesterdays."
While nobody denied the institutional sexism in young adult literature or the world in general – an issue that has been discussed in a variety of other places, including the website Ravishly and Tor's UK division – they played semantics as to what it meant while others came to Smith's defense, proud that he was acknowledging a fault and hoping to see him do better.
As the conversation continued to unfold, the YA community began to divide. Some called for those critiquing Smith's words to be nicer, using the hashtag #KeepYAKind – a spin on #KeepYAWeird, the name of the tour currently affiliated with Smith's books. They called out those most open about their critiques of Smith's words, said that they didn't want to see an author being attacked and bullied, and that it wasn't fair to Smith, who admitted that he was "trying to be better."
Fans of "Keep YA Kind" sure know how to harass women.

Kindness is for white dudes only I guess idk.

— veronikelly mars (@veronikellymars) May 12, 2015
"Bypassing women altogether in [the review]process is nothing new, but it's nothing to applaud," wrote author Sarah McCarry in "Faking Nice in the Blogosphere: Women and Book Reviews" for Huffington Post. "Book bloggers and reviewers- female book bloggers and reviewers especially – often seem to subscribe to a kind of cultlike apologism, in which they feel the need to defend the author as a person even if they are temerarious enough to be displeased by her book."
When I first posted about the incident on March 26th, I pointed out that I had not seen a single explicit attack on Smith's character, only a critique of his words. I invited any links with explicit attacks on him to be sent to me. None have. I still have not seen an attack on him, though he explicitly attacked bloggers who critiqued his words and blocked authors who asked questions about what he'd said. Smith also answered a Tweet from a fan about his new book The Alex Crow. "And there are some great GIRL CHARACTERS in this book," he Tweeted, before adding the hashtags #SomePeopleAreFools and #IHaveWritten10NovelsAssholesGetALife.
, and Smith apologized for his words and deleted the Tweet. He added, however, that while Messner's point was a valid one, "I don't believe words can be kind or unkind, they are vessels filled with the intent of the speaker."​ .
Smith continued to deny that his Tweet had been aimed at the women critiquing him earlier in the month .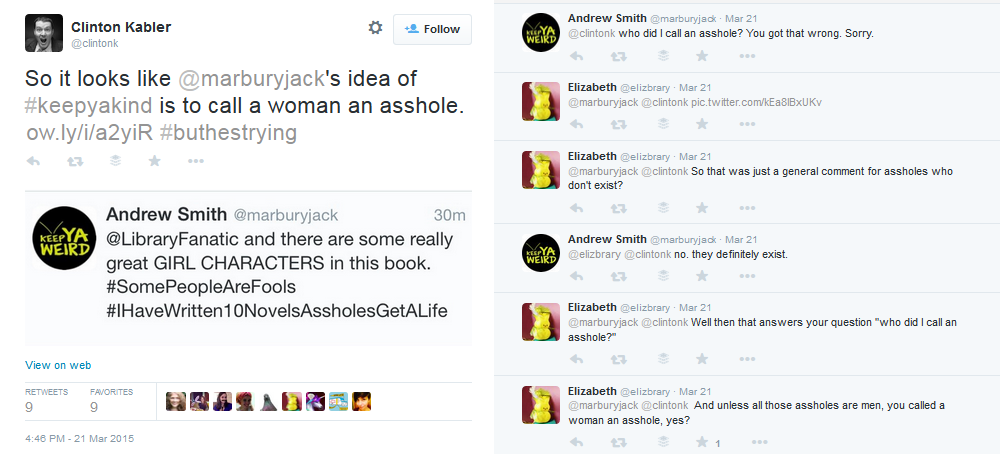 But the majority of those critiquing Smith's words were women. When Publisher's Weekly's article on Bergstrom's six-figure deal went online, the majority of those critiquing Bergstrom's words were – again – women.
A day after the Publisher's Weekly article on Bergstrom went up, and a day after critiques of his words began, author Barry Lyga wrote a blog post simply entitled "Morally Complicated YA" – both a quote from Bergstrom and a reference to the hashtag that blogger Kayla Whaley had begun the night before, where those in the community were sharing recommendations of YA books that pushed moral boundaries.
"In publishing, you can be a dick and people will shrug it off, but if you're a successful dick, people hate you," wrote Lyga, adding later, "I could spend the day bashing Bergstrom (whom I've never met and who is probably a very nice, very talented guy), or I could do something productive."
Lyga, like many, saw the critique of Bergstrom as bashing, choosing to believe that he was a "very nice" guy, despite his dismissal of the category of literature Lyga also writes in. Others on social media dismissed those critiquing Bergstrom's words and writing as jealousy.
Bashing implies that the comments on Bergstom were unwarranted. After all, Lyga writes, "Who knows what else Bergstrom said that PW chose not to include?"
But publishing in an industry that values words. Words have meaning, choices, shape the narrative.
Bergstrom chose a narrative that raised his own book by putting down others in the women-dominated industry, of making his leading lady different by having her conform to patriarchal ideas of beauty and behavior. Smith chose a narrative that made him the victim despite admittance of his own faults, chose words that attacked others rather than admit his own mistakes.
But because of who the critique stemmed from – because of what the critique focused on – those critiquing weren't seen as simply critiquing the words presented to them or sharing an opinion. They were seen as irrational. Angry. Overreacting. Unnecessarily jealous.
Because they were women, defending themselves, defending their rights, defending other women.
As Brenna Clarke Gray wrote in her post about leaving Goodreads on Book Riot in March, "The bookternet should be a place where we can talk openly about representations of women in literature, about the unbearable whiteness of publishing, about the need to read diversely. And we should be able to do it, as women, without fearing gendered attacks and silencing. When I say the bookternet is not safe for women, I mean it."
Or as Sarah Hollowell wrote about the backlash to speaking out about Andrew Smith in March, "I watched as women who did speak up were torn down, spammed, threatened. I watched as they were told to just sit down and shut up because he just messed up, you can't criticize him for messing up, we have to protect our own, and our own means this white male writer, but not the women he found too mystifying to write, not the women being targeted.
Or, as after the Bergstrom announcement, "Men defending each other is admirable. Women defending each other is bashing."
But what about boys who read? Click through to page 5.