What's not to love about a spy story? Nothing. There's nothing not to love about a spy story. Fortunately, YA has provided us with plenty of spy stories over the years!

Tunnel Vision by Susan Adrian
Publisher: St. Martin's Griffin
Release date: January 20 2015
Jake Lukin just turned 18. He's decent at tennis and Halo, and waiting to hear on his app to Stanford. But he's also being followed by a creep with a gun, and there's a DARPA agent waiting in his bedroom. His secret is blown. When Jake holds a personal object, he has the ability to "tunnel" into the owner. He can sense where they are, like a human GPS, and can see, hear, and feel what they do. It's an ability the government would do anything to possess: a perfect surveillance unit who could locate fugitives, spies, or terrorists with a single touch. Jake promised his dad he'd never tell anyone about his ability. But his dad died two years ago, and Jake slipped. Forced to lie to his friends and family, and then to choose whether to give up everything for their safety, Jake hopes the good he's doing—finding kidnap victims and hostages, and tracking down terrorists—is worth it. But he starts to suspect the good guys may not be so good after all.

A School for Unusual Girls by Kathleen Baldwin
Publisher: Tor Teen
Release date: May 19 2015
It's 1814. Napoleon is exiled on Elba. Europe is in shambles. Britain is at war on four fronts. And Stranje House, a School for Unusual Girls, has become one of Regency England's dark little secrets. The daughters of the beau monde who don't fit high society's constrictive mold are banished to Stranje House to be reformed into marriageable young ladies. Or so their parents think. After accidentally setting her father's stables on fire while performing a scientific experiment, Miss Georgiana Fitzwilliam is sent to Stranje House. But Georgie has no intention of being turned into a simpering, pudding-headed, marriageable miss. She plans to escape as soon as possible—until she meets Lord Sebastian Wyatt. Thrust together in a desperate mission to invent a new invisible ink for the English war effort, Georgie and Sebastian must find a way to work together without losing their heads—or their hearts…

Also Known As by Robin Benway
Publisher: Walker Books for Young Readers
Release date: February 26 2013
Maggie Silver has never minded her unusual life. Cracking safes for the world's premier spy organization and traveling the world with her insanely cool parents definitely beat high school and the accompanying cliques, bad lunches, and frustratingly simple locker combinations. (If it's three digits, why bother locking it at all?) But when Maggie and her parents are sent to New York City for her first solo assignment, her world is transformed. Suddenly, she's attending a private school with hundreds of "mean girl" wannabes, trying to avoid the temptation to hack the school's elementary security system, and working to befriend the aggravatingly cute son of a potential national security threat… all while trying not to blow her cover.

An Assassin's Guide to Love and Treason by Virginia Boecker
Publisher: Little, Brown Books for Young Readers
Release date: October 23 2018
When Lady Katherine's father is killed for being an illegally practicing Catholic, she discovers treason wasn't the only secret he's been hiding: he was also involved in a murder plot against Queen Elizabeth I. With nothing left to lose, Katherine disguises herself as a boy and travels to London to fulfill her father's mission. Katherine's opportunity comes in the form of William Shakespeare's newest play, which is to be performed in front of Her Majesty. But what she doesn't know is that the play is not just a play–it's a plot to root out insurrectionists and destroy the rebellion once and for all. The mastermind behind this ruse is Toby Ellis, a young spy for the queen with secrets of his own. When Toby and Katherine are cast opposite each other as the play's leads, they find themselves inexplicably drawn to one another. But the closer they grow, the more precarious their positions become. And soon they learn that star-crossed love, mistaken identity, and betrayal are far more dangerous off the stage than on.

Velvet Undercover by Teri Brown
Publisher: Balzer + Bray
Release date: October 20 2015
In the midst of World War I, seventeen-year-old Samantha Donaldson follows in her family's footsteps, serving her country from the homefront as a Girl Guide and messenger for the intelligence organization MI5. After her father disappears on a diplomatic mission, she continues their studies, hoping to make him proud. When Sam is asked to join the famed women's spy group La Dame Blanche she's torn—this could be the adventure she's dreamed of, but how can she abandon her mother, who has already lost a husband to the war? But when her handlers reveal shocking news, Sam realizes there's no way she can refuse the exciting and dangerous opportunity. Her acceptance leads her straight into the heart of enemy territory on a mission to extract the most valuable British spy embedded in Germany, known to the members of LDB only as Velvet. Deep undercover within the court of Kaiser Wilhelm II, Samantha must navigate the labyrinthine palace and its many glamorous—and secretive—residents to complete her assignment.

Code Talker by Joseph Bruchac
Publisher: Dial Books
Release date: March 17 2005
Throughout World War II, in the conflict fought against Japan, Navajo code talkers were a crucial part of the U.S. effort, sending messages back and forth in an unbreakable code that used their native language. They braved some of the heaviest fighting of the war, and with their code, they saved countless American lives. Yet their story remained classified for more than twenty years. Joseph Bruchac brings their stories to life for young adults through the riveting fictional tale of Ned Begay, a sixteen-year-old Navajo boy who becomes a code talker. His grueling journey is eye-opening and inspiring. This deeply affecting novel honors all of those young men, like Ned, who dared to serve, and it honors the culture and language of the Navajo Indians.

Two Lies and a Spy by Kat Carlton
Publisher: Simon & Schuster
Release date: September 3 2013
When sixteen-year-old Kari's dad sends her an unexpected text, she and her brother immediately go into hiding. Because when your parents are superspies and your dad declares a Code Black, it can only mean something bad. Very bad. Kari soon discovers that her parents have been disavowed and declared traitors, and she's determined to clear their names. Breaking into the Agency seems like a reasonable plan, especially with the help of a team that includes her longtime crush, Luke, as well as her two best friends—an expert hacker with attitude and a master martial artist—and Luke's popular, vindictive twin sister. Oh, and a new guy, who's as cute as he is complicated…

Etiquette and Espionage by Gail Carriger
Publisher: Little, Brown Books for Young Readers
Release date: February 5 2013
Fourteen-year-old Sophronia is a great trial to her poor mother. Sophronia is more interested in dismantling clocks and climbing trees than proper manners–and the family can only hope that company never sees her atrocious curtsy. Mrs. Temminnick is desperate for her daughter to become a proper lady. So she enrolls Sophronia in Mademoiselle Geraldine's Finishing Academy for Young Ladies of Quality. But Sophronia soon realizes the school is not quite what her mother might have hoped. At Mademoiselle Geraldine's, young ladies learn to finish…everything. Certainly, they learn the fine arts of dance, dress, and etiquette, but they also learn to deal out death, diversion, and espionage–in the politest possible ways, of course. Sophronia and her friends are in for a rousing first year's education.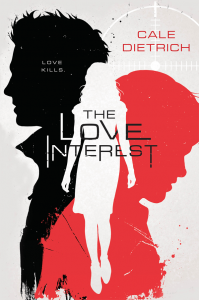 The Love Interest by Cale Dietrich
Publisher: Feiwel & Friends
Release date: May 16 2017
There is a secret organization that cultivates teenage spies. The agents are called Love Interests because getting close to people destined for great power means getting valuable secrets. Caden is a Nice: The boy next door, sculpted to physical perfection. Dylan is a Bad: The brooding, dark-souled guy, and dangerously handsome. The girl they are competing for is important to the organization, and each boy will pursue her. Will she choose a Nice or the Bad? Both Caden and Dylan are living in the outside world for the first time. They are well-trained and at the top of their games. They have to be – whoever the girl doesn't choose will die. What the boys don't expect are feelings that are outside of their training. Feelings that could kill them both.

Endangered by Lamar Giles
Publisher: Harper Teen
Release date: April 21 2015
The one secret she cares about keeping—her identity—is about to be exposed. Unless Lauren "Panda" Daniels—an anonymous photoblogger who specializes in busting classmates and teachers in compromising positions—plays along with her blackmailer's little game of Dare or . . . Dare. But when the game turns deadly, Panda doesn't know what to do. And she may need to step out of the shadows to save herself . . . and everyone else on the Admirer's hit list.

Dancer, Daughter, Traitor, Spy by Elizabeth Kiem
Publisher: Soho Teen
Release date: August 13 2013
Marya is a ballet dancer born of privilege; her mother, Sveta, is the most popular ballet dancer in the Soviet Union and its glamorous face to the West. When Sveta disappears, Marya and her father suspect their own lives are in danger and arrange a harrowing defection. Marya is certain that her father is doomed to be murdered at their new home in Brighton Beach, where his closest friends are unapologetic criminals . . . she's "seen" him die. Soon she's drawn into web of intrigue that ultimately reveals the truth about her gift of foresight, her mother's disappearance, and a boy she cannot bring herself to trust.

Orphan Monster Spy by Matt Killeen
Publisher: Viking Books for Young Readers
Release date: March 20 2018
After her mother is shot at a checkpoint, fifteen-year-old Sarah–blonde, blue-eyed, and Jewish–finds herself on the run from a government that wants to see every person like her dead. Then Sarah meets a mysterious man with an ambiguous accent, a suspiciously bare apartment, and a lockbox full of weapons. He's a spy, and he needs Sarah to become one, too, to pull off a mission he can't attempt on his own: infiltrate a boarding school attended by the daughters of top Nazi brass, befriend the daughter of a key scientist, and steal the blueprints to a bomb that could destroy the cities of Western Europe. With years of training from her actress mother in the art of impersonation, Sarah thinks she's ready. But nothing prepares her for her cutthroat schoolmates, and soon she finds herself in a battle for survival unlike any she'd ever imagined.

A Spy in the House by Y.S. Lee
Publisher: Candlewick
Release date: March 9 2010
Rescued from the gallows in 1850s London, young orphan (and thief) Mary Quinn is surprised to be offered a singular education, instruction in fine manners — and an unusual vocation. Miss Scrimshaw's Academy for Girls is a cover for an all-female investigative unit called The Agency, and at seventeen, Mary is about to put her training to the test. Assuming the guise of a lady's companion, she must infiltrate a rich merchant's home in hopes of tracing his missng cargo ships. But the household is full of dangerous deceptions, and there is no one to trust — or is there? Packed with action and suspense, banter and romance, and evoking the gritty backstreets of Victorian London, this breezy mystery debuts a daring young detective who lives by her wits while uncovering secrets — including those of her own past.

The Spy with the Red Balloon by Katherine Locke
Publisher: Albert Whitman Company
Release date: October 2 2018
Siblings Ilse and Wolf hide a deep secret in their blood: with it, they can work magic. And the government just found out.Blackmailed into service during World War II, Ilse lends her magic to America's newest weapon, the atom bomb, while Wolf goesbehind enemy lines to sabotage Germany's nuclear program. It's a dangerous mission, but if Hitler were to create the bomb first, the results would be catastrophic. When Wolf's plane is shot down, his entire mission is thrown into jeopardy. Wolf needs Ilse's help to develop the magic that will keep him alive, but with a spy afoot in Ilse's laboratory, the letters she sends to Wolf begin to look treasonous. Can Ilse prove her loyalty—and find a way to help her brother—before their time runs out?

Warcross by Marie Lu
Publisher: G.P. Putnam's Sons Books for Young Readers
Release date: September 12 2017
Struggling to make ends meet, teenage hacker Emika Chen works as a bounty hunter, tracking down players who bet on the game Warcross illegally. But the bounty hunting world is a competitive one, and survival has not been easy. Needing to make some quick cash, Emika takes a risk and hacks into the opening game of the international Warcross Championships—only to accidentally glitch herself into the action and become an overnight sensation. Convinced she's going to be arrested, Emika is shocked when instead she gets a call from the game's creator, the elusive young billionaire Hideo Tanaka, with an irresistible offer. He needs a spy on the inside of this year's tournament in order to uncover a security problem . . . and he wants Emika for the job. With no time to lose, Emika's whisked off to Tokyo and thrust into a world of fame and fortune that she's only dreamed of. But soon her investigation uncovers a sinister plot, with major consequences for the entire Warcross empire.

Violins of Autumn by Amy McAuley
Publisher: Walker Childrens'
Release date: June 19 2012
When the Germans begin bombing London in World War II, Betty is determined to do her part. Instead of running air raid drills like most girls her age, she lies about her age and trains to become a spy. Now known by her secret agent persona, Adele Blanchard, she finds herself parachuting over German-occupied France under the cover of darkness to join the secret Resistance movement. Prepared to die for her cause, Adele wasn't expecting to make a new best friend in her fellow agent or fall for a handsome American pilot. With the brutality of war ever present, can Adele dare to dream of a future where the world is at peace and she is free to live and love of her own accord?

Maid of Secrets by Jennifer McGowan
Publisher: Simon & Schuster Books for Young Readers
Release date: May 7 2013
Meg Fellowes makes her living picking pockets—until she steals from the wrong nobleman. Instead of rotting in prison like she expected, she's whisked away to the court of Queen Elizabeth and pressed into royal service, where she joins four other remarkable girls in the Maids of Honor, the Queen's secret society of protectors. Meg's natural abilities prove useful in this time of unrest. The Spanish Court is visiting, and with them come devious plots and hidden political motives. As threats to the kingdom begin to mount, Meg can't deny her growing attraction to one of the dashing Spanish courtiers. But it's hard to trust her heart in a place where royal formalities and masked balls hide the truth: Not everyone is who they appear to be. With danger lurking around every corner, can she stay alive—and protect the crown?

You Don't Know My Name by Kristen Orlando
Publisher: Swoon Reads
Release date: January 10 2017
Seventeen-year-old Reagan Elizabeth Hillis is used to changing identities overnight, lying to every friend she's ever had, and pushing away anyone who gets too close. Trained in mortal combat and weaponry her entire life, Reagan is expected to follow in her parents' footsteps and join the ranks of the most powerful top-secret agency in the world, the Black Angels. Falling in love with the boy next door was never part of the plan. Now Reagan must decide: Will she use her incredible talents and lead the dangerous life she was born into, or throw it all away to follow her heart and embrace the normal life she's always wanted? And does she even have a choice?

The Darkest Hour by Caroline Tung Richmond
Publisher: Scholastic Press
Release date: July 26 2016
My name is Lucie Blaise. I have many aliases, but I am none of the girls you see. I am is the newest agent of the CO-7. And we are here to take down Hitler. After the Nazis killed my brother on the North African front, I volunteered at the Office of Strategic Services in Washington, DC, to do my part for the war effort. Only instead of a desk job at the OSS, I was tapped to join the Clandestine Operations — a secret espionage and sabotage organization of girls. Six months ago, I was deployed to German-occupied France to gather intelligence and eliminate Nazi targets. My current mission: Track down and interrogate a Nazi traitor about a weapon that threatens to wipe out all of Western Europe. Then find and dismantle the weapon before Hitler detonates it. But the deeper I infiltrate, the more danger I'm in. Because the fate of the free world hangs in the balance, and trusting the wrong person could cause millions of lives to be lost. Including my own.

Sekret by Lindsay Smith
Publisher: Roaring Brook Press
Release date: April 1 2014
Yulia knows she must hide her thoughts and control her emotions to survive in Communist Russia. Russia's powerful spy agency, the KGB, is recruiting young people with mind-reading capabilities for their psychic espionage program. Their mission: protect the Soviet space program from American CIA spies. But Yulia is a survivor. She won't be controlled by the KGB, who want to harness her abilities for the State with no regard for her own hopes and dreams. She won't let handsome Sergei plan her life as a member of elite Soviet society, or allow brooding Valentin to consume her with his dangerous mind and even more dangerous ideas. And she certainly won't become the next victim of the powerful American spy who can scrub a brain raw—and seems to be targeting Yulia.

Love by the Morning Star by Laura L. Sullivan
Publisher: HMH Books for Young Readers
Release date: June 3 2014
On the brink of World War II, two girls are sent to the grand English country estate of Starkers. Hannah, the half-Jewish daughter of a disgraced distant relative, has been living an artistic bohemian life in a cabaret in pre-war Germany and now is supposed to be welcomed into the family. Anna, the social-climbing daughter of working-class British fascists, is supposed to be hired as a maid so that she can spy for the Nazis. But there's a mix-up, and nice Hannah is sent to the kitchen as a maid while arrogant Anna is welcomed as a relative. And then both girls fall for the same man, the handsome heir of the estate . . . or do they?

Rebel Mechanics by Shanna Swendson
Publisher: Farrar, Straus, and Giroux BYR
Release date: July 14 2015
It's 1888, and sixteen-year-old Verity Newton lands a job in New York as a governess to a wealthy leading family—but she quickly learns that the family has big secrets. Magisters have always ruled the colonies, but now an underground society of mechanics and engineers are developing non-magical sources of power via steam engines that they hope will help them gain freedom from British rule. The family Verity works for is magister—but it seems like the children's young guardian uncle is sympathetic to the rebel cause. As Verity falls for a charming rebel inventor and agrees to become a spy, she also becomes more and more enmeshed in the magister family's life. She soon realizes she's uniquely positioned to advance the cause—but to do so, she'll have to reveal her own dangerous secret.

Code Name Verity by Elizabeth Wein
Publisher: Disney-Hyperion
Release date: May 15 2012
Oct. 11th, 1943. A British spy plane crashes in Nazi-occupied France. When "Verity" is arrested by the Gestapo, she's sure she doesn't stand a chance. As a secret agent captured in enemy territory, she's living a spy's worst nightmare. Her Nazi interrogators give her a simple choice: reveal her mission or face a grisly execution. As she intricately weaves her confession, Verity uncovers her past, how she became friends with the pilot Maddie, and why she left Maddie in the wrecked fuselage of their plane. On each new scrap of paper, Verity battles for her life, confronting her views on courage, failure and her desperate hope to make it home. But will trading her secrets be enough to save her from the enemy?

Palace of Spies by Sarah Zettel
Publisher: HMH Books for Young Readers
Release date: November 5 2013
Sixteen-year-old Peggy is a well-bred orphan who is coerced into posing as a lady in waiting at the palace of King George I. Life is grand, until Peggy starts to suspect that the girl she's impersonating might have been murdered. Unless Peggy can discover the truth, she might be doomed to the same terrible fate. But in a court of shadows and intrigue, anyone could be a spy—perhaps even the handsome young artist with whom Peggy is falling in love…