We love when our author friends stop by to share their favorite YA books, so we're delighted to have Nina Rossing this week on Bookworm's Nest!
Rossing is the author of Supermassive and the upcoming Fjord Blue – you might recognize the title, as we did the cover reveal for it just a few months ago. She lives in Norway, where she masquerades as a high school teacher by day and spends most of her free time reading.
---
Let me repeat what everybody says when it comes to choosing your top 5 reads: it's impossible, because it all depends on my mood, what the list is for, who the list is for, and, and, and… the list of excuses and explanations could go on forever. (I'm a teacher, so I'm used to some creative ones. Mine are not.)
For my list, I've chosen titles I adore a tiny bit (or a lot) more than other books I already love, titles I desperately want more people to discover, titles I admire, plus all of the above – and I've added one book that has considerable sentimental value to me.
This was the first English-language YA I read. I bought a copy that I still have, and though I didn't read it to shreds, I read it many, many times. I was fascinated by greasers and socs, which was something I'd never heard about before. I loved Ponyboy and Soda, and I wanted the responsible but very stern Darry to be my boyfriend. There was a soft heart under all that steel, right?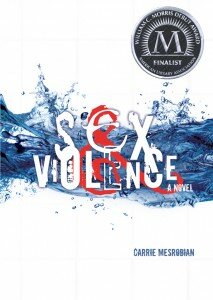 I have a penchant for stories about boys whose actions have psychological ramifications that affect them rather than others. Mesrobian's novel about a boy who has cleverly figured out how to profile the girls who will agree to sleep with him, really is a hard punch in the gut. Evan's successful history of hookups with a number of girls ends with him being beaten up and nearly killed, which is where the story starts. The book is a fascinating read that focuses mainly on how Evan overcomes the paralysis of fear and guilt that threaten to consume him after the assault.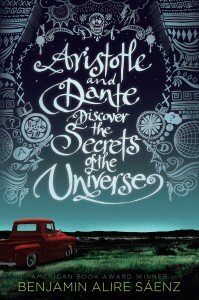 Not much else to say about this book than that it's one of the sweetest, most charming love stories I've ever read. No wonder it's won heaps of awards. I think you have to have a heart of stone not to fall a little in love (maybe even head over heels) with both Aristotle, Dante and their families.
#2: Raw Blue by Kirsty Eagar
This is an intense, honest and realistic Australian YA, and it is so beautifully written I regularly flip through it just to admire the writing. It is a quiet book, but with raw and strong emotions. It's one of those books you'll find difficult to put down once you've started reading. Carly, the protagonist, is a character that really crawls under your skin. She's a nineteen-year-old who dropped out of school after being assaulted at a party. She has kept the assault a secret, and when she's not waiting at a café, she spends her days surfing, always staying away from people. Surfing is the only thing that makes her feel alive, until she meets Danny, a young surfer boy with synaesthesia, and Ryan, an elusive surfer just out of jail.
The protagonist may seem a bit old for the book to be labelled YA, but the book did win an Aussie YA award in 2010, and was a nominee for another.
Unbelievably good. Goosebumps throughout. Speechless and in awe. Puck Connolly and Sean Kendrick forever!
Do you share any favorites with Rossing? Sound off in the comments below!