Here is a selection of YA excerpts from new books that have recently hit the web.


Consider (Holoseries #1) by Kristy Acevedo
Publisher: Jolly Fish Press
Release date: April 18th 2015
Alexandra Lucas' anxiety was problematic enough with the stress of senior year. But when mysterious holograms appear in the sky, heralding the end of the world and giving orders to step through a portal to safety, it's at an all-time high. The holograms claim to be humans from the future, but with no proof, Alex has to figure out whether to stay or go – and if whether something even worse is on the horizon.
To read an excerpt, click here.

Every Exquisite Thing by Matthew Quick
Publisher: Little, Brown Books for Young Readers
Release date: May 10th 2016
Nanette O'Hare is an unassuming teen who has played the role of dutiful daughter, hard-working student, and star athlete for as long as she can remember. But when a beloved teacher gives her his worn copy of The Bubblegum Reaper—the mysterious, out-of-print cult-classic—the rebel within Nanette awakens. Nanette learns the hard way that sometimes rebellion comes at a high price.
To read an excerpt, click here.
Ice Like Fire (Snow Like Ashes #2) by Sara Raasch
Publisher: Balzer + Bray
Release date: October 13th 2015
It's been three months since the Winterians were freed and Spring's king, Angra, disappeared—thanks largely to the help of Cordell. Meira just wants her people to be safe. Mather just wants to be free. When Meira leaves to search for allies, he decides to take Winter's security into his own hands. Can he rebuild his broken kingdom? Theron fights for magic, Mather fights for freedom—and Meira starts to wonder if she should be fighting not just for Winter, but for the world.
To read an excerpt, click here.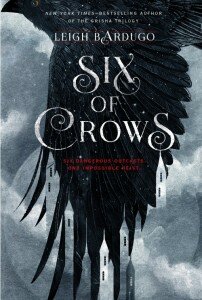 Six of Crows (Six of Crows #1) by Leigh Bardugo
Publisher: Henry Holt
Release date: September 29th 2015
Criminal prodigy Kaz Brekker is offered a chance at a deadly heist that could make him rich beyond his wildest dreams. But he can't pull it off alone. A convict with a thirst for revenge. A sharpshooter who can't walk away from a wager. A runaway with a privileged past. A spy known as the Wraith. A Heartrender using her magic to survive the slums. A thief with a gift for unlikely escapes. Six dangerous outcasts. Kaz's crew is the only thing that might stand between the world and destruction.
To read an excerpt, click here.

The Sword of Summer (Magnus Chase and the Gods of Asgard #1) by Rick Riordan
Publisher: Disney Hyperion
Release date: October 6th 2015
Magnus Chase has always been a troubled kid. Since his mother's mysterious death, he's lived alone on the streets of Boston, surviving by his wits, keeping one step ahead of the police and the truant officers. One day, he's tracked down by a man he's never met—a man his mother claimed was dangerous. The man tells him an impossible secret: Magnus is the son of a Norse god. To prevent Ragnarok, Magnus must search the Nine Worlds for a weapon that has been lost for thousands of years.
To read an excerpt, click .

Untamed (Splintered #3.5) by A.G. Howard
Publisher: Amulet Books
Release date: December 15th 2015
Alyssa Gardner went down the rabbit hole and took control of her destiny. She survived the battle for Wonderland and the battle for her heart. In this collection of three novellas, join Alyssa and her family as they look back at their memories of Wonderland. This collection expands upon Ensnared's epilogue, and includes some deleted scenes to provide a "director's cut" glimpse into the past and futures of our favorite Splintered characters.
To read an excerpt, click .