What YA books release this week? We have a list of this week's September YA books!

The Boy Meets Girl Massacre by Ainslie Hogarth
Publisher: Flux
Release date: September 8th
Noelle takes a summer nightshift at the Boy Meets Girl Inn, where grisly murders happened decades ago. That's why she has a diary—to write down everything in case things go bump in the night.

Chivalrous (Valiant Hearts #2) by Dina L. Sleiman
Publisher: Bethany House Books
Release date: September 8th
Strong and adventurous Gwendolyn Barnes longs to be a knight like her chivalrous brothers. However, that is not an option for her, not even in the Arthurian-inspired Eden where she dwells.
Dark Shimmer by Donna Jo Napoli
Publisher: Wendy Lamb Books
Release date: September 8th
Dolce has grown up hidden away on an island in a lagoon. She is a giant, a freak, tormented by everyone but her loving mother. She spends her time learning the valuable secret of making mirrors.

Drift & Dagger by Kendall Kulper
Publisher: Little, Brown Books for Young Readers
Release date: September 8th
As a boy in the late nineteenth century, Mal's only friend was Essie, daughter of the Roe witch, who discovered that he is a "blank," not affected by magic, setting him on a career as a con artist.

Drowning is Inevitable by Shalanda Stanley
Publisher: Knopf Books for Young Readers
Release date: September 8th
When a terrible fight between Jamie and his father turns deadly, all he can think to do is grab his friends and run. In a flash, Olivia, Jamie, Max, and Maggie become fugitives of Louisiana.

Earth Flight (Earth Girl #3) by Janet Edwards
Publisher: Pyr
Release date: September 8th
The first alien artefact ever discovered appears to be waiting for Jarra to reveal its secrets. But to do so, she must somehow find a way to leave Earth – or else the alien artefact will be lost forever.

Edgewater by Courtney Sheinmel
Publisher: Amulet Books
Release date: September 8th
Lorrie Hollander used to be a rich girl, but now she's lost everything. When Charlie, the son of an esteemed senator, takes an interest in Lorrie, her shame for her family and lifestyle runs deep.

Evolution (Extraction #3) by Stephanie Diaz
Publisher: St. Martin's Griffin
Release date: September 8th
Clementine and Logan's world is on the brink of destruction. An army of aliens from Marden has arrived with a massive fleet of battleships, intent on finally putting an end to an age-old war.

Exit Stage Left by Gail Nall
Publisher: Epic Reads Impulse
Release date: September 8th
Casey Fitzgerald has always been an actress. But when she doesn't get the lead in her performing arts high school's production of The Sound of Music, she begins to question everything.

Fans of the Impossible Life by Kate Scelsa
Publisher: Balzer + Bray
Release date: September 8th
As Jeremy finds himself drawn to Sebby and Mira he begins to understand the secrets that they hide to keep each other safe from those who don't understand their quest to live for the impossible.

The Firebug of Balrog County by David Oppegaard
Publisher: Flux
Release date: September 8th
Dark times have fallen on remote Balrog County, and Mack Druneswald, a high school senior with a love of clandestine arson, haunted by his mother's recent death, is doing his best to deal.

Goose (Paper Aeroplanes #2) by Dawn O'Porter
Publisher: Amulet Books
Release date: September 8th
Renée is now living with her Aunty Jo. They even have geese, and Renée likes to sit and watch them, wondering if she'll ever find 'the One' – someone who will love her no matter what.

The Hired Girl by Laura Amy Schlitz
Publisher: Candlewick Press
Release date: September 8th
Joan Skraggs, just like the heroines in her beloved novels, yearns for real life and true love. But what hope is there for adventure, beauty, or art on a hardscrabble farm where the work never ends?

Kasey Screws Up the World by Rachel Shane
Publisher: Twinstar Press
Release date: September 8th
Sixteen-year-old Kasey Fishbein has a lot to repent for. Guilt keeps eating away at Kasey but no one will listen to her apologies. So she does the next best thing: she starts a blog to confess her sins.

The Keeper (Vega Jane #2) by David Baldacci
Publisher: Scholastic Press
Release date: September 8th
Vega Jane was always told no one could leave the town of Wormwood. And she believed it – until the night she stumbled across a secret that proved that everything she knew was a lie.

Lessons in Falling by Diana Gallagher
Publisher: Spencer Hill Press
Release date: September 8th
When her best friend, Cassie, tries to kill herself, Savannah wants to understand what happened, but Cassie refuses to talk about it and for the first time, Savannah has to find her own way.

Lizard Radio by Pat Schmatz
Publisher: Candlewick Press
Release date: September 8th
Kivali has had a rough time in a gender-rigid culture. What are you? people ask, and Kivali isn't sure. Boy/girl? Human/lizard? Both/neither? But she has a power. Will it be enough to save her?

MARY Unleashed (Bloody Mary #2) by Hillary Monahan
Publisher: Disney Hyperion
Release date: September 8th
Mary lurks in the emptiness, in the darkness . . . in the reflection. That is, until Jess unleashes her into the world. Now Mary Worth is out and her haunting is deadlier than ever.

The One Thing by Marci Lyn Curtis
Publisher: Disney Hyperion
Release date: September 8th
Ever since losing her sight six months ago, Maggie's rebellious streak has taken on a life of its own, culminating with an elaborate school prank. Maggie called it genius. The judge called it illegal.

Rogue (The Paladin Prophecy #3) by Mark Frost
Publisher: Random House
Release date: September 8th
Will West is playing a dangerous game. Months after uncovering the sinister Paladin Prophecy plot, he continues to work with the mastermind behind the project – his own grandfather.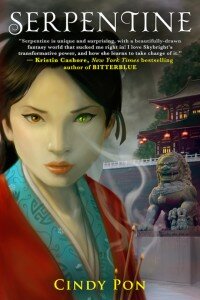 Serpentine (Kingdom of Xia #1) by Cindy Pon
Publisher: Month9Books
Release date: September 8th
Skybright notices troubling changes. By day, she is a handmaid to the youngest daughter of a very wealthy family. But nighttime brings with it a darkness that not even daybreak can quell.

Stand Off (Winger #2) by Andrew Smith
Publisher: Simon & Schuster Books for Young Readers
Release date: September 8th
It's his last year at Pine Mountain, and Ryan Dean should be focused on his future, but instead, he's haunted by his past. His rugby coach expects him to fill the roles once played by his lost friend.

The Suffering (The Girl from the Well #2) by Rin Chupeco
Publisher: Sourcebooks Fire
Release date: September 8th
It's been two years since Tark Halloway's nightmare ended. He now aids the ghostly Okiku and avenges the souls of innocent children by hunting down their murderers.

Sweet Temptation (The Sweet Trilogy #4) by Wendy Higgins
Publisher: HarperTeen
Release date: September 8th
Kaidan, slave to the demon Dukes, enjoys his job seducing girls – until he meets Anna Whitt—sweet, smart, feisty, and inexplicably good—the one girl seemingly immune to his charms.

Sunset Ranch (Flirt) by A. Destiny & Emma Carlson Berne
Publisher: Simon Pulse
Release date: September 8th
Chloe can hardly believe it when she lands a summer job mucking stalls at one of the best dude ranches in Colorado. The summer only gets better when she meets Stephen.

Wonders of the Invisible Word by Christopher Barzak
Publisher: Knopf Books for Young Readers
Release date: September 8th
Aidan Lockwood feels like he's been sleepwalking through life. But when his former best friend, Jarrod, suddenly moves back to town, the veil that has clouded Aidan's mind begins to lift.

Soul Corrupted (Of Demons and Angels #2) by Lisa Gail Green
Publisher: Full Fathom Five
Release date: September 9th
Now Guardian Angels, Josh and Grace are entrusted with finding the next potential Antichrist. But Grace is consumed with worry about her family, which is dealing with the aftershocks of her death.