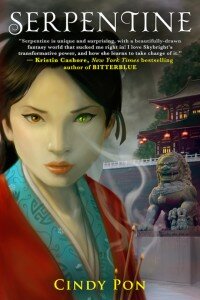 In 2011, Cindy Pon released a book entitled The Fury of the Phoenix. It was the second in her utterly fantastical Kingdom of Xia – but though she completed the duology, Pon still longed to explore the kingdom of Xia.
Four years and a beautiful cover later, Cindy Pon is releasing another lush novel inspired by Chinese mythology, set in the ancient Kingdom of Xia, entitled Serpentine.
"My debut, Silver Phoenix, had featured a serpent demon who tried to lure Li Rong to his death," said Pon. "During revisions, the editor had made a sidenote in the manuscript referring to this demon as the 'lady serpent demon.' Until then, she was merely a side character, there to serve the plot for me, among many monsters that existed in the novel. But when I read that comment, I thought, what if? What if the 'lady serpent demon' is the heroine in my next story?"
That 'what if' came to life.
Serpentine follows Skybright, a young handmaid and best friend to Zhen Ni, a daughter of an affluent family. While Skybright watches Zhen Ni grow into a young woman who defies tradition, Skybright finds herself changing into a powerful half-serpent with a dark fate. Determined to remain as the person she knows, Skybright sets out to find answers. Along the way, she begins to fall in love with a boy studying at the local monastery, while also learning what it means to be a best friend.
"[A] major inspiration behind the novel is the classic Dream of the Red Chamber by Cao Xueqin, which details the rise and fall of a rich Chinese family during 18th century Qing Dynasty."
The title is one of China's Four Great Classical Novels; stories considered to be the most powerful and influential of pre-modern Chinese fiction. Although fiction, it is believed to be semi-autobiographical, detailing "the daily life and extravagances the characters from this rich estate experienced."
"The estate employed a plethora of servants and handmaids, all with names that caught my attention," said Pon. "Many of them made it into Serpentine, including Skybright, Oriole, and Nightingale."
While some Serpentine characters have names inspired by another work of fiction, none of Pon's characters are based off of any person or character. "I had used some of my own characteristics for my heroine, Ai Ling," said Pon, referring to the protagonist in her first novel Silver Phoenix. "But for the main characters in Serpentine, they are their own people, and really told me who they were as I wrote them."
Skybright and Zhen Ni must have told her to represent the importance of strong female friendships.
"I wanted to focus on a true sister friendship, but one that was skewed as far as power dynamics went, due to their class differences," said Pon. "Then I wanted to know what sort of tensions might arise when the girls fell in love, neither expecting to fall, nor with the individuals they fell for!"
In the end, Serpentine is a story about many things, like "star-crossed lovers" and "monstrous beauties."
"I dwell very much in the gray areas in my stories. I don't believe that most people are all good or all bad … We are unique individuals who are all flawed and fantastic in our own ways."
For more information on Cindy Pon, visit her website or check her out on .
Want to read Serpentine? Enter to win one of three e-book copies! Open internationally.