I get asked often what, exactly, #quietYA is. The traditional definition is about books that aren't very action packed and slower paced, but I use it to talk about books that are not bestsellers, not award winners, and that don't have any kind of book or TV deal. So often, the same books are discussed over and over again and unfortunately, books fall through the cracks. But I believe that every book published is needed by someone and I want to create the best possible chance to get those books in hands.
#quietYA is my attempt to make that happen.
Here are eleven #quietYA books that released this month that you might have missed.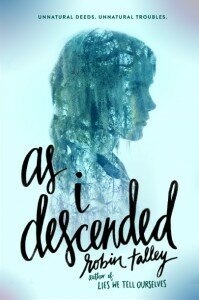 As I Descended by Robin Talley
Publisher: HarperTeen
Release date: September 6
Golden child Delilah is a legend at the exclusive Acheron Academy, and the presumptive winner of the distinguished Cawdor Kingsley Prize. She runs the school, and if she chose, she could blow up Maria and Lily's whole world with a pointed look, or a carefully placed word. But what Delilah doesn't know is that Lily and Maria are willing to do anything—absolutely anything—to make their dreams come true. And the first step is unseating Delilah for the Kingsley Prize. The full scholarship, awarded to Maria, will lock in her attendance at Stanford―and four more years in a shared dorm room with Lily. Maria and Lily will stop at nothing to ensure their victory—including harnessing the dark power long rumored to be present on the former plantation that houses their school. But when feuds turn to fatalities, and madness begins to blur the distinction between what's real and what is imagined, the girls must decide where they draw the line.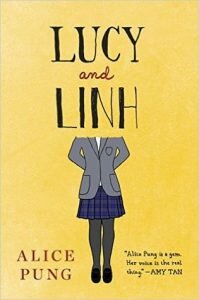 Lucy and Linh by Alice Pung
Publisher: Knopf Books for Young Readers
Release date: September 6
Lucy is a bit of a pushover, but she's ambitious and smart, and she has just received the opportunity of a lifetime: a scholarship to a prestigious school, and a ticket out of her broken-down suburb. Though she's worried she will stick out like badly cut bangs among the razor-straight students, she is soon welcomed into the Cabinet, the supremely popular trio who wield influence over classmates and teachers alike. Linh is blunt, strong-willed, and fearless—everything Lucy once loved about herself. She is also Lucy's last solid link to her life before private school, but she is growing tired of being eclipsed by the glamour of the Cabinet. As Lucy floats further away from the world she once knew, her connection to Linh—and to her old life—threatens to snap.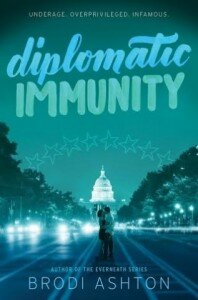 Diplomatic Immunity by Brodi Ashton
Publisher: Balzer + Bray
Release date: September 6
Piper Baird has always dreamed of becoming a journalist. So when she scores a scholarship to exclusive Chiswick Academy in Washington, DC, she knows it's her big opportunity. Chiswick offers the country's most competitive prize for teen journalists—the Bennington scholarship—and winning will ensure her acceptance to one of the best schools in the country. Piper isn't at Chiswick for two days before she witnesses the intense competition in the journalism program—and the extreme privilege of the young and wealthy elite who attend her school. And Piper knows access to these untouchable students just might give her the edge she'll need to blow the lid off life at the school in a scathing and unforgettable exposé worthy of the Bennington. But how can she break the story of a lifetime if it could destroy the boy she just might love?

The Cat King of Havana by Tom Crosshill
Publisher: Katherine Tegen Books
Release date: September 6
It all starts when his girlfriend dumps Rick on his sixteenth birthday for uploading cat videos from his bedroom when he should be out experiencing the real world. Known as "That Cat Guy" at school, Rick isn't cool and he knows it. He realizes it's time for a change. Rick decides joining a salsa class is the answer . . . because of a girl, of course. Ana Cabrera is smart, friendly, and smooth on the dance floor. Rick might be half-Cuban, but he dances like a drunk hippo. Desperate to impress Ana, he invites her to spend the summer in Havana. The official reason: learning to dance. The hidden agenda: romance under the palm trees. Except Cuba isn't all sun, salsa, and music. There's a darker side to the island. As Rick and Ana meet his family and investigate the reason why his mother left Cuba decades ago, they learn that politics isn't just something that happens to other people. And when they find romance, it's got sharp edges.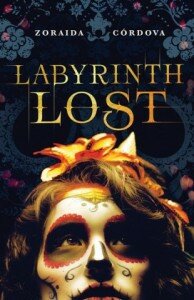 Labyrinth Lost by Zoraida Cordova
Publisher: Sourcebooks Fire
Release date: September 6
Alex is a bruja, the most powerful witch in a generation…and she hates magic. At her Deathday celebration, Alex performs a spell to rid herself of her power. But it backfires. Her whole family vanishes into thin air, leaving her alone with Nova, a brujo boy she can't trust. A boy whose intentions are as dark as the strange marks on his skin. The only way to get her family back is to travel with Nova to Los Lagos, a land in-between, as dark as Limbo and as strange as Wonderland…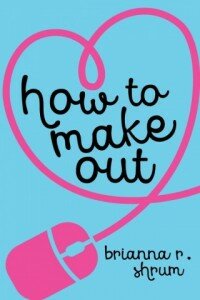 How to Make Out by Brianna Shrum
Publisher: Sky Pony Press
Release date: September 6
Sixteen-year-old Renley needs three thousand dollars for the math club's trip to New York City, and she knows exactly how to get it: she's going to start a how-to blog where people pay for answers to all of life's questions from a "certified expert." The only problems: 1) She doesn't know how to do anything but long division and calculus. 2) She's totally invisible to people at school. And not in a cool Gossip Girl kind of way. So, she decides to learn to do . . . well . . . everything. When her anonymous blog shifts in a more scandalous direction and the questions (and money) start rolling in, she has to learn not just how to do waterfall braids and cat-eye makeup, but a few other things, like how to cure a hangover, how to flirt, and how to make out (something her very experienced, and very in-love-with-her neighbor, Drew, is more than willing to help with). When her online and real lives converge, Renley will have to make a choice: lose everything she loves in her new life, or everyone she loves in the life she left behind.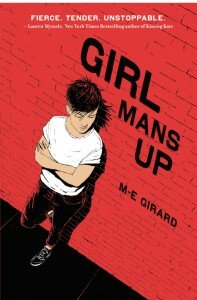 Girl Mans Up by M-E Girard
Publisher: Katherine Tegen Books
Release date: September 6
All Pen Oliveira wants is to be the kind of girl she's always been. So why does everyone have a problem with it? They think the way she looks and acts means she's trying to be a boy—that she should quit trying to be something she's not. If she dresses like a girl and does what her folks want, it will show respect. If she takes orders and does what her friend Colby wants, it will show her loyalty. But respect and loyalty, Pen discovers, are empty words. Pen makes tough choices, has her friends's backs, and is done feeling bad about who she is. Old-world parents, disintegrating friendships, and strong feelings for other girls drive Pen to see the truth—that in order to be who she truly wants to be, she'll have to man up.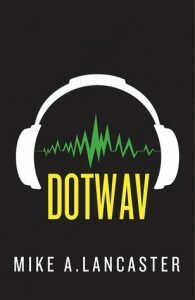 dotwav by Mike A. Lancaster
Publisher: Sky Pony Press
Release date: September 13
Fifteen-year-old Ani Lee is a skilled hacker researching a strange .wav file that she's downloaded when it behaves as no file ever should. Joe Dyson is a seventeen-year-old American transplant recruited into secret teen division of the British intelligence service who's looking into the disappearance of a friend caught up in an underground music scene that might be more than it appears. When Ani and Joe's investigations intertwine, they discover that the .wav file and the music are linked—someone's embedding the file into tracks to create a mind-controlled teen army. But who's behind it? And why? And how do you stop a sound?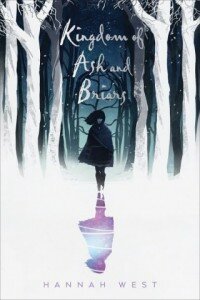 Kingdom of Ash and Briars by Hannah West
Publisher: Holiday House, Inc.
Release date: September 15
Bristal, an orphaned kitchen maid, lands in a gritty fairy tale gone wrong when she discovers she is an elicromancer with a knack for shape-shifting. An ancient breed of immortal magic beings, elicromancers have been winnowed down to merely two – now three – after centuries of bloody conflict in the realm. Their gifts are fraught with responsibility, and sixteen-year-old Bristal is torn between two paths. Should she vow to seek the good of the world, to protect and serve mortals? Or should she follow the strength of her power, even if it leads to unknown terrors? She draws on her ability to disguise herself as a man to infiltrate a prince's band of soldiers, and masquerades as a fairy godmother to shield a cursed princess, but time is running out. As an army of dark creatures grows closer, Bristal faces a supernatural war. To save the kingdoms, Bristal must find the courage to show her true form.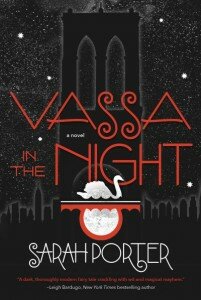 Vassa in the Night by Sarah Porter
Publisher: Tor Teen
Release date: September 20
In the enchanted kingdom of Brooklyn, the fashionable people put on cute shoes, go to parties in warehouses, drink on rooftops at sunset, and tell themselves they've arrived. A whole lot of Brooklyn is like that now—but not Vassa's working-class neighborhood. In Vassa's neighborhood, where she lives with her stepmother and bickering stepsisters, one might stumble onto magic, but stumbling out again could become an issue. Babs Yagg, the owner of the local convenience store, has a policy of beheading shoplifters—and sometimes innocent shoppers as well. So when Vassa's stepsister sends her out for light bulbs in the middle of night, she knows it could easily become a suicide mission. But Vassa has a bit of luck hidden in her pocket, a gift from her dead mother. Erg is a tough-talking wooden doll with sticky fingers, a bottomless stomach, and a ferocious cunning. With Erg's help, Vassa just might be able to break the witch's curse and free her Brooklyn neighborhood. But Babs won't be playing fair. . . .

The Female of the Species by Mindy McGinnis
Publisher: Katherine Tegen Books
Release date: September 20
Alex Craft knows how to kill someone. And she doesn't feel bad about it. When her older sister, Anna, was murdered three years ago and the killer walked free, Alex uncaged the language she knows best. The language of violence. While her crime goes unpunished, Alex knows she can't be trusted among other people, even in her small hometown. She relegates herself to the shadows, a girl who goes unseen in plain sight, unremarkable in the high school hallways. But Jack Fisher sees her. He's the guy all other guys want to be: the star athlete gunning for valedictorian with the prom queen on his arm. Guilt over the role he played the night Anna's body was discovered hasn't let him forget Alex over the years, and now her green eyes amid a constellation of freckles have his attention. He doesn't want to only see Alex Craft; he wants to know her. While partying one night, Alex's darker nature breaks out, setting the teens on a collision course that will change their lives forever.
One thing I've learned over the years is that there are always new YA readers who missed out on learning about the new titles, so older titles need love too! This month's throwback pick is Don't Breathe a Word by Holly Cupala.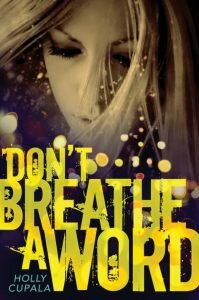 Don't Breathe a Word by Holly Cupala
Publisher: HarperTeen
Release date: January 3 2012
Joy Delamere is suffocating. From asthma, from her parents, and from her boyfriend, Asher, who is smothering her from the inside out. She can take his cruel words, his tender words . . . until the night they go too far. To escape, Joy sacrifices her suburban life to find the one who offered his help, a homeless boy called Creed. He introduces her to a world of fierce loyalty, to its rules of survival, and to love—a world she won't easily let go.