I get asked often what, exactly, #quietYA is. The traditional definition is about books that aren't very action packed and slower paced, but I use it to talk about books that are not bestsellers, not award winners, and that don't have any kind of book or TV deal. So often, the same books are discussed over and over again and unfortunately, books fall through the cracks. But I believe that every book published is needed by someone and I want to create the best possible chance to get those books in hands.
#quietYA is my attempt to make that happen.
Here are 15 books that released in September that you might have missed.

Ten After Closing by Jessica Bayliss
Publisher: Sky Pony Press
Release date: September 4
TEN MINUTES BEFORE CLOSING: Scott's girlfriend breaks up with him over the phone while he's in the cafe's basement storeroom because he's late picking her up for the big end-of-the-year party. Now he can't go to the party, but he can't go home, either–not knowing if his dad will still be in a drunken rage. Meanwhile, Winny wanted one night to let loose, away from her mother's crushing expectations. Instead, she's stranded at the cafe after her best friend ditches her in a misguided attempt at matchmaking. TEN MINUTES AFTER CLOSING: The first gunshot is fired. Someone's dead. And if Winny, Scott, and the rest of the hostages don't come up with a plan soon, they may not live to see morning.

Hole in the Middle by Kendra Fortmeyer
Publisher: Soho Teen
Release date: September 4
Morgan Stone was born with a hole in her middle: a perfectly smooth, sealed, fist-sized chunk of nothing near her belly button. After seventeen years of hiding behind lumpy sweaters and a smart mouth, she's fed up with keeping her secret. On the dance floor one night, she decides to bare all. At first she feels liberated . . . until a few online photos snowball into a media frenzy. Now Morgan is desperate to return to her own strange version of normal—when only her doctors, her divorced parents, and her best friend, Caro, knew the truth. Then a new doctor appears with a boy who may be both Morgan's cure and her destiny. What happens when you meet the person who is—literally—your perfect match? Is being whole really all it's cracked up to be?

Ignite the Stars by Maura Milan
Publisher: Albert Whitman & Company
Release date: September 4
Everyone in the universe knows his name. Everyone in the universe fears him. But no one realizes that notorious outlaw Ia Cocha is a seventeen-year-old girl. A criminal mastermind and unrivaled pilot, Ia has spent her life terrorizing the Olympus Commonwealth, the imperialist nation that destroyed her home. When the Commonwealth captures her and her true identity is exposed, they see Ia's age and talent as an opportunity: by forcing her to serve them, they will prove that no one is beyond their control. Soon, Ia is trapped at the Commonwealth's military academy, desperately plotting her escape. But new acquaintances—including Brinn, a seemingly average student with a closely-held secret, and their charming Flight Master, Knives—cause Ia to question her own alliances. Can she find a way to escape the Commonwealth's clutches before these bonds deepen?

Buried Beneath the Baobab Tree by Adaobi Tricia Nwaubani
Publisher: Katherine Tegen Books
Release date: September 4
A new pair of shoes, a university degree, a husband—these are the things that a girl dreams of in a Nigerian village. A girl who works hard in school and to help her family. And with a government scholarship right around the corner, everyone—her mother, her five brothers, her best friend, her teachers—can see that these dreams aren't too far out of reach. But the girl's dreams turn to nightmares when her village is attacked by Boko Haram, a terrorist group, in the middle of the night. Kidnapped, she is taken with other girls and women into the forest where she is forced to follow her captors' radical beliefs and watch as her best friend slowly accepts everything she's been told. Still, the girl defends her existence. As impossible as escape may seem, her life—her future—is hers to fight for.

Not Even Bones by Rebecca Schaeffer
Publisher: HMH Books for Young Readers
Release date: September 4
Nita doesn't murder supernatural beings and sell their body parts on the internet—her mother does that. Nita just dissects the bodies after they've been "acquired." But when her mom brings home a live specimen, Nita decides—dissecting living people is a step too far. But when she tries to save her mother's victim, she ends up sold on the black market in his place—because Nita herself is a supernatural being. Now Nita is on the other side of the bars, and there is no line she won't cross to escape and make sure no one can ever capture her again.

Summer Bird Blue by Akemi Dawn Bowman
Publisher: Simon Pulse
Release date: September 11
Rumi Seto spends a lot of time worrying she doesn't have the answers to everything. But there is one thing she is absolutely sure of—she wants to spend the rest of her life writing music with her younger sister, Lea. Then Lea dies in a car accident, and her mother sends her away to live with her aunt in Hawaii while she deals with her own grief. Now thousands of miles from home, Rumi struggles to navigate the loss of her sister, being abandoned by her mother, and the absence of music in her life. With the help of the "boys next door"—a teenage surfer named Kai, who smiles too much and doesn't take anything seriously, and an eighty-year-old named George Watanabe, who succumbed to his own grief years ago—Rumi attempts to find her way back to her music, to write the song she and Lea never had the chance to finish.

Rule by Ellen Goodlett
Publisher: Little, Brown Books for Young Readers
Release date: September 11
The king is dying, his heir has just been murdered, and rebellion brews in the east. But the kingdom of Kolonya and the outer Reaches has three unexpected options before it descends into leaderless chaos. Zofi has spent her entire life trekking through the outer Reaches with her band of Travelers. She would do anything to protect the band, her family. But no one can ever find out how far she's already gone. Akeylah was raised in the Eastern Reach, surrounded by whispers of rebellion and abused by her father. Desperate to escape, she makes a decision that threatens the whole kingdom. Ren grew up in Kolonya, serving as a lady's maid and scheming her way out of the servants' chambers. But one such plot could get her hung for treason if anyone ever discovers what she's done. When the king summons the girls, they arrive expecting arrest or even execution. Instead they learn the truth: they are his illegitimate daughters, and one must become his new heir. But someone in Kolonya knows their secrets, and that someone will stop at nothing to keep the sisters from their destiny… to rule.

A Spark of White Fire by Sangu Mandanna
Publisher: Sky Pony Press
Release date: September 11
In a universe of capricious gods, dark moons, and kingdoms built on the backs of spaceships, a cursed queen sends her infant daughter away, a jealous uncle steals the throne of Kali from his nephew, and an exiled prince vows to take his crown back. Raised alone and far away from her home on Kali, Esmae longs to return to her family. When the King of Wychstar offers to gift the unbeatable, sentient warship Titania to a warrior that can win his competition, she sees her way home: she'll enter the competition, reveal her true identity to the world, and help her famous brother win back the crown of Kali. It's a great plan. Until it falls apart.

The Deepest Roots by Miranda Asebedo
Publisher: HarperTeen
Release date: September 18
Cottonwood Hollow, Kansas, is a strange place. For the past century, every girl has been born with a special talent, like the ability to Fix any object, Heal any wound, or Find what is missing. Best friends Rome, Lux, and Mercy all have similar talents, but to them, their abilities often feel like a curse. Rome may be able to Fix anything she touches, but that won't help her mom pay rent or make it any easier to confide in Lux and Mercy about what's going on at home. And Rome isn't the only one. Lux has been hiding bigger, more dangerous secrets. As Rome struggles to keep her friendships close, she discovers the truth about life in Cottonwood Hollow—that friends are stronger than curses, that trust is worth the risk, and sometimes, what you've been looking for has been under your feet the whole time.

Strange Grace by Tessa Gratton
Publisher: Margaret McElderry Books
Release date: September 18
Long ago, a village made a bargain with the devil: to ensure their prosperity, when the Slaughter Moon rises, the village must sacrifice a young man into the depths of the Devil's Forest. Only this year, the Slaughter Moon has risen early. Bound by duty, secrets, and the love they share for one another, Mairwen, a spirited witch; Rhun, the expected saint; and Arthur, a restless outcast, will each have a role to play as the devil demands a body to fill the bargain. But the devil these friends find is not the one they expect, and the lies they uncover will turn their town—and their hearts—inside out.

For a Muse of Fire by Heidi Heilig
Publisher: Greenwillow Books
Release date: September 25
Jetta's family is famed as the most talented troupe of shadow players in the land. With Jetta behind the scrim, their puppets seem to move without string or stick—a trade secret, they say. In truth, Jetta can see the souls of the recently departed and bind them to the puppets with her blood. But the old ways are forbidden ever since the colonial army conquered their country, so Jetta must never show, never tell. Her skill and fame are her family's way to earn a spot aboard the royal ship to Aquitan, where shadow plays are the latest rage, and where rumor has it the Mad King has a spring that cures his ills. Because seeing spirits is not the only thing that plagues Jetta. But as rebellion seethes and as Jetta meets a young smuggler, she will face truths and decisions that she never imagined—and safety will never seem so far away.

Black Wings Beating by Alex London
Publisher: Farrar, Straus, and Giroux Books for Young Readers
Release date: September 25
The people of Uztar have long looked to the sky with hope and wonder. Nothing in their world is more revered than the birds of prey and no one more honored than the falconers who call them to their fists. Brysen strives to be a great falconer–while his twin sister, Kylee, rejects her ancient gifts for the sport and wishes to be free of falconry. She's nearly made it out, too, but a war is rolling toward their home in the Six Villages, and no bird or falconer will be safe. Together the twins must journey into the treacherous mountains to trap the Ghost Eagle, the greatest of the Uztari birds and a solitary killer. Brysen goes for the boy he loves and the glory he's long craved, and Kylee to atone for her past and to protect her brother's future. But both are hunted by those who seek one thing: power.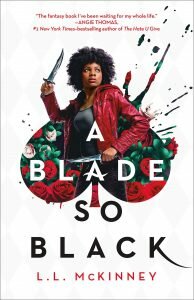 A Blade So Black by L.L. McKinney
Publisher: Imprint
Release date: September 25
The first time the Nightmares came, it nearly cost Alice her life. Now she's trained to battle monstrous creatures in the dark dream realm known as Wonderland with magic weapons and hardcore fighting skills. Yet even warriors have a curfew. Life in real-world Atlanta isn't always so simple, as Alice juggles an overprotective mom, a high-maintenance best friend, and a slipping GPA. Keeping the Nightmares at bay is turning into a full-time job. But when Alice's handsome and mysterious mentor is poisoned, she has to find the antidote by venturing deeper into Wonderland than she's ever gone before. And she'll need to use everything she's learned in both worlds to keep from losing her head . . . literally.

500 Words or Less by Juleah del Rosario
Publisher: Simon Pulse
Release date: September 25
Nic Chen refuses to spend her senior year branded as the girl who cheated on her charismatic and lovable boyfriend. To redefine her reputation among her Ivy League–obsessed classmates, Nic begins writing their college admissions essays. But the more essays Nic writes for other people, the less sure she becomes of herself, the kind of person she is, and whether her moral compass even points north anymore.

Unstoppable Moses by Tyler James Smith
Publisher: Flatiron Books
Release date: September 25
After accidentally burning down a bowling alley with his cousin and best friend, Charlie, Moses has one week as a camp counselor to prove to the authorities—and to himself—that he isn't a worthless jerk who belongs in jail, when Charlie doesn't get that chance.