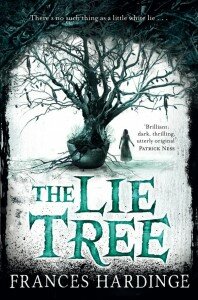 Frances Hardinge's The Lie Tree won the 2015 Costa Book of the Year. The Costa Book Awards honors the best books of the year published by a U.K. or Ireland author. Hardinge is the first children's author to win the overall award since Philip Pullman with The Amber Spyglass in 2001.
"In the wider world sometimes children's fiction is seen as a bit lightweight in a way that is not deserved," said Hardinge, according to the Guardian. "The fact that it has been recognized is, from my point of view, completely lovely but from a less selfish point of view I would see this recognition of the wonderful work which is being done throughout in children's and YA writing."
In The Lie Tree, Faith's father is found dead and she is determined to find the truth, with the help of a tree that feeds off whispered lies.
The Lie Tree beat out Kate Atkinson's A God in Ruins, Andrew Michael Hurley's The Loney, Don Paterson's 40 Sonnets, and Andrea Wulf's The Invention of Nature.