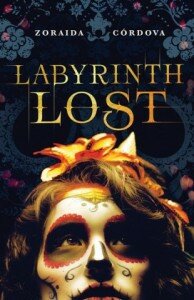 Want to meet the author of an fun, inclusive fantasy this fall? You're in luck: author Zoraida Cordova announced a Labyrinth Lost tour via Twitter last week.
In Labyrinth Lost, the first in the Brooklyn Brujas series, Alex is a bruja, the most powerful witch in a generation, and she hates magic. At her Deathday celebration, Alex performs a spell to rid herself of her power. But it backfires. Her whole family vanishes into thin air, leaving her alone with Nova, a brujo boy she can't trust. A boy whose intentions are as dark as the strange markings on his skin. The only way to get her family back is to travel with Nova to Los Lagos, a land in-between, as dark as Limbo and as strange as Wonderland.
The Labyrinth Lost tour schedule can be seen below and is subject to change:
September 4 at 1 pm – Decatur Book Festival with Victoria Schwab
September 6 at 6 pm – Books of Wonder (NYC, NY)
September 8 at 7 pm – Book Revue (Huntington, NY)
September 11 at 10 am – Slice Literary Writer's Con (Brooklyn, NY) with Heidi Heilig, Daniel Jose Older, Adam Silvera and Monica Odom
September 18 – Brooklyn Book Festival (Brooklyn, NY)
September 22 at 7 pm – Pandemonium Books (Cambridge, MA) with Daniel Jose Older
September 24 – Boston Teen Author Festival (Cambridge, MA)
September 30 to October 2 – NOLA StoryCon (New Orleans, LA)
October 15 – Colorado Teen Book Con (Littleton, CO)
October 21 to October 22 – Celebrate the Book Fest (Carlisle, PA)
Cordova will also be at Flamecon in Brooklyn, NY on August 21 on a panel moderated by YA Interrobang founder Nicole Brinkley.
Labyrinth Lost releases from Sourcebooks on September 6.