I get asked often what, exactly, #quietYA is. The traditional definition is about books that aren't very action packed and slower paced, but I use it to talk about books that are not bestsellers, not award winners, and that don't have any kind of book or TV deal. So often, the same books are discussed over and over again and unfortunately, books fall through the cracks. But I believe that every book published is needed by someone and I want to create the best possible chance to get those books in hands.
#quietYA is my attempt to make that happen.
Here are 9 #quietYA books that released this month that you might have missed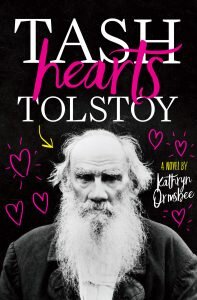 Tash Hearts Tolstoy by Kathryn Ormsbee
Publisher: Simon & Schuster Books for Young Readers
Release date: June 6
After a shout-out from one of the Internet's superstar vloggers, Natasha "Tash" Zelenka finds herself and her obscure, amateur web series, Unhappy Families, thrust into the limelight: She's gone viral. Her show is a modern adaptation of Anna Karenina — written by Tash's literary love Count Lev Nikolayevich "Leo" Tolstoy. And when Unhappy Families is nominated for a Golden Tuba award, Tash's cyber-flirtation with Thom Causer, a fellow award nominee, suddenly has the potential to become something IRL — if she can figure out how to tell said crush that she's romantic asexual. Tash wants to enjoy her newfound fame, but will she lose her friends in her rise to the top? What would Tolstoy do?

The Hush by Skye Melki-Wegner
Publisher: Sky Pony Press
Release date: June 6
Chester has been traveling from village to village, searching for his kidnapped father. One night while fiddling to earn a few coins, he accidentally connects to the Song—the music that fuels every aspect of the world. It's illegal to interact with the Song—only a licensed Songshaper may bend music to his will—and when Chester is caught, he's sentenced to death. But just before the axe is about to fall, someone in the crowd—a member of the infamous Nightfall Gang — stages a daring rescue, whisking Chester into the Hush, a shadowy nightmare mirror-world where Music can be deadly and Echoes can kill. Susanna, captain of the Nightfall Gang has been watching Chester. She needs his special talent to pull off an elaborate plan. And she'll risk everything to succeed. Even Chester's life.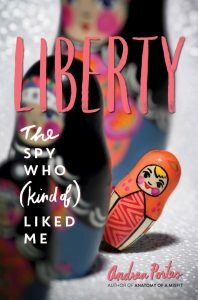 Liberty: The Spy Who (Kind of) Loved Me by Andrea Portes
Publisher: HarperTeen
Release date: June 6
What is a hero? Sean Raynes, the young man who exposed America's unconstitutional spying techniques, is a hero, even if half the dum-dums in the country think he's a traitor. And her journalist parents, who were captured by terrorists while telling stories of the endangered and oppressed — they were heroes, too. Or are — no one has ever told Paige if they're still alive, or dead. Then she's approached by Madden Carter, an undercover operative who gives her a mission: fly to Russia, find Raynes, and discover what other government secrets he's stockpiled. In exchange, he'll reopen the case on her missing parents.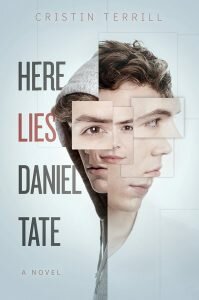 Here Lies Daniel Tate by Cristin Terrill
Publisher: Simon and Schuster Books for Young Readers
Release date: June 6
When ten-year-old Daniel Tate went missing from one of California's most elite communities, he left no trace. Six years later, when he resurfaces on a snowy street in Vancouver, he's no longer the same boy. His sandy hair is darker, the freckles are gone, and he's initially too traumatized to speak, but he's alive. His overjoyed family brings him home to a world of luxury and comfort he can barely remember. In time, they assure him, he'll recover his memories; all that matters now is they're together again. It's perfect. A miracle. Except for one thing. He isn't Daniel Tate. He's a petty con artist who accidentally stumbled into the scam of a lifetime, and he soon learns he's not the only one in the Tate household with something to hide.

Song of the Current by Sarah Tolcser
Publisher: Bloomsbury Children's Books
Release date: June 6
Caroline Oresteia is destined for the river. For generations, her family has been called by the river god, who has guided their wherries on countless voyages throughout the Riverlands. At seventeen, Caro has spent years listening to the water, ready to meet her fate. But the river god hasn't spoken her name yet — and if he hasn't by now, there's a chance he never will. Caro decides to take her future into her own hands when her father is arrested for refusing to transport a mysterious crate. By agreeing to deliver it in exchange for his release, Caro finds herself caught in a web of politics and lies, with dangerous pirates after the cargo and without the river god to help her.

The Leaf Reader by Emily Arsenault
Publisher: Soho Teen
Release date: June 13
Marnie Wells knows that she creeps people out. So no one even bats an eye when Marnie finds an old book about reading tea leaves and starts telling fortunes. The ceremony and symbols are weirdly soothing, but she knows — and hopes everyone else does too — that none of it's real. Then basketball star Matt Cotrell asks for a reading. He's been getting emails from someone claiming to be his best friend, Andrea Quinley, who disappeared and is presumed dead. And while they'd always denied they were romantically involved, a cloud of suspicion now hangs over Matt. But Marnie sees a kindred spirit: someone who, like her, is damaged by association. Suddenly the readings seem real.

Saints and Misfits by S.K. Ali
Publisher: Salaam Reads
Release date: June 13
Janna Yusuf knows a lot of people can't figure out what to make of her… an Arab Indian-American hijabi teenager who is a Flannery O'Connor obsessed book nerd, aspiring photographer, and sometime graphic novelist is not exactly easy to put into a box. And Janna suddenly finds herself caring what people think. Or at least what a certain boy named Jeremy thinks. Not that she would ever date him — Muslim girls don't date. Or they shouldn't date. Or won't? Janna is still working all this out while deciding what kind of person she wants to be, and what it means to be a saint, a misfit, or a monster. Except she knows a monster…one who happens to be parading around as a saint…Will she be the one to call him out on it? What will people in her tightknit Muslim community think of her then?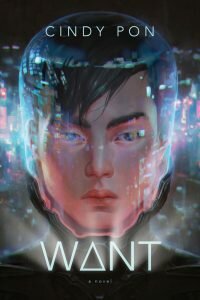 Want by Cindy Pon
Publisher: Simon Pulse
Release date: June 13
Jason Zhou survives in a divided society where the elite use their wealth to buy longer lives. The rich wear special suits that protect them from the pollution and viruses that plague the city, while those without suffer illness and early deaths. Frustrated by his city's corruption and still grieving the loss of his mother, who died as a result of it, Zhou is determined to change things, no matter the cost. With the help of his friends, Zhou infiltrates the lives of the wealthy in hopes of destroying the international Jin Corporation from within. Yet the deeper Zhou delves into this new world of excess and wealth, the more muddled his plans become.

Aftercare Instructions by Bonnie Pipkin
Publisher: Flatiron Books
Release date: June 27
"Troubled." That's seventeen-year-old Genesis according to her small New Jersey town. She finds refuge and stability in her relationship with her boyfriend, Peter—until he abandons her at a Planned Parenthood clinic during their appointment to terminate an unwanted pregnancy. The betrayal causes Gen to question everything. As Gen pushes herself forward to find her new identity without Peter, she must also confront her most painful memories. But it's when Gen lets go of her history, the one she thinks she knows, that she's finally able to embrace the complicated, chaotic true story of her life, and take center stage.