Most people who pay attention to the YA market know that romance is king. It reigns in essentially all the genres, from contemporary to sci-fi. While I can't stand when people bad-mouth romance, I sympathize with the YA readers who want to see other types of relationships mined for their emotional potential. Why don't we see more sibling relationships taking center stage in YA?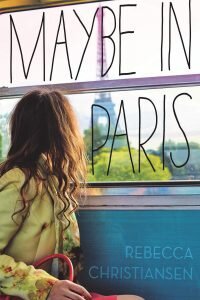 My YA debut, Maybe in Paris, is the story of eighteen-year-old Keira and her sixteen-year-old brother, Levi. Keira and Levi were extremely close growing up, but drifted apart in adolescence. After Levi goes through some traumatic mental health issues and struggles with a new diagnosis of Austism Spectrum Disorder, Keira wants to renew their relationship. She's always dreamed of travelling to Paris, so she takes Levi there with her.
Maybe in Paris was inspired by the relationship I had with my brother when I was a teen. I was four years older, a senior in high school when he was a freshman. He was on the spectrum and socially anxious; he didn't do well in school, so I would protect him. Hang out with him at lunch period, meet him between classes, drive him to and from school. I felt I had to do it, but I did feel like he cramped my style sometimes. There was love, but there was also resentment between us that took some growing up on my part before it could heal.
Siblings can play many roles in a teenager's life, depending on age difference and birth order. Older siblings can be an inspiration or a bane—they could've been so amazing that your parents will forever expect the world of you, or they could have been such a failure in the eyes of Mom and Dad that the pressure is even worse. Siblings can be so young that you're basically a third parent. Throwing in step- or half-sibling relationships only makes it more complicated.
There are a lot of YAs with sibling relationships that shine. For much younger siblings, Before I Fall by Lauren Oliver broke my heart with Samantha and Izzy, and I will never get over Mia and Teddy in Gayle Forman's If I Stay. For older siblings, Faith's complicated feelings toward her missing older sister, Laurel's reappearance captivated me in The Lost and The Found by Cat Clarke, as did Linny and her idolization of her missing big sister, Grace, in If Birds Fly Back by Carlie Sorosiak. Joy Preble's Finding Paris did that dynamic devastatingly well, too (missing older sisters seems to be a mini-trend of its own). YA loves twins, and The Secrets We Keep by Trisha Leaver is my favorite rec for twin books.
The more I think about it, the more awesome sibling relationships in YA come to mind. There are a lot—yay!—but with something as juicy and dramatic as sibling relationships, we'll always need more. Whenever I read a synopsis of a book that puts siblings at the forefront of the plot, I will forever make grabby-hands.
Rebecca's list of recommended sibling books: