I am a huge fan of supporting and promoting debut authors. Need something to add to your preorder list? Ready for a read from a new author? Here's a comprehensive roundup of lots of 2017 YA debuts that are coming out in the second half of 2017.
by Lana Popović
Publisher: Katherine Tegen Books
Publication Date: August 15 2017
All the women in Iris and Malina's family have the unique magical ability or "gleam" to manipulate beauty. Iris sees flowers as fractals and turns her kaleidoscope visions into glasswork, while Malina interprets moods as music. Iris and Malina are not allowed to share their magic with anyone, and above all, they are forbidden from falling in love.

Rebel Seoul by Axie Oh
Publisher: Tu Books
Publication Date: September 15 2017
After a great war, the East Pacific is in ruins. In brutal Neo Seoul, where status comes from success in combat, ex-gang member Lee Jaewon is a talented pilot rising in the ranks of the academy. Abandoned as a kid in the slums of Old Seoul by his rebel father, Jaewon desires only to escape his past and prove himself a loyal soldier of the Neo State.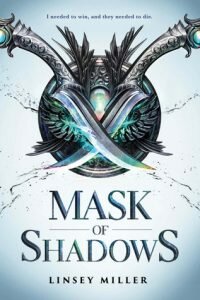 Mask of Shadows by Linsey Miller
Publisher: Sourcebooks Fire
Publication Date: August 29 2017
Sallot Leon is a thief, and a good one at that. But gender fluid Sal wants nothing more than to escape the drudgery of life as a highway robber and get closer to the upper-class―and the nobles who destroyed their home.When Sal steals a flyer for an audition to become a member of The Left Hand―the Queen's personal assassins, named after the rings she wears―Sal jumps at the chance to infiltrate the court and get revenge.
27 Hours by Tristina Wright
Publisher: Entangled:Teen
Publication Date: October 3 2017
Rumor Mora fears two things: hellhounds too strong for him to kill, and failure. Jude Welton has two dreams: for humans to stop killing monsters, and for his strange abilities to vanish. Nyx Llorca keeps two secrets: the moon speaks to her, and she's in love with Dahlia, her best friend. Braeden Tennant wants two things: to get out from his mother's shadow, and to unlearn Epsilon's darkest secret.

Forest of a Thousand Lanterns by Julie C. Dao
Publisher: Philomel Books
Publication Date: October 10 2017
Eighteen-year-old Xifeng is beautiful. The stars say she is destined for greatness, that she is meant to be Empress of Feng Lu. But only if she embraces the darkness within her. Growing up as a peasant in a forgotten village on the edge of the map, Xifeng longs to fulfill the destiny promised to her by her cruel aunt, the witch Guma, who has read the cards and seen glimmers of Xifeng's majestic future. But is the price of the throne too high?

Dear Martin by Nic Stone
Publisher: Crown Books for Young Readers
Publication Date: October 17 2017
Justyce McAllister is top of his class, captain of the debate team, and set for the Ivy League next year—but none of that matters to the police officer who just put him in handcuffs. He is eventually released without charges (or an apology), but the incident has Justyce spooked. Despite leaving his rough neighborhood, he can't seem to escape the scorn of his former peers or the attitude of his prep school classmates.The only exception: Sarah Jane, Justyce's gorgeous—and white—debate partner he wishes he didn't have a thing for.
by Amanda Searcy
Publisher: Delacorte Press
Publication Date: December 12 2017
All Kayla Asher wants to do is run. Run from the government housing complex she calls home. Run from her unstable mother. Run from a desperate job at No Limit Foods. Run to a better, cleaner, safer life. Every day is one day closer to leaving. All Betsy Hopewell wants to do is survive. Survive the burner phone hidden under her bed. Survive her new rules. Survive a new school with new classmates. Survive being watched. Every minute grants her another moment of life.

No Saints in Kansas by Amy Brashear
Publisher: Soho Teen
Publication Date: November 14 2017
Gripping reimagining of Truman Capote's In Cold Blood and the brutal murders that inspired it. November is usually quiet in Holcomb, Kansas, but in 1959, the town is shattered by the quadruple murder of the Clutter family. Suspicion falls on Nancy Clutter's boyfriend, Bobby Rupp, the last one to see them alive.

Girls Made of Snow and Glass by Melissa Bashardoust
Publisher: Flatiron Books
Publication Date: September 5 2017
At sixteen, Mina's mother is dead, her magician father is vicious, and her silent heart has never beat with love for anyone—has never beat at all, in fact, but she'd always thought that fact normal. She never guessed that her father cut out her heart and replaced it with one of glass. When she moves to Whitespring Castle and sees its king for the first time, Mina forms a plan: win the king's heart with her beauty, become queen, and finally know love. The only catch is that she'll have to become a stepmother.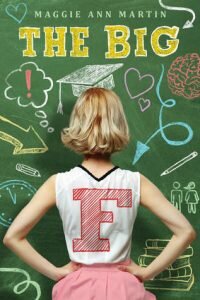 The Big F by Maggie Ann Martin
Publisher: Swoon Reads
Publication Date: August 29 2017
Danielle's plans for the future were pretty easy to figure out… until she failed senior English and her single college application was denied. Suddenly she's in hot water with very few options, because honestly who applies to a safety school when their mom is a semi-famous "college psychic"?! Determined to get her life back on track, Danielle enrolls in her hometown community college with a plan: pass her English class and get back into Ohio State and her mother's good graces. Romance isn't on her radar… until she reconnects with her childhood crush and golden-boy-next-door, Luke.

Dare Mighty Things by Heather Kaczynski
Publisher: HarperTeen
Publication Date: October 10 2017
THE RULES ARE SIMPLE: You must be gifted. You must be younger than twenty-five. You must be willing to accept the dangers that you will face if you win. Seventeen-year-old Cassandra Gupta's entire life has been leading up to this—the opportunity to travel to space. But to secure a spot on this classified mission, she must first compete against the best and brightest people on the planet. People who are as determined as she to win a place on a journey to the farthest reaches of the universe.

Brooding YA Hero by Carrie Ann DiRisio
Publisher: Skypony Press
Publication Date: October 3 2017
Well, popular Twitter personality is here to help as he tackles the final frontier in his media dominance: writing a book. Join Broody McHottiepants as he attempts to pen Brooding YA Hero: Becoming a Main Character (Almost) as Awesome as Me, a "self-help" guide (with activities–you always need activities) that lovingly pokes fun at the YA tropes that we roll our eyes at, but secretly love.

Starfish by Akemi Dawn Bowman
Publisher: Simon Pulse
Publication: September 26 2017
Kiko Himura has always had a hard time saying exactly what she's thinking. With a mother who makes her feel unremarkable and a half-Japanese heritage she doesn't quite understand, Kiko prefers to keep her head down, certain that once she makes it into her dream art school, Prism, her real life will begin.

Calling My Name by Liara Tamani
Publisher: Greenwillow Books
Publication: October 24 2017
Taja Brown lives with her parents and older brother and younger sister, in Houston, Texas. Taja has always known what the expectations of her conservative and tightly-knit African American family are—do well in school, go to church every Sunday, no intimacy before marriage. But Taja is trying to keep up with friends as they get their first kisses, first boyfriends, first everythings.

The Love Letters of Abelard and Lily by Laura Creedle
Publisher: HMH Books for Young Readers
Publication: December 26 2017
When Lily Michaels-Ryan ditches her ADHD meds and lands in detention with Abelard, who has Asperger's, she's intrigued—Abelard seems thirty seconds behind, while she feels thirty seconds ahead. It doesn't hurt that he's brilliant and beautiful. When Abelard posts a quote from The Letters of Abelard and Heloise online, their mutual affinity for ancient love letters connects them. The two fall for each other. Hard. But is it enough to bridge their differences in person?

Black Bird of the Gallows by Meg Kassel
Publisher: Entangled Publishing
Publication: September 5 2017
Angie Dovage can tell there's more to Reece Fernandez than just the tall, brooding athlete who has her classmates swooning, but she can't imagine his presence signals a tragedy that will devastate her small town. When something supernatural tries to attack her, Angie is thrown into a battle between good and evil she never saw coming. Right in the center of it is Reece—and he's not human.