I get asked often what, exactly, #quietYA is. The traditional definition is about books that aren't very action packed and slower paced, but I use it to talk about books that are not bestsellers, not award winners, and that don't have any kind of book or TV deal. So often, the same books are discussed over and over again and unfortunately, books fall through the cracks. But I believe that every book published is needed by someone and I want to create the best possible chance to get those books in hands.
#quietYA is my attempt to make that happen.
Here are 8 #quietYA books that released in July that you might have missed

Bombshell by Rowan Maness
Publisher: Simon Pulse
Release date: July 4
In real life, Joss Wyatt is an ordinary teenage girl, with a tight-knit group of friends and a potential boyfriend. But online, she's an art restorer in Washington, DC, a model jet-setting around Europe, a southern beauty queen trapped in a loveless marriage. Online, she's anyone she wants to be. For years, Joss has maintained a varied set of alternative lives, using them to escape the boredom that is her existence in a generic Arizona suburb. But when she starts receiving anonymous messages threatening to reveal her identity to everyone she knows—both in real life and online—Joss's carefully constructed worlds begin to unravel. Can Joss catch her stalker before all of her worlds collapse?

The Art of Starving by Sam Miller
Publisher: HarperTeen
Release date: July 11
Matt hasn't eaten in days. His stomach stabs and twists inside, pleading for a meal. But Matt won't give in. The hunger clears his mind, keeps him sharp—and he needs to be as sharp as possible if he's going to find out just how Tariq and his band of high school bullies drove his sister, Maya, away. Matt's hardworking mom keeps the kitchen crammed with food, but Matt can resist the siren call of casseroles and cookies because he has discovered something: the less he eats the more he seems to have . . . powers. The ability to see things he shouldn't be able to see. The knack of tuning in to thoughts right out of people's heads. Maybe even the authority to bend time and space. So what is lunch, really, compared to the secrets of the universe?

Hello, Sunshine by Leila Howland
Publisher: Disney-Hyperion
Release date: July 11
Becca Harrington is a reject. After being rebuffed by every college on her list, she needs a fresh start, so she packs up everything and moves to LA, giving herself one year to land an acting gig or kill herself trying. Unfortunately, not everything turns out as planned, and after a few grueling months, LA is looking like the worst idea ever. As hard as she tries, Becca can't land an agent, she's running out of cash, and her mom is hounding her to apply to more schools. In an act of desperation, Becca and her friend Marisol start posting short videos online—with the help of their adorable filmmaker neighbor, Raj—and the videos catch the attention of a TV producer. Could this be it?

I See London, I See France by Sarah Mlynowski
Publisher: HarperTeen
Release date: July 11
Nineteen-year-old Sydney has the perfect summer mapped out. She's spending the next four and half weeks traveling through Europe with her childhood best friend, Leela. Their plans include Eiffel-Tower selfies, eating cocco gelato, and making out with très hot strangers. Her plans do not include Leela's cheating ex-boyfriend showing up on the flight to London, falling for the cheating ex-boyfriend's très hot friend, monitoring her mother's spiraling mental health via texts, or feeling like the rope in a friendship tug-of-war.

Amid Stars and Darkness by Chani Lynn Feener
Publisher: Swoon Reads
Release date: July 18
Delaney's entire world is thrown into chaos after she is mistaken for Lissa Olena, an alien princess hiding out on Earth in order to escape an arranged marriage. Kidnapped by the princess's head bodyguard, Ruckus, and imprisoned in an alien palace, Delaney is forced to impersonate the princess until Olena can be found. If she fails, it will lead to an alien war and the eventual enslavement of the entire human race. No pressure or anything.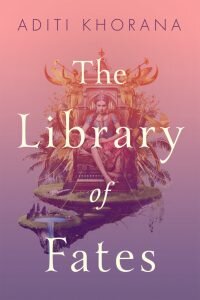 The Library of Fates by Aditi Khorana
Publisher: Razorbill
Release date: July 18
No one is entirely certain what brings the Emperor Sikander to Shalingar. Until now, the idyllic kingdom has been immune to his many violent conquests. To keep the visit friendly, Princess Amrita has offered herself as his bride, sacrificing everything to save her people. But her offer isn't enough. The unthinkable happens, and Amrita finds herself a fugitive, utterly alone but for an oracle named Thala, who was kept by Sikander as a slave and managed to escape amid the chaos of a palace under siege. With nothing and no one else to turn to, Amrita and Thala are forced to rely on each other.

What Goes Up by Katie Kennedy
Publisher: Bloomsbury USA Childrens
Release date: July 18
Rosa and Eddie are among hundreds of teens applying to NASA's mysterious Multi-World Agency. After rounds of crazy-competitive testing they are appointed to Team 3, along with an alternate, just in case Eddie screws up (as everyone expects he will). What they don't expect is that aliens will arrive from another dimension, and look just like us. And no one could even imagine that Team 3 would be the only hope of saving our world from their Earth-destroying plans. The teens steal the spacecraft (it would be great if they knew how to fly it) and head to Earth2, where the aliens' world and people are just like ours. With a few notable exceptions.

Lucky in Love by Kasie West
Publisher: Scholastic
Release date: July 25
Maddie doesn't believe in luck. She's all about hard work and planning ahead. But one night, on a whim, she buys a lottery ticket. And then, to her astonishment — She wins! In a flash, Maddie's life is unrecognizable. No more stressing about college scholarships. Suddenly, she's talking about renting a yacht. And being in the spotlight at school is fun… until rumors start flying, and random people ask her for loans. Now, Maddie isn't sure who she can trust.
Of course, we can't forget the throwback reads – so many backlist books are incredibly underrated. This month, in honor of the release of the final book in the series, we're featuring The Conspiracy of Us by Maggie Hall.

The Conspiracy of Us by Maggie Hall
Publisher: Putnam Juvenile
Release date: January 13 2015
Avery West's newfound family can shut down Prada when they want to shop in peace, and can just as easily order a bombing when they want to start a war. Part of a powerful and dangerous secret society called the Circle, they believe Avery is the key to an ancient prophecy. Some want to use her as a pawn. Some want her dead. To unravel the mystery putting her life in danger, Avery must follow a trail of clues from the monuments of Paris to the back alleys of Istanbul with two boys who work for the Circle—beautiful, volatile Stellan and mysterious, magnetic Jack.