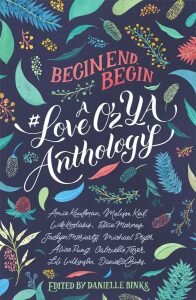 Begin, End, Begin: A #LoveOzYA Anthology, edited by Danielle Binks, won the 2018 ABIA Award: Book of the Year for Older Children (Ages 13+).
The anthology contains short stories celebrating Aussie YA, with works from Amie Kaufman, Melissa Keil, Will Kostakis, Ellie Marney, Jaclyn Moriarty, Michael Pryor, Alice Pung, Gabrielle Tozer, Lili Wilkinson and Danielle Binks.
This novel brings together the power of the #LoveOzYA social media movement, which focuses on the conversation about young adult fiction in Australia and the importance of diversity.
The ABIA Awards, also known as the Australian Book Industry Awards, annually honors the connection between Australian readers and those who make the books. There are twelve book award categories, who a majority of them primarily for Australian writers and illustrators.
For more information about the ABIA Awards, visit their website.