It's nearly the end of the year and the end of Authorology, our monthly column where we asked authors about their favorite parts of YA. Not sure who to read next? Our authors shared THEIR favorite authors.
It's not that evil to ask.
It is evil asking an author who their favorite author is. The ones I go back to again and again are Katie McGarry, Andrew Smith, and Jandy Nelson. When I pick up their books it's like spending time with a best friend I haven't seen in years.
– Joy N. Hensley, author of Rites of Passage
It's not the most evil, I swear.
This is the most evil of all questions. But if I had to choose, I would probably say Melina Marchetta. Because both her contemporary books and her fantasy books are stunningly amazing.
– Marieke Nijkamp, author of This Is Where It Ends
Oh, look, a list.
This is very difficult because I don't have a "go-to" author for any category. I love Susin Nielsen's books, Teresa Toten (The Unlikely Hero of Room 13b is amazing). But there's also Kelly Armstrong for fantasy books, the Tamakis for graphic novels…. Rainbow Rowell for heartfelt character and situations…. Sorry, can't answer this one.
– Kevin Sylvester, author of MINRS
Words are poetry.
Favorite author is Maggie Stiefvater, author of the Raven Cycle, Ballad, and Lament. Her words are poetry. Her words are music. I read her books not only for the stories she weaves and the characters she creates, but for the wondrous beauty of her words.
– Lisa Amowitz, author of Until Beth
Pratchett.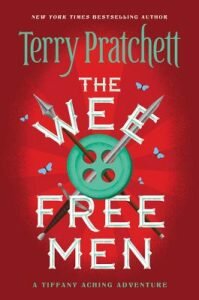 Choosing any one favorite author is nearly impossible, but I think I may have to go with Terry Pratchett. I love both his adult books and his YA books. His Tiffany Aching series was lovely and had a wonderful teen heroine, but his one-offs like Nation and Dodger were also brilliant.
– Shanna Swendson, author of Rebel Mechanics