There will be hundreds of new YA books hitting the shelves this year. Some will continue the series we love, like the continuation of Victoria Aveyard's Red Queen series, and some will be new books from authors we adore, like Victoria Schwab's This Savage Song. But some will be debut books from authors who have never been published before, and to make sure you don't miss any, I decided to create a guide to the 2016 debut YA books.
While I haven't been able to list all the 2016 debuts, here's a list of the debuts I'm most excited for and have been getting the most hype in the bookish community. A full list of the debut 2016 authors, who adorably call themselves the Sweet Sixteeners, can be viewed at the Sweet Sixteeners blog.
Fantasy

Sword and Verse by Kathy MacMillan
Publisher: HarperTeen
Release date: January 19 2016
Raisa was only a child when she was kidnapped and enslaved in Qilara. Forced to serve in the palace of the king, she's endured hunger, abuse, and the harrowing fear of discovery: everyone knows she is Arnath, but not that Raisa is a Learned One, a part of an Arnath group educated in higher order symbols.

Assassin's Heart by Sarah Ahiers
Publisher: HarperTeen
Release date: February 2 2016
In the kingdom of Lovero, nine rival Families of assassins lawfully kill people for a price. As a highly skilled member of one of these powerful clans, seventeen-year-old Lea Saldana has always trusted in the strength of her Family. Until she awakens to find them murdered and her home in flames.

Blackhearts by Nicole Castroman
Publisher: Simon Pulse
Release date: February 9 2016
Blackbeard the pirate was known for striking fear in the hearts of the bravest of sailors. But once he was just a young man who dreamed of leaving his rigid life behind to chase adventure in faraway lands. Nothing could stop him—until he met the one girl who would change everything. This is their story.

Burning Glass (Burning Glass #1) by Kathryn Purdie
Publisher: HarperCollins
Release date: March 1 2016
Sonya was born with the rare gift to feel what those around her feel—a gift she's kept hidden from the empire for seventeen long years. After a reckless mistake wipes out all the other girls with similar abilities, Sonya is hauled off to the palace and forced to serve the emperor as his sovereign Auraseer.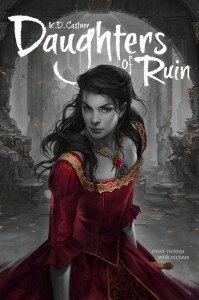 Daughters of Ruin by K.D. Castner
Publisher: Margaret K. McElderry Books
Release date: April 5 2016
Rhea, Cadis, Suki and Iren were raised as sisters, though they were born enemies, each princesses of a rival nation. Their relationship isn't the strongest, but when their palace is attacked, they must decide where their loyalties lie: their nations, or each other.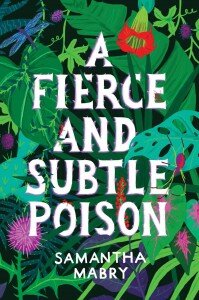 A Fierce and Subtle Poison by Samantha Mabry
Publisher: Algonquin Young Readers
Release date: April 12 2016
Everybody knows the legend behind Isabel – that she has green skin, grass for hair, that she feeds on the poisonous Caribbean plants. When Isabel begins appearing in Lucas's room the day his new girlfriend disappears, he turns to her for answers, and finds himself lured into her world – a world that may cost him his life.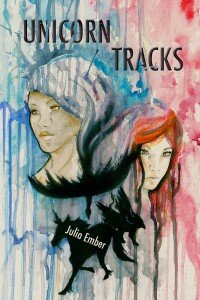 Unicorn Tracks by Julia Ember
Publisher: Harmony Ink Press
Release date: April 21 2016
Mnemba is employed to guide Mr. Harving and his daughter, Kara, as they study Unicorns. The young women are drawn to each other, despite that fact that Kara is betrothed. Together, they must find a way to protect the creatures while resisting the love they know they can never indulge.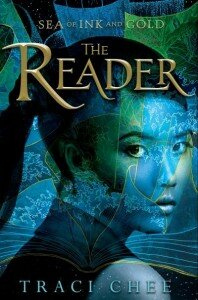 The Reader (Sea of Ink and Gold #1) by Traci Chee
Publisher: Putnam
Release date: September 13 2016
Sefia knows what it means to survive. After her aunt Nin, who taught her to hunt, track, and steal, is kidnapped, leaving Sefia completely alone, Sefia sets out to rescue her aunt, find out what really happened the day her father was killed, and punish the people responsible. Caraval by Stephanie Garber
Publisher: Flatiron Books
Release date: September 20 2016
When Scarlett's father arranges her marriage, she thinks she'll never see the once-a-year performance Caraval, where the audience participates in the show. But her invitation finally arrives, and her sister enlists help to whisk her away to the show. But when her sister is kidnapped by the show's organizer, Scarlett must rescue her before the end of the five nights, whether Caraval is real or not. Of Fire and Stars by Audrey Coulthurst
Publisher: Balzer + Bray
Release date: September 2016
When a princess born with forbidden magical powers is shipped off to a neighboring kingdom, she's expected to marry the prince. But when she begins to fall for his horse-training sister, she must choose between her duty and her heart. Beast by Brie Spangler
Publisher: Knopf
Release date: 2016
A modern retelling of "Beauty and the Beast" in which the tallest, hairiest boy in town meets and falls for his dream girl, who is transgender.
Historical Fantasy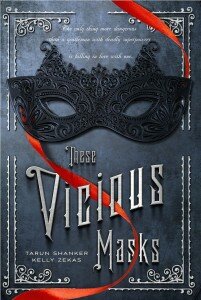 These Vicious Masks by Tarun Shanker and Kelly Zekas
Publisher: Swoon Reads
Release date: February 9 2016
England, 1822. Evelyn flees to London to try to find her sister Rose, who has mysteriously vanished. But she's not the only ones looking for her sister. Others claim that Evelyn and her sister have mysterious healing powers – completely preposterous, until Evelyn discovers that people with powers are real.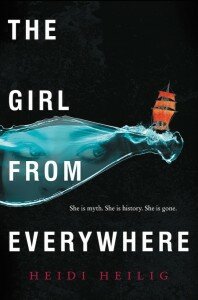 The Girl from Everywhere by Heidi Heilig
Publisher: Greenwillow
Release date: February 16 2016
Nix's life began in Honolulu in 1868. Since then she has traveled to many places, both real and imagined. As long as he has a map, Nix's father can sail his ship, The Temptation, to any place, any time. But now he's uncovered the one map he's always sought—1868 Honolulu, before Nix's mother died in childbirth. Nix's life—her entire existence—is at stake.

Into the Dim by Janet B. Taylor
Publisher: HMH Books for Young Readers
Release date: March 1 2016
When her mom is killed, Hope is forced to go to Scotland, where she discovers that her mom was a member of a secret society of time travelers – and she's alive, though currently trapped in the twelfth century. Hope must conquer her fears and travel back in time to rescue her mom before she's lost for good.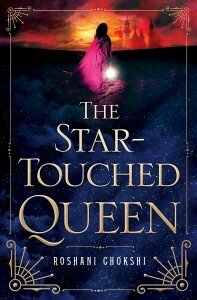 The Star-Touched Queen by Roshani Chokshi
Publisher: St. Martin's Griffin
Release date: May 3 2016
Sixteen-year-old Maya becomes the queen of Akaran and wife of Amar. But Akaran has its own secrets. Her discoveries put more than new love at risk — threatening the balance of all realms, human and Otherworldly.

The Crown's Game by Evelyn Skye
Publisher: Balzer + Bray
Release date: May 17 2016
Vika Andreyev can summon the snow and turn ash into gold. Nikolai Karimov can see through walls and conjure bridges out of thin air. They are enchanters—the only two in Russia—and with the Ottoman Empire and the Kazakhs threatening, the Tsar needs a powerful enchanter by his side. by Jessica Cluess
Publisher: Random House Books for Young Readers
Release date: September 20 2016
Henrietta Howell has magic powers – which, of course, she shouldn't have, not in early Victorian era; women can't do magic. But sorcerer's believe she might be the Chosen One, born to destroy the Ancients – except she might not be the chosen one at all. Timekeeper by Tara Sim
Publisher: Sky Pony Press
Release date: 2016
If the clock tower that runs the city breaks, time stops. Even though he's a clock mechanic prodigy, able to repair both the clocks and time, Danny cannot free his timelocked father. Assigned a job in Enfield, Danny meets the clock spirit controlling the tower. Falling in love with clock spirits is forbidden, but Danny and the spirit are drawn to each other. If Danny can't find out who is bombing clock towers, he'll lose both his father and the boy he loves.
Historical

Ivory & Bone by Julie Eshbaugh
Publisher: HarperCollins
Release date: June 14 2016
The only life seventeen-year-old Kol knows is hunting at the foot of the Great Ice with his brothers. When Kol meets Mya, she instantly captivates him, but on a hunt, Kol makes a grave mistake that jeopardizes the relationship that he and Mya have only just started to build.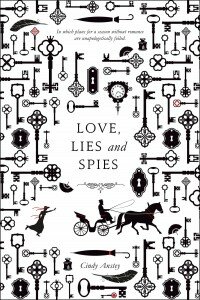 Love, Lies & Spies by Cindy Anstey
Publisher: Swoon Reads
Release Date: April 19 2016
Julie Telford is much more interested in researching ladybugs her season in nineteenth-century London's society and is determined to use the time to secretly publish her research. Spencer Northan is a spy for the War Office, and Juliana offers to pretend to fall for him so they can both focus on their own goals. Spencer can focus, and Juliana can work, until Spencer is tasked with observing Juliana herself.
Contemporary

This is Where it Ends by Marieke Nijkamp
Publisher: Sourcebooks Fire
Release date: January 5 2016
The principal of Opportunity, Alabama's high school finishes her speech, welcoming the entire student body to a new semester and encouraging them to excel and achieve. The students get up to leave the auditorium for their next class. The auditorium doors won't open. Someone starts shooting.

Firsts by Laurie Elizabeth Flynn
Publisher: St. Martin's Griffin
Release date: January 5 2016
Mercedes Ayres has an open-door policy when it comes to her bedroom, but only if the guy is to be a virgin. Mercedes lets the boys get their awkward fumbling first times over with, and all she asks in return is that they give their girlfriends the perfect first time she never had. When Mercedes' perfect system falls apart, she has to find a way to salvage her own reputation -and figure out where her heart really belongs in the process.

Bookishly Ever After (Ever After #1) by Isabel Bandeira
Publisher: Spencer Hill Contemporary
Release date: January 19 2016
Phoebe gets assigned as Dev's co-counselor at a camp where they are both volunteering and has to spend an entire week attached at the hip to the one guy on the planet she wants to avoid. Can she make it through the potential danger of romantic bonfires and nature walks without Dev figuring out she's still not over him? Can she ever go back to her happy world of fictional boys after falling for the real thing?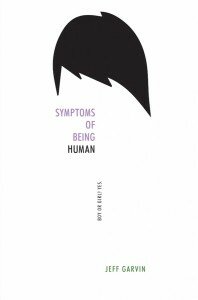 Symptoms of Being Human by Jeff Garvin
Publisher: Balzer + Bray
Release date: February 2 2016
Riley Cavanaugh is many things: Punk rock. Snarky. Rebellious. And gender fluid. Some days Riley identifies as a boy, and others as a girl. The thing is . . . Riley isn't exactly out yet. And between starting a new school and having a congressman father running for reelection in uber-conservative Orange County, the pressure—media and otherwise—is building up in Riley's so-called "normal" life.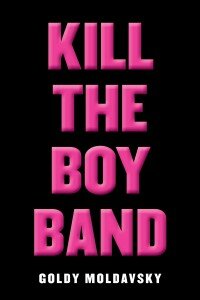 Kill the Boy Band by Goldy Moldavsky
Publisher: Point
Release date: February 23 2016
They didn't mean to kidnap one of the members of The Ruperts, their favorite boy band. Sure, they're superfans, but they're not crazy. Okay, and yeah, they're holding him hostage now, but it was a total accident. Really. They don't need this stress so close to midterms.

The Girl Who Fell by S.M. Parker
Publisher: Simon Pulse
Release date: March 1 2016
Zephyr Doyle is focused on leading her field hockey team to the state championship and leaving her dream college. Enter the new boy in school. Alec doesn't judge Zephyr. He understands her fears and insecurities, even shares them. But love shouldn't make you abandon your dreams, or push your friends away. So when Zephyr finally begins to see Alec for who he really is, she knows it's time to take back control of her life.

The Serpent King by Jeff Zentner
Publisher: Random House
Release date: March 8 2016
Dill has had to wrestle with vipers his whole life—at home, as the only son of a Pentecostal minister who urges him to handle poisonous rattlesnakes, and at school, where he faces down bullies who target him for his father's extreme faith and very public fall from grace. He and his fellow outcast friends must try to make it through their senior year of high school without letting the small-town culture destroy their creative spirits and sense of self.

The Art of Not Breathing by Sarah Alexander
Publisher: HMH Books for Young Readers
Release date: April 26 2016
Since her twin brother, Eddie, drowned five years ago, sixteen-year-old Elsie Main has tried to make sense of what happened – one minute he was there, the next he was gone. Then she meets Tay McKenzie. When Tay introduces Elsie to the underwater world, she wonders if the answers she seeks are at the bottom of the sea, and she's determined to discover the truth.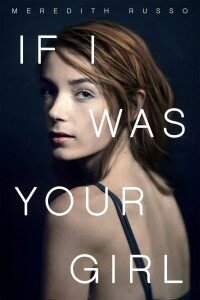 If I Was Your Girl by Meredith Russo
Publisher: Flatiron
Release date: May 3 2016
The new girl at school, Amanda Hardy just wants to fit in. And she wants to let sweet, easygoing Grant in, too, but guarding her heart has become second nature. She could share with him the truth about her past, but once he knows that she used to be Andrew, would he still care for her? And would revealing her secret destroy her new life?

Gemini by Sonya Mukherjee
Publisher: Simon & Schuster
Release date: July 26 2016
Clara and Hailey love each other, and they're comfortable in their conjoined bodies. It's the stares and whispers they could do without. Hailey's a pink-haired artist who longs to explore the world and question every limitation. Clara's an aspiring scientist who would rather stay home, avoid strangers, and study the night sky. Then telescope-loving Max comes to town, and Clara starts to question her definition of "impossible."

Enter Title Here by Rahul Kanakia
Publisher: Disney Hyperion
Release date: August 2 2016
Reshma is a college counselor's dream and with her new agent's help scoring a book deal, Reshma knows she has the key to Stanford. But she's convinced no one would want to read a novel about a study machine like her. To make herself a more relatable protagonist, she must start doing all the regular American girl stuff she normally ignores. Into White by Randi Pink
Publisher: Feiwel and Friends
Release date: September 13 2016
Latoya Williams, a black teenager, attends a mostly white high school in the Bible Belt. Desperate for a change, she prays for the power to change her race and wakes up white. Girl in Pieces by Kathleen Glasgow
Publisher:
Release date: September 27 2016
Charlie Davis is a cutter, and after losing everything, every day is a fight to survive. A recovery program for girls like her seems like the best chance for survival, but when her insurance runs out and she ends up back on the streets, her roadie friend Mikey suggests joining him in Tucson, where she finds herself surrounded by musicians.
Mysteries & Thrillers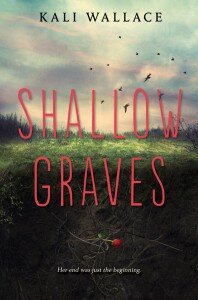 Shallow Graves by Kali Wallace
Publisher: Katherine Tegen Books
Release date: January 5 2016
Breezy remembers leaving the party, the warm, wet grass under her feet, her cheek still stinging from a slap to the face. But when she wakes up, scared and pulling dirt from her mouth, a year has passed and she can't explain the necklace of bruises around her neck. She also can't explain the man lying at her grave, dead from her touch.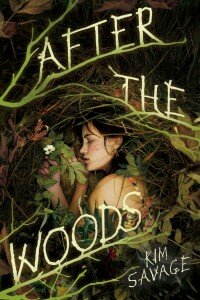 After the Woods by Kim Savage
Publisher: Farrar, Straus and Giroux
Release Date: February 23 2016
Julia risked her life to save her best friend, and when Liv ran, Julia was left trapped in the woods for 48 hours that she only remembers in flashbacks. When a dead girl shows up in the woods as Liv throws herself into self-destructive tendencies and Julia's memories begin to surface, Julia begins to realize the woods were just the beginning.

A Study in Charlotte by Brittany Cavallaro
Publisher: Katherine Tegen Books
Release date: March 1 2016
The last thing sixteen-year-old Jamie Watson– great-great-grandson of the John Watson–wants is a rugby scholarship to Sherringford, a school also home to Charlotte Holmes, the famous detective's great-great-granddaughter. Then a Sherringford student dies under suspicious circumstances, and Jamie and Charlotte become the prime suspects.

The May Queen Murders by Sarah Jude
Publisher: HMH Books for Young Readers
Release date: May 3 2016
Twenty-five years back, a teenage girl was murdered after being crowned queen at the Glen's May Day celebration. Ivy Templeton has lived in Rowan's Glen for all of her sixteen years, and feels safe there – but after Ivy's cousin Heather is elected queen of the May Day celebration, Heather goes missing and Ivy must come to terms with the fact that she never knew her beloved cousin—or Rowan's Glen—as well as she thought she did.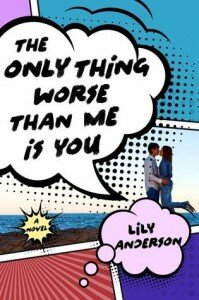 The Only Thing Worse Than Me Is You by Lily Anderson
Publisher: St. Martin's Griffin
Release date: May 17 2016
Trixie Watson has two very important goals for senior year: to finally save enough to buy the set of Dr. Who figurines at the local comic books store, and to place third in her class and knock Ben West down to number four.

Please Don't Tell by Laura Tims
Publisher: HarperCollins
Release date: May 24 2016
Joy killed Adam Gordon—at least, that's what she thinks. The night of the party is hazy at best. But she knows what Adam did to her twin sister, Grace, and she knows he had to pay for it. What Joy doesn't expect is that someone else saw what happened.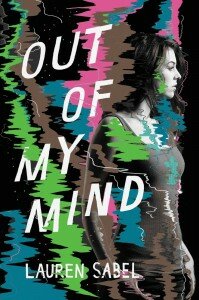 Out of My Mind by Lauren Sabel
Publisher: Katherine Tegen Books
Release date: May 31 2016
As the government's youngest psychic spy, Callie finds valuable information for top-secret missions. When an oddball billionaire takes interest in Callie's talents, it's clear that she could lose the people she loves—and her mind. Literally.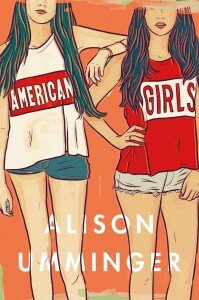 American Girls by Alison Umminger
Publisher: Flatiron Books
Release date: June 7 2016
Anna is a girl slouching toward adulthood, and she's had it with her life at home. So Anna "borrows" her stepmom's credit card an runs away to Los Angeles. But LA isn't quite the escape Anna had imagined.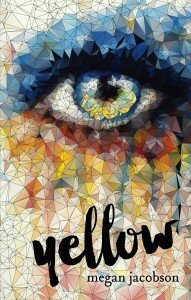 Yellow by Megan Jacobson
Publisher: Penguin Teen Australia
Release Date: 2016
Kirra's so-called friends bully her, her mother's lost in the bottom of a bottle of a gin, and now a teenage ghost has decided to befriend her through a broken phone. If she solves his murder, he's promised to make her popular, get her parents back together, and to stop haunting her – but people can be haunted in more ways than one.
Science Fiction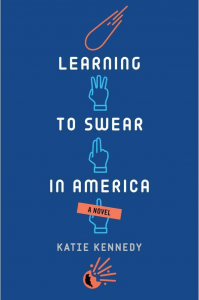 Learning to Swear in America by Katie Kennedy
Publisher: Bloomsbury
Release date: July 5 2016
An asteroid is hurtling towards Earth, so physicist prodigy Yuri is recruited by NASA to help the world avoid disaster. He knows he can stop the asteroid, but the older scientists are refusing to listen to him. When he meets Dovie, a very normal teenager, Yuri begins to understand what it means to save the world – and to have a life worth saving.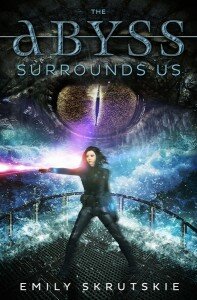 The Abyss Surrounds Us by Emily Skrutskie
Publisher: Flux
Release date: February 2 2016
For Cassandra Leung, bossing around sea monsters is just the family business. She's been a Reckoner trainer-in-training ever since she could walk, raising the genetically-engineered beasts to defend ships as they cross the pirate-infested NeoPacific. But when the pirate queen Santa Elena swoops in on Cas's first solo mission and snatches her from the bloodstained decks, Cas's dream of being a full-time trainer seems dead in the water.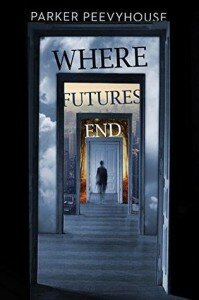 Where Futures End by Parker Peevyhouse
Publisher: Kathy Dawson Books
Release date: February 9 2016
One year from now, Dylan develops a sixth sense that allows him to glimpse another world. Ten years from now, Brixney must get more hits on her social media feed or risk being stuck in a debtors' colony. Thirty years from now, Epony scrubs her online profile and goes "High Concept." Sixty years from now, Reef struggles to survive in a city turned virtual gameboard. A hundred years from now, Quinn uncovers the secret that links them all.

Beyond the Red by Ava Jae
Publisher: Sky Pony Press
Release date: March 2016
Alien queen Kora is the first female ruler of her territory in generations, but her people are rioting and call for her violent younger twin brother to take the throne. Eros is a rebel soldier hated by aliens and human alike for being a half-blood. When Kora's soldiers raze his camp he's given an ultimatum: be an enslaved bodyguard to Kora, or be executed. After Kora and Eros uncover a violent plot, they must find a way to work together to prevent genocide.

Future Shock by Elizabeth Briggs
Publisher: Albert Whitman
Release date: April 1 2016
Elena Martinez has hidden her eidetic memory all her life–or so she thinks. When powerful tech giant Aether Corporation selects her for a top-secret project, she can't say no. All she has to do is participate in a trip to the future to bring back data, and she'll be set for life.

Consider (Holoseries #1) by Kristy Acevedo
Publisher: Jolly Fish Press
Release date: April 18 2016
As if Alexandra Lucas' anxiety disorder isn't enough, mysterious holograms suddenly appear from the sky, heralding the end of the world. They bring an ultimatum: heed the warning and step through a portal-like vertex to safety, or stay and be destroyed by a comet they say is on a collision course with earth. How's that for senior year stress?
What 2016 YA books are you most looking forward to? What ones did we not list that you would have wanted to see added on? Sound off in the comments below!