Here's a selection of some of the new YA novels hitting the shelves this week (6th – 12th January).
All the Bright Places by Jennifer Niven
Publisher: Knopf Books for Young Readers
Release date: January 6th
Theodore Finch is fascinated by death, while Violet Markey lives for the future. It's only with Finch that Violet stops counting days and starts living them. But as Violet's world grows, Finch's shrinks.

Atlantis Rising by Gloria Craw
Publisher: Entangled Teen
Release date: January 6th
I am wanted—by those who would protect me and those who would destroy everything and everyone I love. But if they're all terrified about who I am, wait until they see what I can do…

The Boy in the Black Suit by Jason Reynolds
Publisher: Atheneum Books for Young Readers
Release date: January 6th
Just when Matt thinks he can't handle one more piece of terrible news, he meets a girl who just might be able to clue him in on how to rise up when life keeps knocking him down.
The Boy Next Door by Katie Van Ark
Publisher: Swoon Reads
Release date: January 6th
Gabe can't imagine skating with anyone but Maddy, and together they have a real chance at winning gold medals. But when their coach assigns a new romantic skating program, everything changes.
City 1 (Revolution 19 #3) by Gregg Rosenblum
Publisher: HarperTeen
Release date: January 6th
After finally reuniting at a rebel camp, siblings Nick, Kevin, and Cass are willing to do anything to stay together—and free their parents from bot rule. But the leader of the rebel camp has her own ideas.
Collide (The Taking #3) by Melissa West
Publisher: Harlequin Teen
Release date: January 6th
Military legacy Ari Alexander has survived a changing world, but when the new leader of Earth uses Jackson—the only boy she's ever cared about—to get to her, Ari has no choice but to surrender.

Dead of Winter (The Arcana Chronicles #3) by Kresley Cole
Publisher: Simon & Schuster Books for Young Readers
Release date: January 6th
Despite leaving a part of her heart behind with Death, Evie sets out into a perilous wasteland to meet up with her allies and launch an attack on The Lovers and the vast army they command.

Deep Sea (A Faraway Island #3) by Annika Thor
Publisher: Delacorte Press
Release date: January 6th
Three years ago, Stephie escaped the Nazis in Vienna and fled to an island in Sweden. Now Stephie is going to school on the mainland, but life is only getting more complicated as she gets older.
Ensnared (Splintered #3) by A.G. Howard
Publisher: Amulet Books
Release date: January 6th
Alyssa and her dad journey in search of her mom and to set right all that's gone wrong. With Jeb and Morpheus, they must salvage Wonderland from the decay and destruction that has ensnared it.

Firefight (Reckoners #2) by Brandon Sanderson
Publisher: Delacorte Press
Release date: January 6th
Eliminating Steelheart was supposed to make life more simple. Instead, it only made David realize he has questions. Big ones. And there's no one in Newcago who can give him the answers he needs.

Frostfire (Kanin Chronicles #1) by Amanda Hocking
Publisher: St. Martin's Griffin
Release date: January 6th
Set apart by her heritage, Bryn is a tracker who's determined to become a respected part of her world. She has just one goal: become a member of the elite King's Guard to protect the royal family.
The Ghosts of Heaven by Marcus Sedgwick
Publisher: Roaring Brook Press
Release date: January 6th
A genre-bending epic of four linked stories which boldly chronicle madness, obsession, and creation through the ages, from the Paleolithic era through the Witch Hunts and into the space-bound future.

Golden Son (Red Rising Trilogy #2) by Pierce Brown
Publisher: Del Rey
Release date: January 6th
Now fully embedded among the Gold ruling class, Darrow continues his work to bring down Society, battling to lead his oppressed people to freedom from the overlords of an elitist future built on lies.

Gone Too Far by Natalie D. Richards
Publisher: Sourcebooks Fire
Release date: January 6th
Piper finds a notebook with photographs and a list of students. When a student supposedly commits suicide, Piper remembers her name from the book and suspects something much worse.

Hellhole by Gina Damico
Publisher: HMH Books for Young Readers
Release date: January 6th
There was a time when geeky, squeaky-clean Max Kilgore would never lie or steal or even think about murder. Then he accidentally unearths a devil, and Max's choices are no longer his own.

Hold Tight, Don't Let Go by Laura Rose Wagner
Publisher: Amulet Books
Release date: January 6th
The story of two teenage cousins who survive the devastating 2010 Haiti earthquake. After losing the woman who raised them, Magdalie and Nadine must fend for themselves in the aftermath of the quake.

Infected by Sophie Littlefield
Publisher: Delacorte Press
Release date: January 6th
The people Carina loved kept dangerous secrets. Secrets that make her question the life she's been living up to now. Her life is on the line, but more importantly, so is Tanner's. And if she fails? He dies.

A List of Things That Didn't Kill Me by Jason Schmidt
Publisher: Farrar Straus Giroux
Release date: January 6th
A funny, disturbing memoir full of brutal insights and unexpected wit that explores the question: How do you find your moral center in a world that doesn't seem to have one?

Monkey Wars by Richard Kurti
Publisher: Delacorte Press
Release date: January 6th
When the Langur monkey troop rises to power on the streets of Calcutta, a brutal massacre drives the Rhesus troop from the place they call home and forces them to embark on a dangerous journey.
Reborn (Altered #3) by Jennifer Rush
Publisher: Little, Brown Books for Young Readers
Release date: January 6th
The Branch is in shambles, but Anna, Sam, Cas, and Nick can't rest easy. Remnants of the organization lurk unseen and the flashbacks to their old lives are getting stronger–especially Nick's.

Rogue Wave (The Waterfire Saga #2) by Jennifer Donnelly
Publisher: Disney Hyperion
Release date: January 6th
The ancient evil that destroyed Atlantis is stirring again, and only the mermaids Serafina, Neela, Ling, Ava, Becca, and Astrid can defeat it. To do so, they need to find talismans that belonged to the Six.
Save Me by Jenny Elliott
Publisher: Swoon Reads
Release date: January 6th
Cara has lost her best friend, discovered that her soul mate is off limits, and has attracted the attention of a stalker. Garren is there to support her. But is Garren possibly too perfect?
There Will Be Lies by Nick Lake
Publisher: Bloomsbury Children's Books
Release date: January 6th
All Shelby knows is that she and her mother are running from dangers only her mother understands. And the further they travel, the more Shelby questions about her past—and her current reality.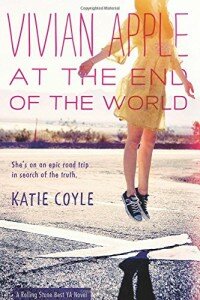 Vivian Apple at the End of the World (Vivian Apple #1) by Katie Coyle
Publisher: HMH Books for Young Readers
Release date: January 6th
Vivian Apple never believed in the Rapture, unlike her recently devout parents. But when Vivian discovers all that's left of her parents are two holes in the roof, she doesn't know what to believe.

Willowgrove (Hemlock #3) by Kathleen Peacock
Publisher: Katherine Tegen Books
Release date: January 6th
Ever since Mac's best friend, Amy, was murdered, Hemlock has been a dangerous place. But now, after a mass breakout from Thornhill, a werewolf "rehabilitation" camp, the danger has only grown.

X by Ilyasah Shabazz & Kekla Magoon
Publisher: Candlewick Press
Release date: January 6th
X follows Malcolm X from his childhood to his imprisonment for theft at age twenty, when he found the faith that would lead him to forge a new path and command a voice that still resonates today.

Audacity by Melanie Crowder
Publisher: Philomel
Release date: January 8th
A verse novel inspired by the real-life story of Clara Lemlich, a spirited young woman who emigrated from Russia to New York at the turn of the twentieth century and fought tenaciously for equal rights.

The Law of Loving Others by Kate Axelrod
Publisher: Razorbill
Release date: January 8th
In the span of one winter, Emma's life falls apart and she is forced to see the reality in a line from Anna Karenina: "The law of loving others could not be discovered by reason, because it is unreasonable."

Marly's Ghost by David Levithan
Publisher: Electric Monkey
Release date: January 8th
When Ben's girlfriend, Marly, dies, he feels his life is over and the prospect of Valentine's day without her fills him with bitterness. But then Marly's ghost arrives along with three other spirits.

Tracers by J.J. Howard
Publisher: Putnam Juvenile
Release date: January 8th
Cam is a New York City bike messenger with no family and some dangerous debts. While on his route one day, he runs into a beautiful stranger named Nikki—but she quickly disappears.

The View from Who I Was by Heather Sappenfield
Publisher: Flux
Release date: January 8th
She awakens in the hospital, suffering the effects of frostbite and hypothermia. But her injuries aren't as painful as the wound she can't name, the one she feels cutting into the core of who she is.

Never Never by Colleen Hoover & Tarryn Fisher
Publisher: Hoover Ink
Release date: January 11th
Best friends since they could walk. In love since the age of fourteen. Complete strangers since this morning. He'll do anything to remember. She'll do anything to forget.