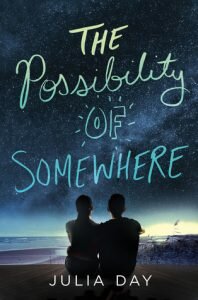 Jane Austen's 1813 novel Pride and Prejudice is a classic tale: Fitzwilliam Darcy and Elizabeth Bennet overcome their mutual distrust of one another and fall in love. Pop culture retells this arc constantly, from movies such as You've Got Mail and Bridget Jones's Diary to the popular 2012 Youtube series The Lizzie Bennet Diaries. Another adaptation will be joining the ranks later this year: Julia Day's The Possibility of Somewhere.
The Possibility of Somewhere takes place in a small town in North Carolina and follows Eden Moore and Ash Gupta, two incredibly competitive students up for the spot of valedictorian and the prestigious Peyton scholarship.
For starters, the characters in Day's novel are far more diverse. Eden is considered to be "trailer trash," while Ash is Indian-American, with parents who place very strict rules and high expectations upon him. Another character, Kurt, is on the autism spectrum.
"Research is essential, and you can never have too much. My best advice for writers is to rely on good primary sources. Talk to everyone you can. People are willing to share their expertise with generosity and candor. They're honored to be asked and eager to help you get the story right," said Day, who researched pieces of the book that related to her personal experience.
"There have been times in my life when I had to choose between putting gas in the car and eating. But I still researched what Eden's world would be like now, how relentlessly hard it is to be poor in America today. It's more than being hungry and exhausted; it's about all the little ways that life is unfair. My daughter is minoring in criminal justice in college, and she helped me understand how 'the system' works — and how sometimes the only choice people think they have is to merely survive.
Since Day is not Indian-American, avoiding stereotypical representation for Ash became an important part of her writing research. Day's Indian-American colleagues were able to answer questions and provide plot points.
"I'd intended for racism only to be what separated Eden and Ash. A co-worker pointed out that race wouldn't be enough. She felt like most Indian parents would also be upset that Eden was 'trailer trash.' It was the combination of race, culture, religion, and class that would be too much. I trusted her and changed the plot."
Because her novel was taking place in a modern world, there had to be some changes. Certain characters including the Bennet sisters and Mr. Wickham, were cut or had their attitudes modified to fit the story Day intended on writing.
"I enjoyed creating the kind of characters and setting to make this story come alive. Ash and Eden are people I could truly admire. The biggest challenge was making sure that I treated all characters with respect and didn't turn them into clichés."
The Possibility of Somewhere focuses on the balance between risk and trust, and between obeying what you know with following your heart.
"It's true that Ash and Eden had a long and antagonistic relationship before the book begins, but I was ready for them to resolve the past quickly so that we could spend most of our time witnessing their romance. I wanted the story to be about how they learn to respect each other as well as their dreams."
The Possibility of Somewhere is available now. For more about Day, visit her website or follow her on .