What YA books release this week? We have a list of this week's September YA books!

Black Beauty by Constance Burris
Publisher: Big Eye Publications
Release date: September 29th
At Vista Apartment Complex, life drastically changes for few of its residents when they decide to do business with Crazy Jade—the supposed voodoo witch that can grant your wish, for a price.

Brazen (Gilded #3) by Christina Farley
Publisher: Skyscape
Release date: September 29th
Sworn to an ancient god of darkness, sixteen-year-old Jae Hwa Lee fights to gain her freedom and restore the balance of Korea… but first she must gain back the trust of her loved ones.

Daughters unto Devils by Amy Lukavics
Publisher: Harlequin Teen
Release date: September 29th
When the Verners arrive at their new home, a large cabin, they discover the inside covered in blood. And as the days pass, it is obvious to Amanda that something isn't right on the prairie.

Emerge: The Edge by Melissa A. Craven
Publisher: Midnight Hour Studios
Release date: September 29th
Alienated by everything that sets him apart, Aidan McBrien is the most powerful Immortal of his generation, but he chooses to live behind a mask to protect himself, even from those he loves.

Faceless by Alyssa B. Sheinmel
Publisher: Scholastic Press
Release date: September 29th
When Maisie gets into a terrible accident, her face is partially destroyed. She's lucky enough to get a face transplant–but how do you live your life when you can't even recognize yourself anymore?


I Love Him, I Love Him Not (Westgate Prep #2) by Ella Martin
Publisher: Clean Reads / Astraea Press
Release date: September 29th
Talia Nicoletti's life has been turned upside down–and that's probably an understatement. Talia has to unravel her tangled up emotions to figure out what she really wants and who she can trust.

The Lost Girl (Fear Street #3) by R.L. Stine
Publisher: St. Martin's Griffin
Release date: September 29th
New student Lizzy Palmer is the talk of Shadyside High. Michael and his girlfriend Pepper befriend her, but the closer they get, the stranger she seems… and the more attractive she is to Michael.

A Mad Zombie Party (The White Rabbit Chronicles #4) by Gena Showalter
Publisher: Harlequin Teen
Release date: September 29th
When Anima rises from the grave to become a force the slayers may not have the strength to overcome, Frosty, Camilla and all the slayers will have to work together to survive.

Madly (The Potion Diaries #1) by Amy Alward
Publisher: Simon & Schuster
Release date: September 29th
When the Princess of Nova accidentally poisons herself with a love potion meant for her crush, she falls crown-over-heels in love with her own reflection. A nationwide hunt is called to find a cure.

Menagerie (Menagerie #1) by Rachel Vincent
Publisher: MIRA
Release date: September 29th
When Delilah Marlow visits a famous traveling carnival, Metzger's Menagerie, she is captured and put on exhibition, stripped of her worldly possessions, including her own name.

Minotaur by Phillip W. Simpson
Publisher: Month9Books
Release date: September 29th
Asterion the Minotaur tells of his boyhood in Crete under the cruel hand of his stepfather Minos, his adventures with his friend, Theseus, and what really happened in the labyrinth.

Never, Never by Brianna Shrum
Publisher: Spencer Hill Press
Release date: September 29th
James Hook is a child who wants to grow up. When he meets Peter Pan, a boy who loves to pretend and is intent on never becoming a man, James decides he could try being a child—at least briefly.

Return Once More (The Historians #1) by Trisha Leigh
Publisher: Bloomsbury Spark
Release date: September 29th
If you could learn the identity of your one true love—even though you will never meet— would you? If you could save your one true love from an untimely death, would you be able to resist?

Sanctuary by Jennifer McKissack
Publisher: Scholastic Press
Release date: September 29th
After the untimely death of her aunt Laura, Cecilia Cross is forced to return to Sanctuary, a rambling, old French-Gothic mansion, where she must reckon with the ghosts of her dark past.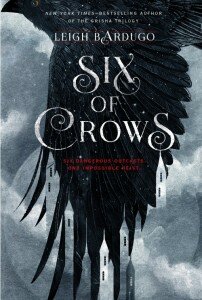 Six of Crows (The Dregs #1) by Leigh Bardugo
Publisher: Henry Holt
Release date: September 29th
In Ketterdam, a bustling hub of trade, criminal prodigy Kaz Brekker is offered a chance at a deadly heist that could make him rich beyond his wildest dreams. But he can't pull it off alone…

Until Beth (Life and Beth #1) by Lisa Amowitz
Publisher: Spencer Hill Press
Release date: September 29th
Talented rock guitarist Beth Collins has been barely holding herself together for months, ever since her boyfriend and bandmate became the latest victim in a string of suspicious disappearances.

Untwine by Edwidge Danticat
Publisher: Scholastic Press
Release date: September 29th
Giselle Boyer and her identical twin, Isabelle, are as close as sisters can be, even as their family seems to be unraveling. Then the Boyers are caught in a car crash that will shatter their world.

Very in Pieces by Megan Frazer Blakemore
Publisher: HarperTeen
Release date: September 29th
Very Sales-Woodruff is done being a good girl. Done being the only responsible one in a family that's unraveling. Done saying no to what she wants—like Dominic, her rebellious classmate.

When We Were by Alexandra Diaz
Publisher: The Studio
Release date: September 29th
No one messes with Whitney Blaire or her friends, which is why she can't help but let it slip that someone spotted Tara's boyfriend making out with one of the guy cheerleaders.

Young Man with Camera by Emil Sher
Publisher: Arthur A. Levine Books
Release date: September 29th
T– is used to getting grief. But T– has his own strength too: his camera, which captures the way he sees the world. Do his pictures ever tell the whole truth? What if the truth isn't the right answer?

Zeroes (Zeroes #1) by Scott Westerfeld, Margo Lanagan & Deborah Biancotti
Publisher: Simon Pulse
Release date: September 29th
Ethan, aka "Scam," has a way with words. When he opens his mouth, whatever he wants you to hear comes out. But Ethan isn't just a smooth talker. And now his gift has landed him in a huge mess.

Becoming Darkness by Lindsay Francis Brambles
Publisher: Switch Press
Release date: October 1st
Like everyone else living in Haven, seventeen-year-old Sophie Harkness is an Immune–a carrier of the genetic mutation that protects her from the virus Hitler unleashed upon the world.

Believarexic by J.J. Johnson
Publisher: Peachtree Publishers
Release date: October 1st
In 1988, when she was fifteen, JJ Johnson was hospitalized for treatment of bulimarexia, a combination of bulimia and anorexia. Her path toward health was a constant struggle.

Ward Against Destruction (Chronicles of a Reluctant Necromancer #4) by Melanie Card
Publisher: Entangled Teen
Release date: October 5th
Ward de'Ath used to the think that nothing could be more terrible than death. Now he realizes there are worse things. Like his never-ending hunger for blood.