Here is a selection of excerpts from new YA books that have recently hit the web.

The Darkest Part of the Forest by Holly Black
Publisher: Little, Brown Books for Young Readers
Release date: January 13th 2015
Hazel lives with her brother, Ben, in the strange town of Fairfold where humans and fae exist side by side. The faeries' seemingly harmless magic attracts tourists, but Hazel knows how dangerous they can be, and she knows how to stop them. Or she did, once. At the center of it all, there is a glass coffin in the woods. In it sleeps a boy with horns on his head and ears as pointed as knives. The boy has slept there for generations, never waking. Until one day, he does…
To read an excerpt, click here.

An Ember in the Ashes by Sabaa Tahir
Publisher: Razorbill
Release date: April 28th 2015
Laia is a Scholar living under the iron-fisted rule of the Martial Empire, undercover as a slave at the empire's greatest military academy. Elias is the academy's finest soldier—and secretly, its most unwilling. Elias is considering deserting the military, but before he can, Laia and Elias's paths cross at the academy, and they find that their destinies are more intertwined than either could have imagined and that their choices will change the future of the empire itself.
To read an excerpt, click here.
The Glass Arrow by Kristen Simmons
Publisher: Tor Teen
Release date: February 10th 2015
In a world where females are scarce and are hunted, then bought and sold at market for their breeding rights, 15-year old Aya has learned how to hide. With a ragtag bunch of other women and girls, she has successfully avoided capture and eked out a nomadic but free existence in the mountains. But when Aya's luck runs out and she's caught by a group of businessmen on a hunting expedition, fighting to survive takes on a whole new meaning.
To read an excerpt, click here.

Hollywood Witch Hunter by Valerie Tejeda
Publisher: Bloomsbury Spark
Release date: July 20th 2015
From the moment she first learned the truth about witches… she knew she was born to fight them. Now, at sixteen, Iris is the lone girl on the Witch Hunters Special Ops Team. But when Iris meets a boy named Arlo, he might just be the key to preventing an evil uprising in Southern California. Together they're ready to protect the human race at all costs. Because that's what witch hunters do. Welcome to Hollywood.
To read an excerpt, click here.

Inked by Eric Smith
Publisher: Bloomsbury Spark
Release date: January 20th 2015
Tattoos decide your destiny. And in a world where Ink controls your fate, Caenum can't escape soon enough. He is ready to run from his family, and his best friend Dreya, and the home he has known, just to have a chance at a choice. But when he upsets the very Scribe scheduled to give him his Ink on his eighteenth birthday, he unwittingly sets in motion a series of events that sends the corrupt, magic-fearing government, The Citadel, after him and those he loves.
To read an excerpt, click here.
Please Remain Calm (This Is Not a Test #2) by Courtney Summers
Publisher: St. Martin's Griffin
Release date: January 20th 2015
Rhys and Sloane are headed for a safe haven when they get separated. Rhys is determined to reunite with Sloane until he discovers people who might need him more–people who offer him the closest he'll get to everything he's lost. Rhys thinks he has what it takes to survive and find the girl he lost, but in a world overrun by the dead, there are no guarantees and the next leg of his journey will test him.
To read an excerpt, click here.

Uprooted by Naomi Novik
Publisher: Tor Books
Release date: May 21st 2015
Agnieszka loves her valley home, her quiet village, the forests and the bright shining river. But the corrupted Wood stands on the border, full of malevolent power, and its shadow lies over her life. Her people rely on the cold, driven wizard known only as the Dragon to keep its powers at bay. But he demands a terrible price for his help: one young woman handed over to serve him for ten years, a fate almost as terrible as falling to the Wood.
To read an excerpt, click here.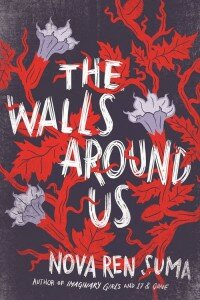 The Walls Around Us by Nova Ren Suma
Publisher: Algonquin Young Readers
Release date: March 24th 2015
A ghostly story of suspense told in two voices—one still living and one long dead. On the outside, there's Violet, an eighteen-year-old dancer days away from the life of her dreams when something threatens to expose the shocking truth of her achievement. On the inside, within the walls of a girls' juvenile detention center, there's Amber, locked up for so long she can't imagine freedom. Tying these two worlds together is Orianna.
To read an excerpt, click here.