I get asked often what, exactly, #quietYA is. The traditional definition is about books that aren't very action packed and slower paced, but I use it to talk about books that are not bestsellers, not award winners, and that don't have any kind of book or TV deal. So often, the same books are discussed over and over again and unfortunately, books fall through the cracks. But I believe that every book published is needed by someone and I want to create the best possible chance to get those books in hands.
#quietYA is my attempt to make that happen.
Here are 16 books that released in May that you might have missed.
The Lies They Tell by Gillian French
Publisher: HarperTeen
Release date: May 1
Everyone in Tenney's Harbor, Maine, has heard of the Garrison tragedy. For people like Pearl Haskins—whose dad was the caretaker of the Garrison property when the house went up in flames—the whispers about that night are more than upsetting. With her disgraced father now trying to find steady work in between booze benders, Pearl is stuck waiting tables at the town's country club where the rich townspeople come in the summer to flaunt their money. This year, a group of privileged boys have made a point of sitting in Pearl's section—throwing careless insults her way while also attempting to flirt. Though she's repulsed by everything they stand for, she's drawn to the quiet leader of the pack, Tristan—the last surviving Garrison.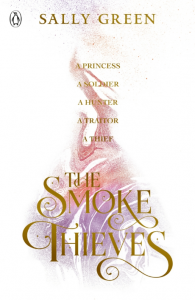 The Smoke Thieves by Sally Green
Publisher: Viking
Release date: May 1
In Brigant, Princess Catherine prepares for a loveless political marriage arranged by her brutal and ambitious father. In Calidor, downtrodden servant March seeks revenge on the prince who betrayed his people. In Pitoria, feckless Edyon steals cheap baubles for cheaper thrills as he drifts from town to town. And in the barren northern territories, thirteen-year-old Tash is running for her life as she plays bait for the gruff demon hunter Gravell. As alliances shift and shatter, and old certainties are overturned, our four heroes find their past lives transformed and their futures inextricably linked by the unpredictable tides of magic and war. Who will claim the ultimate prize?
Out of Left Field by Kris Hui Lee
Publisher: Sourcebooks Fire
Release date: May 1
Marnie has never had a hard time fitting in with the guys. It would take a lot more than their goofy antics to keep her from joining them at the neighborhood sandlot to do what she loves best: play ball. An added perk of hanging out at the sandlot? Spending time with Cody Kinski, their high school's star pitcher and Marnie's best friend. Sure, he can be stubborn and annoying. He also knows how to make her laugh and respects her skills on the mound. And when he gets nailed in the arm by a bone-fracturing pitch, Marnie becomes the team's best chance at making it to the playoffs. Except no one told the guys they're supposed to be on her side. With her own team against her, Marnie begins questioning her abilities. And when fate throws her a curveball, can she play without losing the game, Cody, and her belief in herself?

A Date with Darcy by Tiffany Schmidt
Publisher: Amulet
Release date: May 1
Merrilee Campbell, 16, thinks boys are better in books, chivalry is dead, and there'd be nothing more romantic than having just one guy woo her like the heroes in classic stories. She's about to get the chance to test these daydreams when she, her best friend, Eliza, and her younger sister, Rory, transfer into Reginald R. Hero High, where all their fantasies come true—often with surprising consequences.

Undead Girl Gang by Lily Anderson
Publisher: Razorbill
Release date: May 8
Mila Flores and her best friend Riley have always been inseparable. So when Riley and two Fairmont Academy mean girls die under suspicious circumstances, Mila refuses to believe everyone's explanation that her BFF was involved in a suicide pact. Instead, armed with a tube of lip gloss and an ancient grimoire, Mila does the unthinkable to uncover the truth: she brings the girls back to life. Now, with only seven days until the spell wears off and the girls return to their graves, Mila must wrangle the distracted group of undead teens and work fast to discover their murderer…before the killer strikes again.

The Queen Underneath by Stacey Filak
Publisher: Page Street
Release date: May 8
The Above and the Under have a tenuous truce that is shattered after the death of both their respective rulers. Gemma, the new queen of Under, must throw history aside and team up with Tollan, the heir to the Above throne, in order to take down a power that seeks to rule them all. Their group of rebels is comprised of an assassin, a sex worker, and a palace servant from Above, and we follow their unique perspectives as they are forced to question previously held beliefs. But even with war looming, romance still grows. Challenging gender roles and the expectation that every prince must have a princess, Tollan discovers love with Elam—a young man, a sex worker, and one of Gemma's closest friends.

The Way You Make Me Feel by Maurene Goo
Publisher: Farrar, Straus, and Giroux Books for Young Readers
Release date: May 8
Clara Shin lives for pranks and disruption. When she takes one joke too far, her dad sentences her to a summer working on his food truck, the KoBra, alongside her uptight classmate Rose Carver. Not the carefree summer Clara had imagined. But maybe Rose isn't so bad. Maybe the boy named Hamlet (yes, Hamlet) crushing on her is pretty cute. Maybe Clara actually feels invested in her dad's business. What if taking this summer seriously means that Clara has to leave her old self behind?
Valley Girls by Sarah Nicole Lemon
Publisher: Amulet
Release date: May 8
When Rilla is busted for partying 24 hours into arriving in Yosemite National Park to live with her park ranger sister, it's a come-to-Jesus moment. Determined to make up for her screw-up, Rilla charms her way into a tight-knit group of climbers. But Rilla can't help but be seduced by experiences she couldn't have imagined back home. She sets her sights on climbing El Capitan, one of the most challenging routes in Yosemite, and her summer becomes one harrowing and ecstatic experience after another: first climb, first fall two thousand feet in the air, first love. But becoming the person Rilla feels she was meant to be jeopardizes the reasons why she came to Yosemite—a bright new future and a second chance at sisterhood.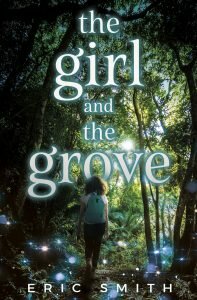 The Girl and the Grove by Eric Smith
Publisher: Flux
Release date: May 8
Teenager Leila's life is full of challenges. From bouncing around the foster care system to living with seasonal affective disorder, she's never had an easy road. Leila keeps herself busy with her passion for environmental advocacy, monitoring the Urban Ecovists message board and joining a local environmental club with her best friend Sarika. And now that Leila has finally been adopted, she dares to hope her life will improve. But the voices in Leila's head are growing louder by the day. Ignoring them isn't working anymore. Something calls out to her from the grove at Fairmount Park.

Girl Made of Stars by Ashley Herring Blake
Publisher: Houghton Mifflin Harcourt
Release date: May 15
Mara and Owen are about as close as twins can get. So when Mara's friend Hannah accuses Owen of rape, Mara doesn't know what to think. Can the brother she loves really be guilty of such a violent crime? Torn between the family she loves and her own sense of right and wrong, Mara is feeling lost, and it doesn't help that things have been strained with her ex-girlfriend and best friend since childhood, Charlie. As Mara, Hannah, and Charlie navigate this new terrain, Mara must face a trauma from her own past and decide where Charlie fits in her future. With sensitivity and openness, this timely novel confronts the difficult questions surrounding consent, victim blaming, and sexual assault.

The Game Can't Love You Back by Karole Cozzo
Publisher: SwoonReads
Release date: May 15
Eve is used to being the odd woman out. As the only girl on her school's baseball team, she knows exactly how to put sweaty, macho baseball players in their place, and she's focused on one thing and one thing only—being the best pitcher she can be. But when a freak accident forces her high school to be absorbed by the neighboring town, Eve has to contend with a new group of guys who aren't used to having a woman on their team. And the new team's star pitcher, Jamie, has no interest in being ousted from his throne. He can't afford to give up his starting slot to a new pitcher—even worse, to a girl. As the competition between Jamie and Eve starts to heat up, so does their attraction to each other. Can they keep their heads in the game, or will they end up getting played?

The Accidental Bad Girl by Maxine Kaplan
Publisher: Amulet Books
Release date: May 15
After getting caught hooking up with her best friend's ex on the last day of junior year, Kendall starts senior year friendless and ostracized. She plans to keep her head down until she graduates. But after discovering her online identity has been hacked and she's being framed for stealing from a dealer, Kendall is drawn into a tenuous partnership with the mastermind of a drug ring lurking in the shadows of her Brooklyn private school. If she wants to repair her tattered reputation and save her neck, she'll have to decide who she really is—and own it.

My So-Called Bollywood Life by Nisha Sharma
Publisher: Crown Books for Young Readers
Release date: May 15
Winnie Mehta was never really convinced that Raj was her soulmate, but their love was written in the stars. Literally, a pandit predicted Winnie would find the love of her life before her 18th birthday, and Raj meets all of the qualifications. Which is why Winnie is shocked to return from her summer at film camp to find her boyfriend of three years hooking up with Jenny Dickens. Worse, Raj is crowned chair of the student film festival, a spot Winnie was counting on for her film school applications. As a self-proclaimed Bollywood expert, Winnie knows this is not how her perfect ending is scripted. At least there's Dev, a fellow film geek who Winnie can count on to help her reclaim control of her story. But does falling for Dev mean giving up on her prophecy, and her chance to live happily ever after?

Ride On by Gwen Cole
Publisher: Sky Pony Press
Release date: May 22
In the near post-apocalyptic future, the skies are always gray and people are constantly searching for the sun. For teenage outlaw Seph, it's the only world he's ever known. With his horse, his favorite pistol, and his knowledge for survival passed down from his dead father, Seph knows it's safer to be alone. But after a run-in with a local gang that call themselves the Lawmen, and having been wrongly accused of murder, Seph teams up with Avery—a determined girl whose twin brother has been taken by the same gang. After living in a small, rundown town her whole life, Avery knows nothing of the Wild—the lands controlled by nobody. With Seph's help, they track down her brother but quickly find the tables have turned and they are now the ones being hunted. With rumors of mysterious dangers to the south and a safe sanctuary to the west, they've only got one option, but getting there won't be easy with the Lawmen on their trail. The only thing that matters in the Wild is how fast your trigger hand is, but Seph doesn't know if his will be fast enough to save them all.

Driving by Starlight by Anat Deracine
Publisher: Henry Holt and Co
Release date: May 22
Sixteen-year-olds Leena and Mishie are best friends. They delight in small rebellions against the Saudi cultural police—secret Western clothing, forbidden music, flirtations. But Leena wants college, independence—she wants a different life. Though her story is specific to her world (a world where it's illegal for women to drive, where a ten-year-old boy is the natural choice as guardian of a fatherless woman), ultimately it's a story about friendship, family, and freedom that transcends cultural differences.

Anger is a Gift by Mark Oshiro
Publisher: Tor Teen
Release date: May 22
Six years ago, Moss Jefferies' father was murdered by an Oakland police officer. Along with losing a parent, the media's vilification of his father and lack of accountability has left Moss with near crippling panic attacks. Now, in his sophomore year of high school, Moss and his fellow classmates find themselves increasingly treated like criminals by their own school. New rules. Random locker searches. Constant intimidation and Oakland Police Department stationed in their halls. Despite their youth, the students decide to organize and push back against the administration. When tensions hit a fever pitch and tragedy strikes, Moss must face a difficult choice: give in to fear and hate or realize that anger can actually be a gift.