I get asked often what, exactly, #quietYA is. The traditional definition is about books that aren't very action packed and slower paced, but I use it to talk about books that are not bestsellers, not award winners, and that don't have any kind of book or TV deal. So often, the same books are discussed over and over again and unfortunately, books fall through the cracks. But I believe that every book published is needed by someone and I want to create the best possible chance to get those books in hands.
#quietYA is my attempt to make that happen.
Here are 10 books that released in April that you might have missed.

Now a Major Motion Picture by Cori McCarthy
Publisher: Sourcebooks Fire
Release date: April 3
Iris doesn't care about the famous high-fantasy Elementia books written by M. E. Thorne. So it's just a little annoying that M. E. Thorne is her grandmother—and that Iris has to deal with the trilogy's crazy fans. When Iris gets dropped in Ireland for the movie adaptation, she sees her opportunity: if she can shut down production, the Elementia craze won't grow any bigger, and she can finally have a normal life. Not even the rascally-cute actor Eamon O'Brien can get in her way. But the crew's passion is contagious, and as Iris begins to find herself in the very world she has avoided her whole life, she realizes that this movie might just be amazing…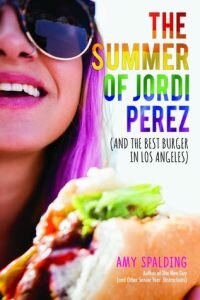 The Summer of Jordi Perez (And the Best Burger in Los Angeles) by Amy Spalding
Publisher: Sky Pony Press
Release date: April 3
Abby Ives has always been content playing the sidekick in other people's lives, staying focused on her plus-size style blog and her dreams of taking the fashion industry by storm. When she lands a prized internship at her favorite local boutique, she's thrilled to take her first step into her dream career. Yet, nothing is going as expected this summer. She's competing against the girl she's kissing to win a paid job at the boutique. She's somehow managed to befriend Jax, a lacrosse-playing bro type who needs help in a project that involves eating burgers across L.A.'s eastside. Suddenly, she doesn't feel like a sidekick. Is it possible Abby's finally in her own story?

Picture Us in the Light by Kelly Loy Gilbert
Publisher: Disney-Hyperion
Release date: April 10
It seems like Danny's path is set, with a scholarship to RISD and his family's blessing to pursue the career he's always dreamed of. Still, contemplating a future without his best friend, Harry, by his side makes Danny feel a panic he can barely put into words. As they approach the one-year anniversary of a tragedy that shook their friend group to its core, Danny can't stop asking himself if Harry is truly in love with his girlfriend. When Danny uncovers a secret that disturbs the foundations of his family history and the carefully constructed facade his parents have maintained begins to crumble. With everything he loves in danger of being stripped away, Danny must face the ghosts of the past in order to build a future that belongs to him.

Lizzie by Dawn Ius
Publisher: Simon Pulse
Release date: April 10
Lizzie prefers to stay in the kitchen of the family's B&B, where she can dream of becoming a chef and escape her reality. With tyrannical parents and her blackout episodes—a medical condition that has plagued her since her first menstrual cycle—Lizzie longs for a life of freedom, the time and space to just figure out who she is and what she wants. Enter Bridget Sullivan. The two of them forge bonds that quickly turn into something that's maybe more than friendship. But when her parents try to restrain Lizzie from living the life she wants, it sparks something in her that she can't quite figure out. Lizzie is angry, certainly, but she also feels like she's going mad.

Isle of Blood and Stone by Makiia Lucier
Publisher: HMH Books for Young Readers
Release date: April 10
Elias is a royal explorer, a skilled mapmaker, and the new king of del Mar's oldest friend. Soon he will embark on the adventure of a lifetime, an expedition past the Strait of Cain and into uncharted waters. Yet, the people of St. John del Mar have never recovered from the loss of their boy princes, kidnapped eighteen years ago, both presumed dead. But when two maps surface, each bearing the same hidden riddle, troubling questions arise. What really happened to the young heirs? And why do the maps appear to be drawn by Lord Antoni, Elias's father, who vanished on that same fateful day?

The Diminished by Kaitlyn Sage Patterson
Publisher: Harlequin Teen
Release date: April 10
In the Alskad Empire, nearly all are born with a twin, two halves to form one whole. When one twin dies, the other usually follows, unable to face the world without their other half. Those who survive are considered diminished, doomed to succumb to the violent grief. Such is the fate of Vi Abernathy, whose twin sister died in infancy. Raised by the anchorites of the temple after her family cast her off, Vi has spent her whole life scheming for a way to escape and live out what's left of her life in peace. A rare few are singleborn in each generation, and therefore given the right to rule by the gods and goddesses. Bo Trousillion is one of these few, born into the royal line and destined to rule. Though he has been chosen to succeed his great-aunt, Queen Runa, Bo has never felt equal to the grand future before him.

Suitors and Sabotage by Cindy Anstey
Publisher: Swoon Reads
Release date: April 17
Shy, aspiring artist Imogene Chively has just had a successful Season in London, complete with a suitor of her father's approval. Imogene is ambivalent about the young gentleman until he comes to visit her at the Chively estate with his younger brother in tow. When her interest is piqued, however, it is for the wrong brother. Charming Ben Steeple has a secret: despite being an architectural apprentice, he has no drawing aptitude. When Imogene offers to teach him, Ben is soon smitten by the young lady he considers his brother's intended. But hiding their true feelings becomes the least of their problems when, after a series of "accidents," it becomes apparent that someone means Ben harm. And as their affection for each other grows—despite their efforts to remain just friends—so does the danger.

A Prom to Remember by Sandy Hall
Publisher: Swoon Reads
Release date: April 24
Seven seniors, seven problems, one senior prom. Cora: Head of the Prom Committee. Has been dating Perfect Boyfriend Jamie™ for approximately forever, and has NO IDEA how to break up with him. Paisley: Sarcastic feminist who wants nothing to do with prom. Henry: Quiet ballplayer invited to prom by the most popular girl in school. Otis: Charming, popular, and doesn't know how to tell his boyfriend that he's not quite ready for a post-prom hotel room experience. Lizzie: A little bit shy, and a lot excited to finally get out of her comfort zone and go to prom. With a boy. Whose name she doesn't know. Cameron: Loner with two jobs and zero friends. The only thing he still wants to do is meet the mysterious girl who's been leaving him notes. Jacinta: Unnamed Nerd Girl #3. Determined to become the star of her own life, starting with prom.

Love Songs & Other Lies by Jessica Pennington
Publisher: Tor Teen
Release date: April 24
Two years after rock-song-worthy heartbreak, Virginia Miller is looking forward to a fun, carefree summer. Her friends just landed a spot on a battling bands reality show, and Vee is joining them for her dream internship on tour. Three months with future rockstars seems like an epic summer plan. Until she learns she'll also be sharing the bus with Cam. Her first love, and her first heartbreak. Now Vee has more than just cameras to dodge, and Cam's determination to win her forgiveness is causing TMZ-worthy problems for both of them. With cameras rolling, she'll have to decide if her favorite breakup anthem deserves a new ending. And if she's brave enough to expose her own secrets to keep Cam's under wraps.

White Rabbit by Caleb Roehrig
Publisher: Feiwel & Friends
Release date: April 24
Rufus Holt is having the worst night of his life. It begins with the reappearance of his ex-boyfriend, Sebastian. Just as Rufus is getting ready to move on, Sebastian turns up out of the blue, saying they need to "talk." Things couldn't get much worse. But then Rufus gets a call from his sister April, begging for help. And then he and Sebastian find her, drenched in blood and holding a knife, beside the dead body of her boyfriend, Fox Whitney. April swears she didn't kill Fox—but Rufus knows her too well to believe she's telling him the whole truth. April has something he needs, though, and her price is his help. Now, with no one to trust but the boy he wants to hate yet can't stop loving, Rufus has one night to prove his sister's innocence…or die trying.