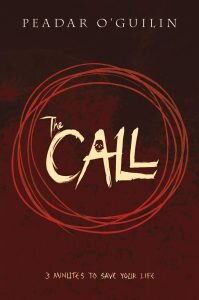 We're nearing the end of the summer, and some of us have raced through our to-read piles. Perhaps Peadar Ó Guilín's The Call could be added to the pile to quench your summer fantasy needs?
In The Call, humans banished the Sidhe faerie race into another dimension. But the Sidhe plotted their revenge with The Call. Every teen will be called. It can happen at any time. One moment, Nessa will be training in her world – and the next, she'll be in the Sidhe's world with only 24 hours to survive.
The Call releases on August 30 from David Fickling Books. For more on Peadar Ó Guilín, visit his website.
---
You've created an incredible dystopian faerie world. Tell us a little bit about the Sidhe!
The Sídhe are a magical, happy, joyful people. They're beautiful too — they really are. And they want nothing more than to meet you and make art with your body. Shame that all this fun has to end with your painful demise.
In The Call, every teen will literally be called into the world of the Sidhe to be hunted. How does this sort of magic work?
Ha! I have to be careful what I say here. First of all, as you know, explaining magic is like explaining a joke — you're killing the power and the mystery of it.
But part of the story is that the easiest time for us to pass between our world and the Grey Land is when we're at "gateway" points in our lives. Birth and death are two such points. However, the one that gives the Sídhe the best opportunity to steal us away, is adolescence, when we move from childhood into adulthood. They can't keep us in their world for very long, because what they're doing is unnatural. They need to hunt us down within a day of their time or we'll be dragged back home before they can harm us.
Tell us a little about our badass leading lady!
I wouldn't call Nessa a "badass". Of all the characters I have ever written, she is the one I love the most. She's an ordinary person in an impossible situation. But she's clever enough to realize that the only hope she has is to alter her entire personality so that she is cold and rational at all times. She's trying to be a badass. Pretending to be one. It's a terrible strain, however, suppressing the person she used to be, the person she would be if not for the constant danger.
Nessa is disabled – her legs don't work properly. How did you make sure that her representation was accurate and didn't fall into stereotypes?
I interviewed a small number of people with medical conditions similar in outcome to Nessa's. Does that guarantee I got it right? Of course not! But I'm hoping that if I've blundered here and there, people in the know will tell me and I'll do a better job next time. So far, the response has been wonderful.
Do you think you could survive the call?
I'd probably be caught right away. I'm unfit. I eat so much garlic that they wouldn't have to rely on dogs to sniff me out. And you can be sure I'll always take the wrong path.
But the thing is luck plays a big part in what happens in the Grey Land. As long as I didn't give up, there'd always be a small chance that even somebody as clueless as I might get through it!
How did writing The Call differ from writing your first novel The Inferior? Did you come at it the same way plotting-wise, or did The Call require you to focus differently? Tell us a little bit about your writing strategy!
When I'm writing, I never know exactly where I'm going. And that's a good thing, because I always figure that if I'm surprised, then the reader will be too!
I should charge you for this — big bucks! But my favorite trick is to put my heroine into an impossible position. Then, I make it markedly worse — the problem has to double, at least. Finally, I go for long walks, pulling my hair out, trying to find a way out of the hole I dug for myself that isn't stupid or trite. Sometimes finding the solution takes months.
The procedure was exactly the same for The Inferior except I didn't know what I was doing. I thought being stuck was a problem, when it fact, it is the whole point of the technique!
What else do you want readers to know about The Call?
Some people find The Call "disturbing" or "scary". I was fascinated to see that most of these were adults, especially parents. The teen readers I used for (mostly humane) testing were more likely to use words like "exciting" or "cool".
What YA books would you recommend for readers to tide them over until they can read The Call?
My advice is to read about puppies and kittens while you still have the chance. However, if you insist on something less… cuddly, you could try Oisín McGann's Ancient Appetites, about a sprawling, powerful family, whose members frequently murder each other. But don't worry! They always follow the rules when they do so.
I'm also personally fond of Leigh Bardugo's work, especially the recent Six of Crows.