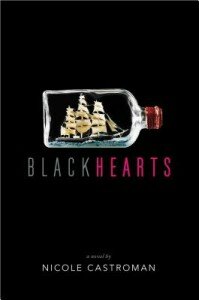 "People have always had a fascination with pirates, because pirates embraced freedom, riches, and unchartered territories."
Before there was the notorious Blackbeard, there was only Edward Teach. Nicole Castroman's debut Blackhearts is her take on this famous pirate's origin story.
When Anne's parents pass away, she has little choice but to take a job as a maid in the home of Master Drummond, one of Bristol's richest merchants. There she meets Master Drummond's son Teach who's just returned from a year at to find himself betrothed to a girl he doesn't love and the desire to get back on the open water.
After learning that he took the city of Charleston, South Carolina hostage while planning a trip there with her husband, Castroman decided to learn more about the infamous pirate.
"When I discovered that he held the entire city hostage, I wanted to find out what type of person would commit such a crime. I did some more research and found out that only the last two years of his life are actually documented."
While some might view the lack of documentation as discouraging, that wasn't the case for Castroman.
"What could be more fascinating than trying to imagine what would lead a person to choose that kind of lifestyle? What would make him leave his home and everything behind to live a life at sea? He could read and write, which meant he came from a fairly prosperous family. Why would he leave everything behind?"
These unknowns presented the perfect opportunity for Castroman to write Blackhearts and give readers her spin on who Blackbeard was pre-pirate.
"The more research I did, the more my story and characters came to life. Writing is sometimes like assembling a puzzle. You might try to force pieces to fit, but that doesn't always work and the story suffers for it," said Castroman. "That wasn't the case with Blackhearts. It all came together."
She even described the writing and editing process of Blackhearts as a "gift." But while things seemed to fall into place when writing, Castroman admitted to overcoming some hardships along the way.
"Of course, I wrote Blackhearts after I parted ways with my first agent. It was hard to go from being an agented writer to un-agented one, but I learned so much through the entire process and it only helped me improve my writing," said Castroman. "I learned a lot working with my editor and the story definitely improved during the revision process, but the overall arc of the story stayed the same and I love it."
For anyone who follows Castroman online, it's evident that she's proud of the novel she's written and excited for readers to get their hands on it.
"I just want readers to go into the story with an open mind. I didn't set out to write Pirates of the Caribbean. This truly is a Blackbeard origin story."
Blackhearts releases February 9. Fore more on Nicole Castroman and Blackhearts, follow her on or check out her website.