Here is a selection of YA excerpts from new books that have recently hit the web.

Because You Love to Hate Me edited by Ameriie
Publisher: Bloomsbury
Release date: July 2017
Villains. Stories are nothing without them. Heroes cannot rise to greatness without them. This new anthology exploring the concept of villainy, featuring stories from Renee Ahdieh, Ameriie, Soman Chainani, Susan Dennard, Sarah Enni, Marissa Meyer, Cindy Pon, Victoria Schwab, Samantha Shannon, Adam Silvera, Andrew Smith, April Genevieve Tucholke and Nicola Yoon in collaboration with 13 booktubers.
To read an excerpt, click here.

The Forgetting by Sharon Cameron
Publisher: Scholastic Press
Release date: October 13th 2016
Nadia lives in the city of Canaan, where life is safe and structured, hemmed in by white stone walls and no memory of what came before. But every twelve years the city descends into the bloody chaos of the Forgetting, a day of no remorse, when each person's memories are lost. Unless they have been written. In Canaan, your book is your truth and your identity, and Nadia knows exactly who hasn't written the truth. Because Nadia is the only person in Canaan who has never forgotten.
To read an excerpt, click here.

Holding Up the Universe by Jennifer Niven
Publisher: Knopf Books for Young Readers
Release date: October 4th 2016
Everyone thinks they know Libby Strout, the girl once dubbed "America's Fattest Teen." But no one's taken the time to look past her weight to get to know who she really is. Everyone thinks they know Jack Masselin, too. He's mastered the impossible art of giving people what they want, of fitting in. When Libby and Jack get tangled up in a cruel high school game Libby and Jack are both pissed. But the more time they spend together, the less alone they feel…
To read an excerpt, click here.

Phantom Limbs by Paula Garner
Publisher: Candlewick
Release date: September 13th 2016
Otis and Meg were inseparable until her family abruptly moved away after the terrible accident that left Otis's little brother dead. Since then, it's been three years of radio silence, during which time Otis has become a swimming protégé. But when Otis learns that Meg is coming back to town, he must face some difficult truths about the girl he's never forgotten and the brother he's never stopped grieving. Otis must decide what to hold on to and what to leave behind.
To read an excerpt, click here.

Seeker (Riders #2) by Veronica Rossi
Publisher: Tor
Release date: May 16th 2017
When Daryn Martin claimed she was seeing "visions" during her sophomore year of high school, psychiatrists swiftly diagnosed her as suffering from schizophrenia. But Daryn knew they were wrong. The visions provided her with clues. She saved lives. Until Sebastian. Since she sealed Sebastian in the dark dimension with Samrael guilt has plagued Daryn. She's distraught by what she had to do, and for the first time in two years, the visions have stopped completely.
To read an excerpt, click here.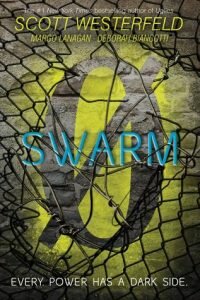 Swarm (Zeroes #2) by Scott Westerfeld, Margo Lanagan & Deborah Biancotti
Publisher: Simon Pulse
Release date: September 27th 2016
They thought they'd already faced their toughest fight. But there's no relaxing for the reunited Zeroes. These six teens with unique abilities have taken on bank robbers, drug dealers and mobsters. Now they're trying to lay low so they can get their new illegal nightclub off the ground. But the quiet doesn't last long when two strangers come to town, bringing with them a whole different kind of crowd-based chaos.
To listen to an excerpt, click .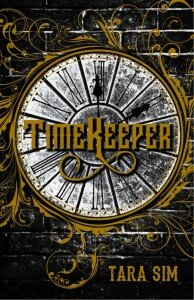 Timekeeper by Tara Sim
Publisher: Sky Pony Press
Release date: November 1st 2016
In an alternate Victorian world controlled by clock towers, a damaged clock can fracture time—and a destroyed one can stop it completely. When clock mechanic Danny is assigned to Enfield his new apprentice both annoys and intrigues him. Danny soon discovers why: he is the tower's clock spirit, a mythical being that oversees Enfield's time. Though the boys are drawn together by their loneliness, Danny knows falling in love with a clock spirit is forbidden.
To read an excerpt, click here.