Here is a selection of new YA covers for upcoming books. Check the descriptions below for publishers, release dates and more.
by Holly Bourne
Publisher: Usbourne
Release date: November 1st 2016
Spinster Club girls Evie, Amber and Lottie are reunited for the mother of all New Year's Eve parties. Having spent months apart since finishing college, they've got plenty to catch up on: how is Evie juggling a relationship with her OCD? Does Amber plan to spend more time with Kyle in America? And where did Lottie end up?
The Boyfriend Bet by Chris Cannon
Publisher: Entangled Crush
Release date: August 22nd 2016
Not only is Grant her Zoe's brother's nemesis, but he has zero interest in being tied down to one girl. She's shocked—and secretly thrilled—when they start spending more time together. Non-exclusively, of course, but that doesn't mean Zoe can't change his mind, one PDA and after-school detention at a time.
Daring the Bad Boy by Monica Murphy
Publisher: Entangled Crush
Release date: August 22nd 2016
Annie McFarland is sick of being a shy nobody. A session at summer camp seems like the perfect opportunity to reinvent herself. Jacob Fazio is at Camp Pine Ridge after one too many screw-ups. Late-night swim sessions turn into late-night kissing sessions…but there's more on the line than just their hearts.
Darkchylde (The Ariel Chylde Saga #1) by R. Queen
Publisher: Curiosity Quills Press
Release date: October 31st 2016
Ariel Chylde is haunted by horrible dreams, and on her eighteenth birthday sheds her skin as the nightmares emerge to act out her deepest, darkest impulses. But before Ariel can save her small town from the terror of her dreams, she must first save herself from the sinister secret of her subconscious.
Done Dirt Cheap by Sarah Nicole Lemon
Publisher: Amulet Books
Release date: March 7th 2017
Tourmaline Harris's life hit pause at fifteen, when her mom went to prison. Virginia Campbell's life hit fast-forward at fifteen, when her mom "sold" her into the services of a local lawyer. When Hazard sets his sights on dismantling the Wardens, the biker club owned by Tourmaline's father, he sends in Virginia, who has every intention of selling out the club — and Tourmaline.
Empress of a Thousand Skies by Rhoda Belleza
Publisher: Razorbill
Release date: February 7th 2017
Rhee, better known as Crown Princess Rhiannon Ta'an, is the sole surviving heir to a powerful dynasty. She'll stop at nothing to avenge her family and claim her throne. When Aly is falsely accused of killing Rhee, he's forced to prove his innocence to save his reputation – and his life.
Everyday Magic by Emily Albright
Publisher: Merit Press
Release date: December 2nd 2016
Maggie wants to be a designer, but her father, an A-list director on the downward slide, brushes her hopes aside, insisting that she become an entertainment lawyer and work for him. And then he ups the pressure, literally blackmailing Maggie to date Ben, the hot young actor starring in his new movie.
The Heartbeats of Wing Jones by Katherine Webber
Publisher: Delacorte
Release date: March 14th 2017
Wing Jones, like everyone else in her town, has worshipped her older brother, Marcus, for as long as she can remember. Good-looking, popular, and the star of the football team, Marcus is everything his sister is not. Until the night everything changes when Marcus, drunk at the wheel after a party, kills two people and barely survives himself.
Infinity (The Infinity Division #1) by Jus Accardo
Publisher: Entangled Teen
Release date: November 1st 2016
Nobody said being the daughter of an army general was easy. Turns out, Kori's dad isn't just an army general—he's the head of a secret government project that has invented a way to travel between parallel dimensions. Dimensions where there are infinite Koris, infinite Cades…and apparently, on every other Earth, Kori and Cade are madly in love.
A Mortal Song by Megan Crewe
Release Date: September 13th 2016
Publisher: Another World Press
Sora believed she was heir to Mt. Fuji's spirit kingdom. But when the mountain is attacked, she discovers she is a human changeling, raised as a decoy while her parents' true daughter remained safe in modern-day Tokyo. As she struggles with her sudden loss of power, Sora must find a way to train the unprepared kami princess and save the only home she's ever known.
The Summer Before Forever (Before Forever #1) by Melissa Chambers
Publisher: Entangled Teen
Release date: August 22nd 2016
Chloe Stone's life is a hot mess. Determined to stop being so freaking skittish, she packs up her quasi-famous best friend and heads to Florida. The goal? Complete the summer bucket list to end all bucket lists. The problem? Her hot soon-to-be stepbrother, Landon Jacobs.
Truthwitch (The Witchlands #1) by Susan Dennard
Publisher: Tor Books UK
Release date: January 2017
Young witches Safiya and Iseult have a habit of finding trouble. After clashing with a powerful Guildmaster and his ruthless Bloodwitch bodyguard, the friends are forced to flee their home. Safi must avoid capture at all costs as she's a rare Truthwitch, able to discern truth from lies. Many would kill for her magic, so Safi must keep it hidden – lest she be used in the struggle between empires. And Iseult's true powers are hidden even from herself.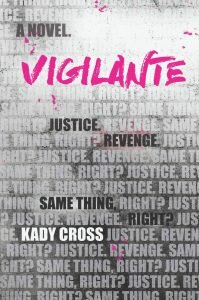 Vigilante by Kady Cross
Publisher: Harlequin Teen
Release date: March 28th 2017
It's senior year, and Hadley and her best friend, Magda, should be starting the year together. Instead, Magda is dead and Hadley is alone. Raped at a party the year before and humiliated, Magda was driven to take her own life and Hadley is forced to see her friend's attackers in the classroom every day. Devastated, enraged and needing an outlet for her grief, Hadley decides to get a little justice of her own.