As a science-obsessed teenager, I remember reading and rereading The Amber Spyglass. The reason? I loved the character of Dr. Mary Malone, a female physicist studying dark matter. She ran her own lab, with rooms full of expensive equipment that she had created. I wanted to be just like her when I grew up.
It was a long time before I read another book about a female scientist – in fact, it was Claire Randall in Outlander. Claire was a twentieth century nurse – and later a doctor – who attempted to recreate modern medicine when flung into the eighteenth century. She even used her limited resources to reinvent penicillin. I clung to Claire and Mary, and other characters like them on TV like Dana Scully, while I was applying for university and studying for my degree in chemistry and physics. However, these characters were all adults – not teenagers my own age. I had no examples to follow for how to study science as a young girl.
It was also rare to find a character studying science who felt realistic to me. Most of the time they were wildly absurd – geniuses in not just their field but everything, who knew how to hack any server, recreate any molecule, identify any liquid and calculate the angle of impact of any bomb. I knew that wasn't accurate – I was a scientist, and so were all my friends, and we were all just very normal people who were just good at one specific thing. In every other way we were bumbling idiots.
It felt wrong to me that young people were only seeing scientists who were impossibly, unbelievably clever. For anyone who didn't know a scientist personally, they might think that they had to be as clever as Sherlock Holmes to study chemistry. That wasn't true! Anyone could study science.
When I started writing myself, I instinctively made my characters scientists. It wasn't even something I thought about. I just wrote the books that I wanted to read, and for me, that meant including science – as much of it as possible!

In my first novel, The Next Together, Kate and Matt, a long-lost couple who find each other across history, are biologists. In The Last Beginning, Clove, their daughter who is searching for her missing parents, is a computer programmer with an intuitive artificial intelligence sidekick and a time-traveling girlfriend. In The Loneliest Girl in the Universe, Romy is a physicist and astronaut for NASA. I wrote all of these characters to create the role models I wish I'd had.
Books about teenage girls in Science, Technology, Engineering and Maths (STEM) are still hard to find. Here are some of my favourite Young Adult books which do feature them!
Science

Dare Mighty Things by Heather Kaczynski
Publisher: HarperTeen
Release date: October 10 2017
Cassandra is part of an intensive NASA training program, where she competes against people her own age to be chosen to pilot a new space mission. It's heart-racing and intense read, with an exceptional LGBTQA romance.

The Unexpected Everything by Morgan Matson
Publisher: Simon & Schuster
Release date: May 3 2016
Andie is planning to apply to study medicine at university when she starts walking dogs over the summer. She's pushed out of her comfort zone and forced to interact with the world in ways that aren't solely academic.

Wild Blue Wonder by Carlie Sorosiak
Publisher: HarperTeen
Release date: June 26 2018
Quinn is obsessed with marine biology and hopes to one day study it at university like her father. She uses her interests in niche areas of science as a coping mechanism and distraction from processing her emotions about past trauma, in a way that felt very real to me.
Technology

The Unbeatable Squirrel Girl by Ryan North and Erica Henderson
Publisher: Marvel Comics
Release date: September 1 2015
This witty Marvel superhero comic features Doreen, a girl with the powers of a squirrel – including a squirrel sidekick and bushy tail. When she's not fighting supervillains, or exchanging banter with Iron Man on Twitter, she's studying computer science at university. Doreen is the most loveable character in the Marvel universe, and she's a brilliant example of how you don't have to be a genius to study science – and that you can have other interests outside your field of study, even when one of them is being a vigilante.

Warcross by Marie Lu
Publisher: G.P. Putnam's Sons Books for Young Readers
Release date: September 12 2017
Emika is an incredibly talented hacker, who finds herself competing in a gaming tournament to win a huge prize. This action-filled romp is a wild ride, and Emika's flaws make her skills at programming even more three-dimensional.

When Dimple Met Rishi by Sandhya Menon
Publisher: Simon Pulse
Release date: May 30 2017
Dimple is at a summer coding camp when she meets Rishi, the boy her family have arranged for her to marry. Together they work to develop and code an app, amid the many ups and downs of their path to love.
Engineering

A Bad Beginning (A Series of Unfortunate Events #1) by Lemony Snicket
Publisher: HarperCollins
Release date: September 3 1999
Violet Baudelaire can make and break anything in the world, so long as her hair is tied back in a ribbon. She is the ultimate engineer in fiction of any gender, I'm absolutely positive.

Cinder by Marissa Meyer
Publisher: Feiwel & Friends
Release date: January 3 2012
In this retelling of "Cinderella," Cinder is a robot who meets her Prince Charming. She's also a mechanic and expert at fixing discarded scrap technology. It's very satisfying to see a heroine fix her own problems – literally, with a spanner.

Code Name Verity by Elizabeth Wein
Publisher: Disney-Hyperion
Release date: May 15 2012
Maddie, a young pilot in World War II, is a capable and talented engineer. Her story with 'Verity' is heart-breaking, but both of them – and Rose in the sequel, who studies medicine – are wonderful examples of extraordinarily clever women in STEM.
Maths

Binti by Nnedi Okorafor
Publisher: Tor.com
Release date: September 22 2015
This series of three novellas is about a girl from an African tribe who travels to a different planet to study maths at a very high level. She describes studying maths as entering a kind of fugue state where she can see the calculations in her head. It feels very authentic to my experience of maths, as I was sometimes so immersed in calculations that I used to dream in algebra!

The Square Root of Summer by Harriet Reuter Hapgood
Publisher: Roaring Brook Press
Release date: May 3 2016
Gottie finds herself hurtled into wormholes to the previous summer while grieving a loved one. She tries to understand her loss – and time travel – through quantum physics calculations. I liked how even though Gottie was good at physics and maths, she was hopeless in other areas of her life – just like a real scientist!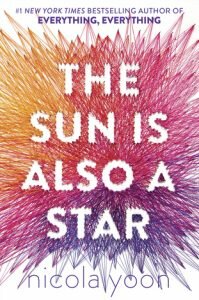 The Sun Is Also a Star by Nicola Yoon
Publisher: Delacorte Press
Release date: November 1 2016
This is a love story told over one day, between a scientifically-minded girl and an artistic boy. I really loved how clearly this showed the difference in mindset between scientific and creative people – situations can be seen in really opposing lights depending on point of view.
I swear to keep writing books about characters in STEM – I'm working on a few right now. One day, I hope that a science-obsessed teenager like me will have more books to choose from than she can read in a single lifetime.