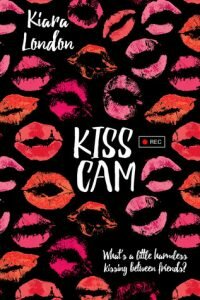 Originally a project on Wattpad, Kiara London's debut novel Kiss Cam captured readers' heart and inspired an entire community of fans around Juniper, Jasper, and Lenny's vlogging antics.
In Kiss Cam, Juniper, Jasper, and Lenny have been friends and partners-in-vlogging-crime for what feels like forever. Their vlog channel has an active fanbase complete with shipping of the three in different pairings. They even have their own fanfiction! Juniper doesn't mind so much, because she knows for certain that they're friends and vloggers first above anything. But when a Truth-or-Dare inspired kiss occurs between Juniper and Jasper, feelings start to get muddled and relationships shift.
Kiss Cam releases on October 18 from Swoon Reads. For more on London, follow her on .
---
How did Kiss Cam get started? I love how it was published on Wattpad first! It's had quite the journey to publication.
Yes! Kiss Cam started off on Wattpad with a couple reads, a few votes, and one or two interested readers. At the time I had a couple hundred followers and slid under the radar. It's crazy how gradually, yet how quickly Kiss Cam "blew up". Before I even knew what happened, my follower count was in the thousands and the reader count reached a million.
Oh, I was ecstatic! I could not believe how many people were interested in my book. Every time I logged on to my account I would sit for a second or two and just grin at screen. I'd get real involved in the comments, replying to as many as I could and taking their predictions and ideas into consideration.
As I started to wrap up the book, someone in the comments suggested I try to publish Kiss Cam. I was flattered but didn't even think about trying to pursue it. Kiss Cam was just a Wattpad book. It belonged to my followers and I didn't think anyone outside of the website would really get it.
However, a couple months later I noticed some of my fellow writers talking about Swoon Reads. It seemed pretty harmless. I submit a book and maybe someone notices it. More and more people were requesting I try to get Kiss Cam published, and although I still insisted Kiss Cam would never end up a published book I decided to humor them, just to say I tried. I submitted the book, sent a link to my followers, and didn't log back onto Swoon unless the book received a comment.
Needless to say, the community on Swoon Reads just didn't jump on Kiss Cam the way Wattpad did. So, I really didn't get my hopes up. In fact, Kiss Cam just happened to fall into the right hands and I didn't know it was happening.
The right person clicked on it, sent it around, and BAM—a few months later I get an email from Holly West. I'm pretty sure my heart stopped. I was sitting in last period, phone in hand, waiting for the bell to ring when I noticed the email.
No way did I think Kiss Cam would make it. No way ever.
But, oh boy, was everyone so excited to hear about it. Like me, my Wattpad family is so crazy excited about this.
As someone who has written in installments for readers, how was the editing/revising process for Kiss Cam different than other projects? Did it present any challenges?
I think the challenging part of editing Kiss Cam was knowing that there were scenes or moments that readers liked that couldn't stay or had to be rewritten or reworked. I worried that my readers would think that Kiss Cam wasn't the book they loved anymore.
Rereading Kiss Cam now, I think I was being a little dramatic. The story is so much better than it used to be and I have no regrets about any of the changes. I think my readers will enjoy this version so much more than the online version that I wrote in pieces. It feels more cohesive now.
Fandom and shipping are a big part of Kiss Cam. Did your novel's own fans influence the story you wrote?
Like I've said before, the book really does belong to my Wattpad family. I took influences from them as much as I took it from Tumblr and Youtube and fanfiction. They are VlogIt's fans. Their comments are worked into the book. Their usernames are in the book. As the story progressed, they became a huge part of it. I got to see what my readers were thinking about the situation as I was writing it; and, while I did stick to the idea I had in my head about the book, their perspectives helped to pave the way. They're my biggest fans and they definitely share a piece in this.
Your other works are romance as well. Is romance a genre you feel drawn to?
For me, romance makes things exciting and interesting. Even if it's not the main focus of a book, I always find myself wanting a romance there. I love action and adventure with a side of romantic tension, and I am a sucker for reluctant slow burns. I am very drawn to it—I just can't help it!
My love life is pretty nonexistent. So, I believe maybe I'm projecting some bottled up feelings into my work—who knows!
People are so embarrassed by romance novels and movies. Heck, I still get embarrassed to admit I'm a teen fiction romance author. It's such a girl thing. And why? Why is it not taken as seriously as other genres?
There's a kind of vulnerability about it. I like exploring that. I want to write books that leave people feeling butterflies.
What's next? Are you focused on Kiss Cam's debut? Or do you already have other projects in mind?
I am very fixated on Kiss Cam's debut because I'm so nervous! Luckily, I'm kept very busy at the moment and can't dwell on it too much. One step at a time, I say. If all goes according to plan, there may be something on the way!