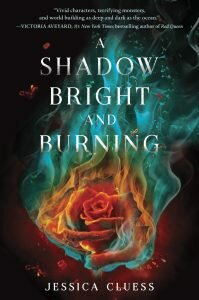 One can agree that it's not easy battling monsters. One can also agree that it's even more difficult to do so in a corset and skirt…
Good thing Henrietta Howell doesn't seem to mind much.
In Jessica Cluess' A Shadow Bright in Burning, Henrietta Howel isn't like other girls – she can create flame. Believed to be the Chosen One, Henrietta is brought to London to train with all-male sorcerers. As she tries to prove herself to her peers, while also trying to defeat the terrifying Ancients, Henrietta has to decide just how much she's willing to risk to save others.
One night, Cluess stayed up late to watch an adaptation of Charles Dickens' Nicholas Nickleby. "In the film, Nicholas physically stops a really terrible, really Dickensian villain from abusing a helpless boy," she explained. "As I was walking [to work the next morning], I wondered how a Victorian-era girl would handle such a thing, since corsets and skirts will get in the way of kicking ass. Then I had this image of her opening up her hands and blue flames billowing out of her palms, roasting the offending jerk."
At the time, Cluess had been working on another project and wanted to "keep the idea of a Victorian girl human torch on the back burner." But a few days and several notes later turned into Henrietta, a corset-wearing, kick-ass, fire-spewing female.
"For Henrietta, I knew early on that her father was Welsh, so I needed a Welsh surname. For a few days, her name was actually Henrietta Embrey. Something about that didn't work for me, and I kept looking," said Cluess. "Eventually, I found my old copy of Howl's Moving Castle, and remembered that in the real world, Howl's name was Howell. It was Welsh, so I dropped an L and named her Howel in homage."
In the story, Henrietta's power is found to be of good use amidst the war against the Ancients – seven terrifying creatures that are out destroying civilization.
"I wish there was some record of King Richard III's wars against malevolent sea beasts. I would have been a history major if there were," said Cluess. "The Ancients are actually based off of H.P. Lovecraft's Great Old Ones. Korozoth, the prominent monster in this book, takes visual cues from Cthulu."
And so Henrietta leaves her small school in the countryside to go to London in order to harness and perfect her powers as a sorcerer. She brings her best friend Rook, an Unclean, with her.
Marked by an Ancient through scars, many people outcast Rook for being touched by a monster.
"[Rook's name] came because I needed an odd sounding, one syllable name. A rook is both a bird and a chess piece, and I especially liked the chess piece because a lot of people try playing with and maneuvering him."
Still, Henrietta does her best to keep him safe with her. She also does her best to stand up against all of the males in power around her, especially when some of them don't believe in her abilities.
Originally, Cluess had wanted the Order – the sorcerers who govern magic ruling – to be made up of males and females. But she realized it would sound too much like other young adult books out there. "I realized it could up the tension if [Henrietta] was struggling to prove herself in multiple ways: she's a girl, she shouldn't have powers, etc. It isolated her a bit, which was good."
"The pressure of being the lone female also helped solidify a theme of the book: if you aren't The One, if you're some ordinary person, are you still valuable?"
But don't get too sad about the lack of female characters just yet – Cluess loves girl friendships and relationships. "There may or may not be more lady characters later on in this trilogy…"
And while Cluess doesn't want to give too much away about the sequel, she did tell us this: "There will be some shifting relationships; a major new character will be introduced; there will be more revelations; they leave London; people cry and make out."
A Shadow Bright and Burning releases on September 20. For more on Jessica Cluess and A Shadow Bright and Burning, check out her website or .