We love Jane Austen.
Jane Austen wrote about serious issues like slavery and class and family responsibilities in books that have always been considered romances despite their beautiful writing, humor, and social commentary. Little about her stances is known beyond what we have in her novels. Every read of her books reveals something new as you pick up more and more context of the time and Austen's life and scenes in her other books. It's no surprise that these rich novels are popular retelling materials in YA. On this Jane Austen Day – the 200th anniversary of her death – we pulled together a list of retellings that allow you to see her works in a new way.
Sense and Sensibility Retellings

Jane Austen Goes to Hollywood by Abby McDonald
Publisher: Candlewick Press
Release date: April 23 2013
Hallie and Grace Weston have never exactly seen life eye to eye. So when their father dies and leaves everything to his new wife, forcing the girls to pack up and leave San Francisco for a relative's house in shiny Beverly Hills, the two sisters take to their changing lot in typically different styles. Shy, responsible Grace manages to make friends with an upbeat, enterprising girl named Palmer but still yearns for her old life — and the maybe-almost-crush she left behind.

So Into You by Cecilia Gray
Publisher: Gray Life
Release date: July 15 2012
Sweet and sensible Ellie hasn't met a problem her mom's yoga mantras can't fix. But when Ellie's parents threaten to pull her from the Academy just as her flirtation with the cutest boy in school heats up, will Ellie be able to keep her cool? The last thing that the girls at the elite Jane Austen Academy need is guys. But over the summer the school has been sold, and like it or not, the guys are coming. And they're about to turn the Academy—and the lives of its students—totally upside down…

Sass and Serendipity by Jennifer Ziegler
Publisher: Delacorte Books for Young Readers
Release date: July 12 2011
For Daphne, the glass is always half full, a situation is better managed with a dab of lip gloss, and the boy of her dreams—the one she's read about in all of her novels—is waiting for her just around the corner. For Gabby, nothing ever works out positively; wearing any form of makeup is a waste of study time, and boys will only leave you heartbroken. Her best friend is the only one who has been there for her every step of the way. But when the richest boy in town befriends Gabby, and Daphne starts to hang out more and more with her best and only friend, Gabby is forced to confront the emotional barriers she has put up to stop the hurting.
by Jenni James
Publisher: Trifecta Books
Release date: June 30 2015
When Ellyn Dashwood's family moves to Bloomfield, New Mexico, she's not sure if she'll fit in as easily as her wildly popular twin sister, Maralyn, will. Though they're identical, the two sisters are exact opposites. Maralyn attracts people to her like bees to a hive. However, because Ellyn has autism, she's positive she'll never be considered more than awkward. That is, until she meets the totally hot Zane Ferrars. Zane is the tall, smart, hot, athletic, kind—and did we mention hot?—neighbor who has made it his mission to uncover Ellyn's secrets.
Pride and Prejudice Retellings

The Secret Diary of Lizzie Bennet by Bernie Su and Kate Rorick
Publisher: Touchstone
Release date: June 24 2014
Based on the Emmy Award-winning series The Lizzie Bennet Diaries, Lizzie is still living at home with her two sisters – beautiful Jane and reckless Lydia – and begins to record her reflections on her life for her thesis project, unaware it will turn the Bennet sisters into internet celebrities overnight.

Enthusiasm by Polly Schulman
Publisher: Putnam Juvenile
Release date: February 16 2006
Julie never knows what new obsession will catch Ashleigh's fancy, but she does know she's likely to be drawn into the madness. Ashleigh's latest craze is Julie's own passion, Pride and Prejudice. But Ashleigh can't just appreciate it as a great read; she insists on emulating the novel's heroines, in speech, dress, and the most important element of all—finding True Love. And so Julie finds herself with Ashleigh, dressed in vintage frocks, sneaking into a dance at the local all-boys prep school, where they discover some likely candidates. The problem with Ashleigh's craze this time, however, is that there is only one Mr. Darcy.

Prom and Prejudice by Elizabeth Eulberg
Publisher: Point
Release date: January 4 2011
It is a truth universally acknowledged, that a single girl of high standing at Longbourn Academy must be in want of a prom date. After winter break, the girls at the very prestigious Longbourn Academy become obsessed with the prom. Lizzie Bennet, who attends Longbourn on a scholarship, isn't interested in designer dresses and expensive shoes, but her best friend, Jane, might be – especially now that Charles Bingley is back from a semester in London. Lizzie is happy about her friend's burgeoning romance but less than impressed by Charles's friend, Will Darcy. Clearly, Will Darcy is a pompous jerk – so why does Lizzie find herself drawn to him anyway?

Prada and Prejudice by Mandy Hubbard
Publisher: Razorbill
Release date: June 11 2009
Fifteen-year-old Callie buys a pair of real Prada pumps to impress the cool crowd on a school trip to London. Goodbye, Callie the clumsy geek-girl, hello popularity! But before she knows what's hit her, Callie wobbles, trips, conks her head… and wakes up in the year 1815! She stumbles about until she meets the kind-hearted Emily, who takes Callie in, mistaking her for a long-lost friend. Sparks soon fly between Callie and Emily's cousin, Alex, the maddeningly handsome – though totally arrogant – Duke of Harksbury. Too bad he seems to have something sinister up his ruffled sleeve…

Well Played by Katrina Ramoz Atienza
Publisher: self-published
Release date: 2013
Patrice Reyes is convinced this will be her best semester ever, but a new classmate – an arrogant, cold math nerd – is throwing off her groove. If she could throw him off, she could have the awesome semester she deserves… unless there's a truth to never judging books by their cover.

Spies and Prejudice by Talia Vance
Publisher: EgmontUSA
Release date: June 11 2013
Berry Fields is not looking for a boyfriend. She's busy trailing cheaters and liars in her job as a private investigator, collecting evidence of the affairs she's sure all men commit. And thanks to a pepper spray incident during an eighth grade game of spin the bottle, the guys at her school are not exactly lining up to date her, either. So when arrogant—and gorgeous—Tanner Halston rolls into town and calls her "nothing amazing," it's no loss for Berry. She'll forget him in no time. She's more concerned with the questions surfacing about her mother's death.

The Season by Jonah Lisa Dyer and Stephen Dyer
Publisher: Viking Juvenile
Release date: July 12 2016
Megan McKnight is a soccer star with Olympic dreams, but she's not a girly girl. So when her Southern belle mother secretly enters her in the 2016 Dallas debutante season, she's furious. When Megan's attitude gets her on probation with the mother hen of the debs, she's got a month to prove she can ballroom dance, display impeccable manners, and curtsy like a proper Texas lady or she'll get the boot and disgrace her family. The perk of being a debutante, of course, is going to parties, and it's at one of these lavish affairs where Megan gets swept off her feet by the debonair and down-to-earth Hank Waterhouse. If only she didn't have to contend with a backstabbing blonde and her handsome but surly billionaire boyfriend, being a deb might not be so bad after all.

Epic Fail by Claire LaZebnik
Publisher: HarperTeen
Release date: August 2 2011
At Coral Tree Prep in Los Angeles, who your parents are can make or break you. As the son of Hollywood royalty, Derek Edwards is pretty much prince of the school–not that he deigns to acknowledge many of his loyal subjects. As the daughter of the new principal, Elise Benton isn't exactly on everyone's mmust-sit-must-sit-next-to-at-lunch list. When Elise's beautiful sister catches the eye of the prince's best friend, Elise gets to spend a lot of time with Derek, making her the envy of every girl on campus. Except she refuses to fall for any of his rare smiles.

Fall for You by Cecilia Gray
Publisher: Gray Life
Release date: February 10 2012
To say Lizzie and Dante are polar opposites is the understatement of the century. He's a snooty Exeter transfer with more money than Google. She's a driven study-a-holic just barely keeping up with tuition. It's obvious that Dante thinks he's way too good for Lizzie. And Lizzie knows Dante is a snob with a gift for pressing her buttons. But things are changing fast this year at the Academy. And when Lizzie's quest to stop those changes blows up in her face, taking her oldest friendship with it, she has nowhere else to turn but to Dante, with his killer blue eyes, his crazy-sexy smile, and his secrets…

First & Then by Emma Mills
Publisher: Henry Holt and Co
Release date: October 13 2015
Devon Tennyson wouldn't change a thing. She's happy watching Friday night games from the bleachers, silently crushing on best friend Cas, and blissfully ignoring the future after high school. But the universe has other plans. It delivers Devon's cousin Foster, an unrepentant social outlier with a surprising talent for football, and the obnoxiously superior and maddeningly attractive star running back, Ezra, right where she doesn't want them: first into her P.E. class and then into every other aspect of her life.

Pride and Popularity by Jenni James
Publisher: Brigham Distributing
Release date: July 13 2011
Chloe Elizabeth Hart despises the conceited antics of the popular crowd, or more importantly, one very annoying self-possessed guy, Taylor Anderson, who seems determined to make her the president of his fan club! As if! Every girl in the whole city of Farmington, New Mexico, is in love with him, but he seems to be only interested in Chloe.
Mansfield Park Retellings

Solving for Ex by LeighAnn Kopans
Publisher: self-published
Release date: February 11 2014
Ashley Price doesn't have much in life after being bullied so hard she had to leave her old school to live with her aunt and uncle in Pittsburgh. But the camera she borrowed from her best friend and secret crush Brendan, and her off the charts math abilities, make things a lot more bearable. Plus, since Brendan is the captain, making the school Mathletes team should be easy. But when gorgeous new girl Sofia rolls in and steals Brendan, Ashley's place on the team, and her fragile foothold on the Mansfield Park Prep social totem pole, it's on.

The Trouble with Flirting by Claire LaZebnik
Publisher: HarperTeen
Release date: February 26 2013
Franny Pearson never dreamed she'd be attending the prestigious Mansfield Summer Theater Program. And she's not, exactly. She's working for her aunt, the resident costume designer. But sewing her fingers to the bone does give her an opportunity to spend time with her crush, Alex Braverman. If only he were as taken with the girl hemming his trousers as he is with his new leading lady. When Harry Cartwright, a notorious flirt, shows more than a friendly interest in Franny, she figures it can't hurt to have a little fun. But as their breezy romance grows more complicated, can Franny keep pretending that Harry is just a carefree fling? And why is Alex suddenly giving her those deep, meaningful looks?

Suddenly You by Cecilia Gray
Publisher: Gray Life
Release date: May 7 2013
Fanny doesn't want to be at The Jane Austen Academy. She intends to lay low until graduation when she can try out for the Olympic track team. She doesn't need friends or love. She only needs her running. But The Academy is in danger. In an effort to save it, Fanny joins forces with the friends she never knew she wanted. Suddenly, Fanny finds herself center stage in the middle of the Academy's biggest love triangle as the lead in the school play…only this track star can't afford to break a leg.
by Jenni James
Publisher: Trifecta Books
Release date: December 22 2013
All Lilly Price has ever known is living in the shadow of her widely successful foster family. But when a twist of fate deals Lilly the hand of Harrison Crawford, the most popular guy in Bloomfield, NM, everything flips upside down. Sean Benally is a hard worker, he's funny, he's generous, and he's kind. He's also the most amazing guy Lilly has ever known. And she's totally fallen in love with him. But he's her foster brother…
Emma Retellings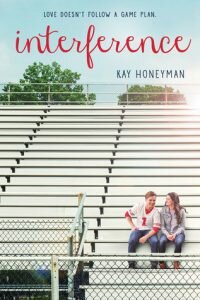 Interference by Kay Honeyman
Publisher: Arthur A. Levine
Release date: September 27 2016
As a congressman's daughter in Washington, DC, Kate Hamilton always pushes to make things right. But when a scandal sends her family to Red Dirt, Texas, she decides to step back for a while. She'll take pictures for her portfolio. She'll volunteer at her aunt's animal shelter. And most of all, she'll stay out of politics (including her father's latest election) and away from guys (especially after her ex's betrayal). But… If Kate's political skills can be useful in Red Dirt, should she really let them go to waste?

The Espressologist by Kristina Springer
Publisher: Farrar, Straus, and Giroux Books for Young Readers
Release date: October 27 2009
Jane Turner has this theory that you can tell a lot about a person by their regular coffee drink. She scribbles it all down in a notebook and calls it Espressology. So it's not a totally crazy idea when Jane starts hooking up some of her friends based on their coffee orders. Like her best friend, Em, a medium hot chocolate, and Cam, a toffee nut latte. But when her boss, Derek, gets wind of Jane's Espressology, he makes it an in-store holiday promotion, promising customers their perfect matches for the price of their favorite coffee. Things are going better than Derek could ever have hoped, so why is Jane so freaked out? Does it have anything to do with Em dating Cam? She's the one who set them up! She should be happy for them, right?

Only With You by Cecilia Gray
Publisher: Gray Life
Release date: May 17 2014
Emma has it all – looks, money, and luck. It's not like she keeps it all to herself – she's totally committed to helping those less fortunate. AKA, everyone. She invites her heartbroken friend to help with a weekend charity event with an eye to matchmake, but when that friend turns her eye toward the guy Emma wants for herself, how will she choose between friendship and her own feelings?

Emmalee by Jenni James
Publisher: Inkberry Press
Release date: December 18 2012
Emmalee Bradford thinks she's an expert at matchmaking, and she won't rest until all her friends are as happy as she is. Especially Hannah, the girl she's decided to make popular. Everyone loves Emmalee's advice–everyone, that is, except her annoying neighbor Chase Anderson, who has taken it upon himself to "fix" her.
Northanger Abbey Retellings
by Cecilia Gray
Publisher: Gray Life
Release date: December 22 2012
Kat is destined to be a star and her big break has arrived at last! As the assistant to a celebrity classmate on the set of a feature film, she's going to show everyone she has what it takes. That is, until she discovers pursuing her dreams may mean forfeiting her heart. Unless she can find a way to have both…The last thing that the girls at the elite Jane Austen Academy need is guys. But over the summer the school has been sold, and like it or not, the guys are coming. And they're about to turn the Academy—and the lives of its students—totally upside down…

Northanger Alibi by Jenni James
Publisher: Inkberry Press
Release date: January 15 2012
The Russo family and Seattle, Washington, are no match for Claire Hart and her savvy knowledge of all things vampire-related. Thanks to her obsession with the Twilight series, if there is anyone who would know a vampire when she saw one, it's Claire. And she's positive totally hot Tony Russo is a vampire – she just has to prove it!
Persuasion Retellings

For Darkness Shows the Stars by Diana Peterfreund
Publisher: Balzer + Bray
Release date: June 12 2012
It's been several generations since a genetic experiment gone wrong caused the Reduction, decimating humanity and giving rise to a Luddite nobility who outlawed most technology. Elliot North has always known her place in this world. Four years ago Elliot refused to run away with her childhood sweetheart, the servant Kai, choosing duty to her family's estate over love. Since then the world has changed: a new class of Post-Reductionists is jumpstarting the wheel of progress, and Elliot's estate is foundering, forcing her to rent land to the mysterious Cloud Fleet, a group of shipbuilders that includes renowned explorer Captain Malakai Wentforth–an almost unrecognizable Kai.

The Last Best Kiss by Claire LaZebnik
Pubisher: HarperTeen
Release date: April 22 2014
Anna Eliot is tired of worrying about what other people think. After all, that was how she lost the only guy she ever really liked, Finn Westbrook. Now, three years after she broke his heart, the one who got away is back in her life. All Anna wants is a chance to relive their last kiss again (and again and again). But Finn obviously hasn't forgotten how she treated him, and he's made it clear he has no interest in having anything to do with her. Anna keeps trying to persuade herself that she doesn't care about Finn either, but even though they've both changed since they first met, deep down she knows he's the guy for her. Now if only she can get him to believe that, too….

Always You by Cecilia Gray
Publisher: Gray Life
Release date: February 12 2015
Anne has always done what her family has asked of her, including giving up her own dreams of being a vet and breaking up with the perfect boyfriend…the one who just returned to town richer, hotter, and more heartbreaking than ever. With nothing to lose, will Anne finally ignore what everyone else tells her and go after her heart's desires?
by Jenni James
Publisher: Inkberry Press
Release date: July 17 2012
Three years ago Amanda made the biggest mistake of her life when she let her friends persuade her to reject the guy she loved. They were convinced he was a loser and wasn't good enough for her. Now Gregory's back in Farmington . . . taller, stronger, hotter than ever, and worth millions. Those gorgeous girls who snubbed him before are now falling at his feet and he's enjoying every moment of it. Can he see past the pain Amanda caused him and give her a second chance? Or will she forever regret losing the only guy who truly loved her?
by Tracey Martin
Publisher: HarlequinTeen
Release date: December 1 2013
At her dying mother's request, Claire dumps Jared, the only boy she's ever loved. Left with a broken family and a broken heart, Claire is furious when she discovers that her biggest regret became Jared's big break. While Jared is catapulted into rock-star status, another piece of Claire's heart crumbles every time his song plays on the radio. The summer after her senior year, it's been months since the big break-up, and Claire is just trying to keep her head down and make it through a tense trip to the beach with her family. But when Jared shows up, and old feelings reignite, can Claire and Jared let go of the past? Or will they be stuck singing the same old refrain?