Here is a selection of excerpts from new YA books that have recently hit the web.

Delicate by C.K. Kelly Martin
Publisher: Dancing Cat Books
Release date: September 16th 2015
At her grandmother's birthday party, Ivy is in no mood to socialize. But when she meets Lucan the two realize they're second cousins who haven't seen each other in six years due to a mysterious family feud. As the weeks pass, Lucan and Ivy's summer seems more like a minefield of disastrous events — but at least they have their developing friendship with each other to count on. Or is that what's really going on?
To read an excerpt, click here.

The Fiery Trial (Tales From Shadowhunter Academy #8) by Cassandra Clare & Maureen Johnson
Publisher: Margaret K. McElderry Books
Release date: September 22nd 2015
Simon and Clary reunite as they witness a Parabatai ceremony…and discuss their own plans to be bonded. One of ten adventures in Tales from the Shadowhunter Academy. Simon and Clary act as witnesses to the parabatai ceremony of Emma Carstairs and Julian Blackthorn…and discuss their own parabatai plans in this precursor to The Dark Artifices.
To listen to an excerpt, click here.

Flawed (Flawed #1) by Cecelia Ahern
Publisher: Feiwel & Friends
Release date: April 5th 2016
Celestine North lives a perfect life. She's a model daughter and sister, she's well-liked by her classmates and teachers, and she's dating the impossibly charming Art Crevan. But then Celestine encounters a situation where she makes an instinctive decision. She breaks a rule. And now faces life-changing repercussions. She could be imprisoned. She could be branded. She could be found FLAWED.
To read an excerpt, click here.

The House by Christina Lauren
Publisher: Simon & Schuster Books for Young Readers
Release date: October 6th 2015
Delilah Blue returns to her small Kansas hometown to find that not much has changed. Delilah is instantly smitten with Gavin. Gavin has always lived in the strange house: an odd building isolated in a stand of trees where the town gives in to mild wilderness. The house is an irresistible lure for Delilah, but the tall fence surrounding it exists for good reason, and Gavin urges Delilah to be careful. Whatever lives with him there isn't human, and isn't afraid of hurting her to keep her away.
To read an excerpt, click here.

The Sleeper and the Spindle by Neil Gaiman & Chris Riddell
Publisher: Bloomsbury
Release date: September 22nd 2015
On the eve of her wedding, a young queen sets out to rescue a princess from an enchantment. She casts aside her fine wedding clothes, takes her chain mail and her sword and follows her brave dwarf retainers into the tunnels under the mountain towards the sleeping kingdom. This queen will decide her own future – and the princess who needs rescuing is not quite what she seems.
To listen to an excerpt, click .

Sugar Skulls by Lisa Mantchev & Glenn Dallas
Publisher: Skyscape
Release date: November 10th 2015
Welcome to Cyrene, a city where energy is currency and music is the lifeblood of its young citizens. Vee is the lead singer of the Sugar Skulls, an all-girl band that is Corporate's newest pet project. Micah haunts the city like a ghost after an overdose of a deadly illegal street drug knocks him off the grid. When Micah and Vee forge an immediate, undeniable connection, their troubled worlds collide as they unravel the mysteries connected to their dark pasts.
To read an excerpt, click here.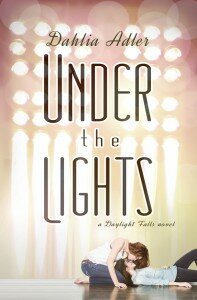 Under the Lights (Daylight Falls #2) by Dahlia Adler
Publisher: Spencer Hill Contemporary
Release date: June 30th 2015
Vanessa Park has always been certain about her path as an actor, despite her parents' disapproval. But with all her relationships currently in upheaval, she's painfully uncertain about everything else. When she meets her new career handler, Brianna, Van is relieved to have found someone she can rely on, now that her BFF, Ally, is at college across the country. But as feelings unexpectedly evolve beyond friendship, Van's life reaches a whole new level of confusing.
To listen to an excerpt, click here.

Zeroes (Zeroes #1) by Scott Westerfeld, Margo Lanagan & Deborah Biancotti
Publisher: Simon Pulse
Release date: September 29th 2015
Ethan, aka "Scam," has a way with words. When he opens his mouth, whatever he wants you to hear comes out. But Ethan isn't just a smooth talker. He has a unique ability to say things he doesn't consciously even know. Sometimes the voice helps, but sometimes it hurts – like now, when the voice has lied and has landed Ethan in a massive mess. So now Ethan needs to go to the last people who would ever want to help him – his former group of friends, the self-named "zeros".
To read an excerpt, click here.