Here is a selection of excerpts from new YA books that have recently hit the web.

Did I Mention I Love You? (The DIMILY Trilogy #1) by Estelle Maskame
Publisher: December 1st 2015
Release date: Sourcebooks Fire
When sixteen-year-old Eden Munro spends the summer with her estranged father she meets three new step-brothers. The eldest of the three is Tyler Bruce, a troubled teenager with a short temper and a huge ego. Complete polar opposites, Eden quickly finds herself thrust into a world full of new experiences as Tyler's group of friends take her under their wing. But the more she finds out about Tyler, the more she finds herself falling for the one person she shouldn't – her step-brother.
To read an excerpt, click here.

The Dream Thieves (The Raven Cycle #2) by Maggie Stiefvater
Publisher: Scholastic Press
Release date: September 17th 2013
Ronan Lynch has secrets. Some he keeps from others. Some he keeps from himself. One secret: Ronan can bring things out of his dreams. And sometimes he's not the only one who wants those things.Ronan is one of the raven boys—a group of friends, practically brothers, searching for a dead king named Glendower. The path to Glendower has long lived as an undercurrent beneath town. But now, like Ronan's secrets, it is beginning to rise to the surface—changing everything in its wake.
To read deleted scenes, click .

The Hidden Oracle (The Trials of Apollo #1) by Rick Riordan
Publisher: Disney Hyperion
Release date: May 3rd 2016
After angering his father Zeus, the god Apollo is cast down from Olympus. Weak and disorientated, he lands in New York City as a regular teenage boy. Now, without his godly powers, the four-thousand-year-old deity must learn to survive in the modern world until he can somehow find a way to regain Zeus's favour. But Apollo has many enemies – gods, monsters and mortals who would love to see the former Olympian permanently destroyed.
To read an excerpt, click here.

Lady Midnight (The Dark Artifices #1) by Cassandra Clare
Publisher: Margaret K. McElderry Books
Release date: March 8th 2016
Los Angeles. It's been five years since the events of the Mortal Instruments when Nephilim stood poised on the brink of oblivion and Shadowhunter Emma Carstairs lost her parents. After the blood and violence she witnessed as a child, Emma has dedicated her life to to discovering exactly what it was that killed her parents and getting her revenge. At the same time, Emma is falling in love with the one person in the world she's absolutely forbidden by Shadowhunter Law to love.
To read an excerpt, click here.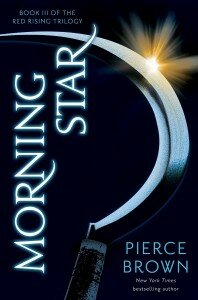 Morning Star (Red Rising #3) by Pierce Brown
Publisher: Del Ray
Release date: February 9th 2016
Born a lowly Red in the mines of Mars, Darrow lost his beloved wife to the treacherous Gold overlords. Vowing to fight for the future that his wife believed in, Darrow joins a secret revolutionary group and is remade into a Gold so that he can infiltrate the ruling class and bring them down from the inside. Now, after years of hiding amongst the Golds, Darrow is finally ready to declare open revolution and throw off the chains of oppression.
To read an excerpt, click here.

The Time of the Clockmaker (Seventh Miss Hatfield #2) by Anna Caltabiano
Publisher: Epic Reads Impulse
Release date: August 11th 2015
As a child, Cynthia was lured into the home of her mysterious neighbor, Miss Hatfield. There, Miss Hatfield tells her they are both part of a long line of immortal women able to travel through time. But this gift might be more of a curse, and it comes with a price. Cynthia is beginning to lose herself: she is becoming the next Miss Hatfield. And who is the mysterious stranger who shadows her from place to place? A hunter for the secret of immortality—or someone who has already found it?
To read an excerpt, click here.

The Winner's Kiss (The Winner's Trilogy #3) by Marie Rutkoski
Publisher: Farrar, Straus & Giroux
Release date: March 1st 2016
War has begun. Arin is in the thick of it, with the East as his ally and the empire as his enemy. He's finally managed to dismiss the memory of Kestrel, even if he can't quite forget her. But far north lies a work camp where Kestrel is a prisoner. Can she manage to escape before she loses herself? As the war intensifies, both Kestrel and Arin discover unexpected roles in battle, terrible secrets, and a fragile hope.
To read an excerpt, click here.