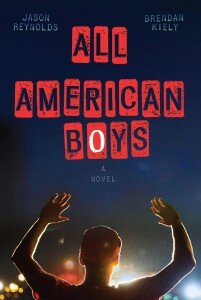 We Need Diverse Books named the winners of the 2016 Walter Dean Myers Award for Outstanding Children's Literature
The winner for best young adult novel is All American Boys by Jason Reynolds and Brendan Kiely, where two teens – one black, one white – grapple with the repercussions of a fist-happy cop attacking a black teenage boy.
The judges also selected two Walter honor books: Enchanted Air: Two Cultures, Two Wings by Margarita Engle and X: A Novel by Ilyasah Shabazz and Kekla Magoon.
The Walter Dean Myers Award, or "The Walter," is named for young adult author Walter Dean Myers. Myers was a National Ambassador for Young People's Literature as well as a champion of diversity in children's and YA books.
Titles published during the 2015 calendar year by diverse authors whose work featured a diverse main character or addressed diversity in a meaningful way can be nominated for the award. In the case of author pairs, at least one member of the pair must be from an underrepresented community.
Have you read All American Boys? Did you enjoy it? Sound off in the comments below!