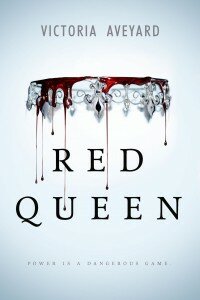 On January 14, People's Choice, along with TheReadingRoom.com, opened voting for the "Favorite Book" category for the 2016 People's Choice Awards. To celebrate reading across many genres, six categories are recognized: Fiction, Nonfiction, Crime & Mystery, Young Adult, Fantasy, and Romance. Five books were nominated in each category.
The winner for best young adult novel was Red Queen by Victoria Aveyard. In Red Queen, Mare finds herself living amongst the Silvers even though she has red blood. But even though she has red blood, she has a secret power that is just as deadly as any Silver's.
Though technically a young adult book, An Ember in the Ashes by Sabaa Tahir found a place in the general Fantasy category – and won. An Ember in the Ashes follows Laia, a poor teen who barely scrapes by in the Martial Empire. When she meets Elias, the Empire's best soldier, she learns the horrors and tyranny of her world. As the two get swept up in each others lives, both realize fate might not be in their own hands.
The other recognized books in the young adult category were All the Bright Places by Jennifer Niven, Carry On by Rainbow Rowell, Everything, Everything by Nicola Yoon, and Six of Crows by Leigh Bardugo.
All the Bright Places follows a romance between Violet, a girl who lives for the future and thinks nothing of the present, and Finch, a boy fascinated by the thought of his own death. When this unlikely duo pair up on a project to discover the "natural wonders" of their state, both Finch and Violet make more important discoveries about themselves and each other.
In Carry On, Simon Snow is the worst chosen one who's ever been chosen. That's what his roommate at the Watford School of Magicks, Baz, says. And Baz might be evil and a vampire and a complete git, but he's probably right.
Everything, Everything follows Maddy, a girl who's stuck inside because of her allergy to almost everything. But everything changes when Olly moves in to become the boy next door.
In Six of Crows, Kaz Brekker is offered a lifetime chance at a dangerous heist in the bustling city of Ketterdam. But to pull it off – and possibly save the world, he needs to join teams with six other outcasts.
The People's Choice Awards is a platform that allows fans to decide on their favorites, not industry professionals. This is the first year the People's Choice Awards has included a "Favorite Book" category.