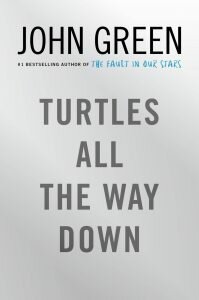 John Green announced at Vidcon and on that his next novel Turtles All the Way Down will release on October 10.
Green was fairly vague in his description of his next novel but what we know so far is this: Turtles All the Way Down begins with a fugitive billionaire and a cash reward. It is about lifelong friendship, the intimacy of an unexpected reunion, Star Wars fan fiction, and tuatara. But at its heart is Aza Holmes, a young woman navigating daily existence within the ever-tightening spiral of her own thoughts.
Turtles All the Way Down is Green's first novel following the massive success of The Fault in Our Stars. Fans eagerly awaited news of his next release for over five years and in preparation for the novel, .
Pre-orders for Turtles All the Way Down are available now, including pre-orders for the signed edition.
Are you excited for the next John Green novel?
Let us know in the comments!