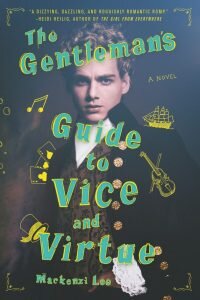 The New England Independent Booksellers Association (NEIBA) announced the winners of the 2017 New England Book Awards. Mackenzi Lee's recently released historical adventure novel, The Gentleman's Guide to Vice and Virtue, won the young adult category.
The Gentleman's Guide to Vice and Virtue follows young 18th century lord Henry Montague, whose life filled with pleasure and vice is in danger of coming to an end as he embarks on a Grand Tour of Europe. Monty vows to make this yearlong escapade one last hedonistic hurrah and flirt with his best friend and travelling companion, Percy, from Paris to Rome. But things take a dark turn when one of Monty's reckless decisions turns their trip abroad into a harrowing manhunt that spans across Europe.
Other nominated titles included Bull by David Elliott; Iron Cast by Destiny Soria; Queer, There, and Everywhere by Sarah Prager; and Wrecked by Maria Padian.
The New England Book Awards are an annual award for books set in or written by authors residing in New England. The awards were nominated and voted on by NEIBA member booksellers, and will be presented at a banquet at the Biltmore Hotel in Providence RI, on September 19.
The Gentleman's Guide to Vice and Virtue is available now. For more on the New England Book Awards, visit their website.