What May YA books release this week? We have a list of this week's new YA books!

Ascent (Peak #3) by Roland Smith
Publisher: HMH Books for Young Readers
Release date: May 8th
When he's invited to climb Hkakabo Razi, one of the most isolated mountains in the world, Peak can't pass up the opportunity. But getting to the mountain will involve a 4-week trek rife with hazards.

Bobby Sky: Boy Band or Die by Joe Shine
Publisher: Soho Teen
Release date: May 8th
Robert "Hutch" Hutchinson is out of luck. His charm and singing voice—and penchant for bursting into song at all the wrong times—can't keep him out of trouble anymore.

The Collide (Outliers #3) by Kimberley McCreight
Publisher: HarperCollins
Release date: May 8th
Wylie is finally out of the detention center, but that doesn't mean she's safe. Wylie knows that true freedom means discovering, once and for all, who is hunting the girls who are Outliers—and why.

Dark of the West by Joanna Hathaway
Publisher: Tor Teen
Release date: May 8th
When Athan's mother is shot and killed, his father sends him undercover to gain intel. Athan's mission becomes complicated when he finds himself falling for the girl he's been tasked with spying upon.

Elektra's Adventures in Tragedy by Douglas Rees
Publisher: Running Press Kids
Release date: May 8th
Elektra Kamenides is well on her way to becoming a proper southern belle in the Mississippi town she calls home. That is, until her mother decides to uproot her and her sister Thalia and start over in California.

The Foreseeable Future by Emily Adrian
Publisher: Dial
Release date: May 8th
Imagine that fifteen years ago a photo was taken of a baby being rescued from the World Trade Center on 9/11. Imagine that you were that baby. For Abbi, the fame is a curse.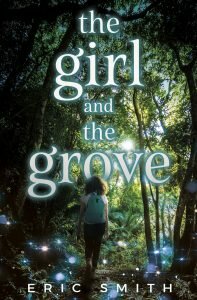 The Girl and the Grove by Eric Smith
Publisher: Flux
Release date: May 8th
The voices in Leila's head are growing louder by the day. Ignoring them isn't working anymore. Something calls out to her from the grove at Fairmount Park.

The Handsome Girl and the Beautiful Boy by B.T. Gottfred
Publisher: Henry Holt
Release date: May 8th
Everyone assumes that Zee is a lesbian. Her classmates, her gym buddies, even her so-called best friend. So many people think that Zee likes girls, even Zee is starting to wonder. Could they be onto something?

A Lite Too Bright by Samuel Miller
Publisher: Katherine Tegen Books
Release date: May 8th
Arthur embarks on a cross-country train ride, guided only by cryptic clues left in his grandfather's dementia-influenced writing. But his journey is complicated by a shaky alliance with a strange girl.

Love and Luck by Jenna Evans Welch
Publisher: Simon Pulse
Release date: May 8th
Addie is visiting Ireland for her aunt's over-the-top destination wedding, and hoping she can stop thinking about the one horrible thing she did that left her heartbroken—and threatens her future.

Mayfly by Jeff Sweat
Publisher: Feiwel & Friends
Release date: May 8th
Jemma has spent her life scavenging tools and supplies for her tribe. Now she's a teen, and old enough to become a Mama. Making babies is how her people survive—in Jemma's world, life ends at seventeen.

Moonrise by Sarah Crossan
Publisher: Bloomsbury
Release date: May 8th
Ed's locked up—on death row. Joe is determined to spend those last weeks with his brother, no matter whether Ed committed the crime. But did he? And does it matter, in the end?

My Name is Victoria by Lucy Worsley
Publisher: Candlewick Press
Release date: May 8th
Miss V. Conroy is good at keeping quiet. But when her father sends her to Kensington Palace to become the companion to Princess Victoria, Miss V soon finds that she can no longer remain in the shadows.
by Katarina Boudreaux
Publisher: Owl Hollow Press
Release date: May 8th
Joe lives on the remnants of oil platforms in the Gulf of Mexico. Joe and Drayton enlist the help of Flox, a scientist, to take them to investigate the remnants of human Land society before the PPC can stop them.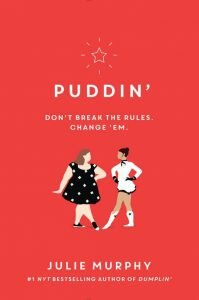 Puddin' by Julie Murphy
Publisher: Balzer + Bray
Release date: May 8th
Millie Michalchuk has gone to fat camp every year since she was a girl. Not this year. This year she has new plans to chase her secret dream—and to kiss her crush.

The Queen Underneath by Stacey Filak
Publisher: Page Street Books
Release date: May 8th
The Above and the Under have a tenuous truce. Gemma, the new queen of Under, must team up with Tollan, the heir to the Above throne, in order to take down a power that seeks to rule them all.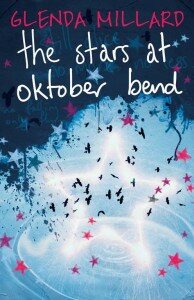 The Stars at Oktober Bend by Glenda Millard
Publisher: Candlewick Press
Release date: May 8th
Alice is fifteen, with hair as red as fire and skin as pale as bone. Something inside Alice is broken: she remembers words, but struggles to speak them.

Strange New World by Rachel Vincent
Publisher: Delacorte
Release date: May 8th
Dahlia 16's life is a lie. The city of Lakeview isn't a utopia that raises individuals for the greater good; it is a clone farm that mass-produces servants for the elite. And Dahlia breaks the rules.

Surface Tension by Mike Mullin
Publisher: Tanglewood
Release date: May 8th
A terrorist leader's teenage daughter, Betsy, is sent to kill Jake and eliminate him as a possible witness. Jake has to rely on his girlfriend, Laurissa, to help him escape killers and the law enforcement agents alike.

Undead Girl Gang by Lily Anderson
Publisher: Razorbill
Release date: May 8th
When Riley and two Fairmont Academy mean girls die under suspicious circumstances, Mila does the unthinkable to uncover the truth: she brings the girls back to life.
Valley Girls by Sarah Nicole Lemon
Publisher: Amulet Books
Release date: May 8th
Rilla is busted for partying 24 hours into arriving in Yosemite National Park to live with her park ranger sister. Determined to make up for her screw-up, Rilla charms her way into a tight-knit group of climbers.

The Way You Make Me Feel by Maurene Goo
Publisher: Farrar, Strauss & Giroux
Release date: May 8th
Clara Shin lives for pranks. When she takes one joke too far, her dad sentences her to working on his food truck. What if taking this summer seriously means that Clara has to leave her old self behind?

We'll Fly Away by Bryan Bliss
Publisher: Greenwillow
Release date: May 8th
Luke and Toby dream of escaping their small North Carolina town. Now escape is finally within Luke's reach and he's going to make sure Toby can get out with him, until everything spins out of control.