What May YA books release this week? We have a list of this week's new YA books!
U.S.

9 Days and 9 Nights (99 Days #2) by Katie Cotugno
Publisher: Balzer + Bray
Release date: May 1st
Molly has to spend nine days and nine nights with the boy she once loved. Will she make it through as new, improved Molly, or will everything that happened between her and Gabe come rushing back?

Allied (Ruined #3) by Amy Tintera
Publisher: HarperTeen
Release date: May 1st
Emelina Flores and her sister, Olivia, were determined to bring peace to the people of Ruina. The two sisters are soon pitted against each other in a battle for the kingdom and only one will win.

August and Everything After by Jennifer Salvato Doktorski
Publisher: Sourcebooks Fire
Release date: May 1st
Quinn can't bear to focus on the future. Summer on the New Jersey shore offers Quinn a new start at life and love, but first she must learn how to come to terms with her past.

Blink by Sasha Dawn
Publisher: Carolrhoda Books
Release date: May 1st
When Chatham begins to understand a crime she witnessed a decade ago, she disappears in a blink. Finding her means more than simply saving her. It could unsolve another mystery.

Bookish Boyfriends (Bookish Boyfriends #1) by Tiffany Schmidt
Publisher: Amulet
Release date: May 1st
Merrilee Campbell thinks boys are better in books. There'd be nothing more romantic than having a guy woo her like the heroes in classic stories. She's about to get the chance to test these daydreams.

Brightly Burning by Alexa Donne
Publisher: HMH Books for Young Readers
Release date: May 1st
The Rochester spacecraft harbors secrets: Stella is certain someone is trying to kill the captain, and the more she discovers, the more questions she has about his role in a conspiracy.

Bring Me Their Hearts by Sara Wolf
Publisher: Entangled Teen
Release date: May 1st
Zera is a Heartless – the immortal, unageing soldier of a witch. Bound to the witch Nightsinger ever since she saved her from the bandits who murdered her family, Zera longs for freedom.

A Court of Frost and Starlight (A Court of Thorns and Roses #3) by Sarah J. Maas
Publisher: Bloomsbury
Release date: May 1st
As Feyre navigates her first Winter Solstice as High Lady, she finds that those dearest to her have more wounds than she anticipated—scars that will have far-reaching impact on the future of their Court.

Dating Disasters of Emma Nash by Chloe Seager
Publisher: MIRA
Release date: May 1st
Emma Nash may be down, but after months of wallowing, stalking her ex online and avoiding showering—because, really, who's going to care?—Emma's ready to own her newly single status.

The Dead Enders by Erin Saldin
Publisher: Simon Pulse
Release date: May 1st
Ana, Erik, Davis, and Georgie know a thing or two about secrets. Bound together by a horrible accident from their pasts, each of them has a plan to get out of their dead-end town but it won't be easy.

Everywhere You Want to Be by Christina June
Publisher: Blink
Release date: May 1st
Armed with her red vintage sunglasses and her pros and cons lists, Tilly strikes out, determined to turn a summer job into a career. Along the way she meets new friends … and new enemies.

If You Don't Have Anything Nice to Say by Leila Sales
Publisher: Farrar Strauss Giroux
Release date: May 1st
Winter, a one-time National Spelling Bee Champ, has a bright future ahead of her. That all changes after she haphazardly writes an offensive tweet that she thought was a harmless joke.

ISAN by Mary Ting
Publisher: Vesuvian Books
Release date: May 1st
In a post-apocalyptic world governed by The Remnant Council, Ava ends up in juvenile detention, until she is selected for a new life—with a catch. She must be injected with an experimental serum.
The Lies They Tell by Gillian French
Publisher: HarperTeen
Release date: May 1st
Hidden beneath a façade of wealth and luxury, Pearl discovers a dark web of lies and betrayals that, once untangled, will leave no life in Tenney's Harbor unchanged. That is…if it doesn't take Pearl's first.

Missing at 17 by Christine Conradt
Publisher: HarperTeen
Release date: May 1st
For most of Candace's life she never felt like she completely belonged. But nothing could prepare her for the shocking discovery that her parents have been concealing the truth about who she is.
Out of Left Field by Kris Hui Lee
Publisher: Sourcebooks Fire
Release date: May 1st
Marnie has never had a hard time fitting in with the guys. It would take a lot more than their goofy antics to keep her from joining them to do what she loves best: play ball.

Royals (Royals #1) by Rachel Hawkins
Publisher: Penguin Random House
Release date: May 1st
Meet Daisy Winters. She's an offbeat sixteen-year-old Floridian with mermaid-red hair; a part time job at a bootleg Walmart, and a perfect older sister who's nearly engaged to the Crown Prince of Scotland.

Ship It by Britta Lundin
Publisher: Freeform
Release date: May 1st
How far will fangirl Claire go to make her ship canon? And will she ever get the guts to make a move on Tess, the very cute, extremely cool fanartist she keeps running into?

Summer Constellations by Alisha Sevigny
Publisher: KCP Loft
Release date: May 1st
Julia's summer dreams are quickly shattered. First, Dan arrives for vacation with a new girlfriend in tow, and then Julia discovers this may be her last summer in the only home she's ever known.

Tiffany Sly Lives Here Now by Dana L. Davis
Publisher: Harlequin Teen
Release date: May 1st
Tiffany has a secret. Another man claims he's Tiffany's real dad—and she only has seven days before he shows up to demand a paternity test and the truth comes out.

Unbreakable (Unblemished #3) by Sara Ella
Publisher: Thomas Nelson
Release date: May 1st
Eliyana Ember is stranded in a foreign country in the Third Reflection with no passport, the inability to mirrorwalk, and zero clue where the nearest Thresholds back into the Fourth or Second might lie.

When the Beat Drops by Anna Hecker
Publisher: Sky Pony Press
Release date: May 1st
When a devastating tragedy plunges her golden summer into darkness, Mira discovers just how little she knows about her new boyfriend, her old friends, and even her own sister.
AUSTRALIA

Whisper (Whisper #1) by Lynette Noni
Publisher: Pantera Press
Release date: May 1st
For two and a half years, Subject 684 — "Jane Doe" — has been locked underground in a secret government facility, enduring tests and torture. In that time, she hasn't uttered a single word.
U.K.
by Alice Oseman
Publisher: HarperCollins
Release date: May 3rd
For Angel Ahmadi, life is only about one thing: The Ark – a pop-rock trio of teenage boys. Jimmy Kaga-Ricci is The Ark's frontman. At a fan event, Angel and Jimmy are unexpectedly thrust together.

The Outcast: A Summoner Prequel by Taran Matharu
Publisher: Hodder Childrens Books
Release date: May 3rd
Rebellious intent simmers among the masses, and it will not be long before it boils over. Arcturus must choose a side . . . or watch an Empire crumble.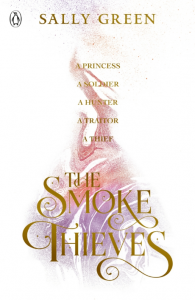 The Smoke Thieves (The Smoke Thieves #1) by Sally Green
Publisher: Penguin
Release date: May 3rd
A princess, a traitor, a hunter and a thief. Four nations destined for conflict. Four teenagers with the fate of the world in their hands, their futures inextricably linked by the unpredictable tides of magic and war.