What April YA books release this week? We have a list of this week's new YA books!

As She Fades by Abbi Glines
Publisher: Feiwel & Friends
Release date: April 3rd
On the night of her high school graduation, Vale McKinley and her boyfriend Crawford are in a terrible car accident that leaves Crawford in a coma. Then, Crawford wakes up . . . with no memory of Vale.

Autonomous by Andy Marino
Publisher: Freeform
Release date: April 3rd
William Mackler is about to go on the road trip of a lifetime. But Autonomous is more than just a car. It's capable of downloading all of the passengers' digital history – and could expose a few well-kept secrets.

Cold Hard Truth by Anne Greenwood Brown
Publisher: Albert Whitman
Release date: April 3rd
Emmie O'Brien is a former good girl. She spent a crazy year involved with Nick, her mom's drug dealer. But she's haunted by the choices she made—first, to be with Nick, and then later, to testify against him.

Defy the Worlds (Constellation #2) by Claudia Gray
Publisher: Little, Brown Books for Young Readers
Release date: April 3rd
An outcast from her home, and shunned after a trip through the galaxy with Abel, the most advanced cybernetic man ever created, Noemi Vidal dreams of traveling through the stars one more time.

Dread Nation (Dread Nation #1) by Justina Ireland
Publisher: Balzer + Bray
Release date: April 3rd
Jane was born two days before the dead began to walk the battlefield of Gettysburg. In this new nation, laws like the Native and Negro Reeducation Act require certain children learn to put down the dead.

Freefall Summer by Tracy Barrett
Publisher: Charlesbridge Teen
Release date: April 3rd
Ever since her mother died in a skydiving accident, Clancy Edwards' father has watched her like a hawk. Between her dad's rules and her boyfriend's protectiveness, she's longing for an escape.

Future Lost (Future Shock #3) by Elizabeth Briggs
Publisher: Albert Whitman
Release date: April 3rd
Genicote has become a dangerous fixation for Adam. He'll do anything to figure it out, and when he goes missing, Elena realizes that he's done the unthinkable: he went to Aether for help with the cure.

Hiding by Henry Turner
Publisher: Clarion Books
Release date: April 3rd
When a teen boy who excels at being unseen finds himself hiding in his ex-girlfriend's house, he uncovers carefully concealed truths—about her, her family, and himself.

Infamous (Beautiful Idols #3) by Alyson Noel
Publisher: Katherine Tegen Books
Release date: April 3rd
Layla never imagined she'd see the inside of a jail cell, but fate can be as nasty as a commenter on her blog. Luckily, Layla, Tommy, and Aster are set free—only to discover that they're all being played.

Loser's Bracket by Chris Crutcher
Publisher: Greenwillow
Release date: April 3rd
With help from her new boyfriend, Tim, and her social service worker, Annie searches desperately for her missing nephew, determined to find him and finally get him in a safe home.

Munmun by Jesse Andrews
Publisher: Amulet Books
Release date: April 3rd
In an alternate reality a lot like our world, every person's physical size is directly proportional to their wealth. The poorest of the poor are the size of rats, and billionaires are the size of skyscrapers.

Now a Major Motion Picture by Cori McCarthy
Publisher: Sourcebooks Fire
Release date: April 3rd
Iris Thorne wants to blaze her own path. But with an adaptation of her famous grandmother's books in the works, Iris can say goodbye to her dream of making her own way in the music industry.

Rebel with a Cupcake by Anna Mainwaring
Publisher: Kids Can Press
Release date: April 3rd
Jesobel Jones sees no need to apologize for her rambling house, her imperfect family, her single status … or her weight. That is, until an encounter that shakes Jess's formerly iron-clad confidence.

Rebound: A Crossover Prequel by Kwame Alexander
Publisher: HMH Books for Young Readers
Release date: April 3rd
Before Josh and Jordan Bell were streaking up and down the court, their father was learning his own moves. In this prequel, Chuck Bell takes center stage, as readers get a glimpse of his childhood.

Someday, Somewhere by Lindsay Champion
Publisher: Kids Can Press
Release date: April 3rd
When Dom's class is taken to hear a concert at Carnegie Hall, she expects to be bored out of her mind. But then she sees the boy in the front row playing violin like his life depends on it and she is transfixed.

Starry Eyes by Jenn Bennett
Publisher: Simon Pulse
Release date: April 3rd
Best friends-turned-best enemies Zorie and Lennon have made an art of avoiding each other. But when a group camping trip goes south, Zorie and Lennon find themselves stranded in the wilderness. Alone.

Stormcaster (Shattered Realms #3) by Cinda Williams Chima
Publisher: HarperCollins
Release date: April 3rd
Vagabond seafarer Evan Strangward can move wind, waves, and weather, but his magical abilities can't protect him forever from the brutal Empress Celestine and her relentless armies.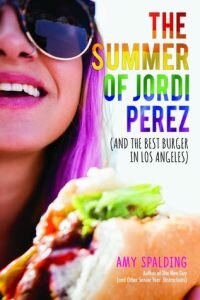 The Summer of Jordi Perez by Amy Spalding
Publisher: Sky Pony Press
Release date: April 3rd
Abby Ives has always been content playing the sidekick in other people's lives. Until she lands a prized internship and starts falling for the girl she's competing against, Jordi Perez.

Unraveled (Perfected #3) by Kate Jarvik Birch
Publisher: Entangled Teen
Release date: April 3rd
After forcing NuPet to repeal the law that allowed genetically modified girls to be kept as pets, she thought girls like her would finally be free. She never dreamed that it would backfire.

The Window by Amelia Brunskill
Publisher: Delacorte
Release date: April 3rd
After her twin, Anna, falls to her death while sneaking out her bedroom window, Jess's life begins to unravel. Everyone says it was an accident, but to Jess, that doesn't add up.

Zombie Abbey by Lauren Baratz-Logsted
Publisher: Entangled Teen
Release date: April 3rd
1920, England. And the three teenage Clarke sisters thought what they'd wear to dinner was their biggest problem. But none of them had ever seen anything like this.

Clean by Juno Dawson
Publisher: Quercus
Release date: April 5th
When socialite Lexi Volkov almost overdoses, she thinks she's hit rock bottom. She's wrong. Rock bottom is when she's forced into an exclusive rehab facility.